World Blood Donor Day
Be a Part of World Blood Donor Day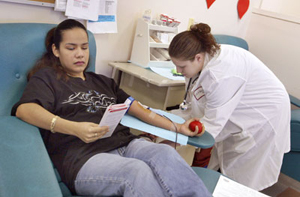 Today — Monday, June 14 — is World Blood Donor Day. I know that having blood drawn isn't always easy, but it's a huge way to give back to the community. This is especially true when you consider that blood drive donations are down, and that national blood shortages would disappear if one-percent more of Americans donate. Currently only 10 percent of the country donates blood on an annual basis.
The push to promote blood donation now is not random. Blood banks report that because of vacations and other seasonal distractions, less individuals donate during the Summer. We hope that you'll be one of the 10 percent of Americans that makes it to a blood bank today. Here are a few things to keep in mind when donating blood:
You must be at least 17 years old, weigh at least 110 lbs, and have not donated blood in the last 56 days.
You should be healthy and free of symptoms of illness like the cold or flu.
If you are currently on antibiotics, you can't give blood.
Before you donate, make sure you are well fed and well hydrated.
A blood donation is equivalent to one pint. In total it takes about 10 minutes to fill  the bag once the needle is inserted into your arm.
In total the whole process (check-in, paperwork, etc.) takes about an hour. Afterward, be sure to get extra food and fluids, and avoid any strenuous exercise for about five hours.
Will you be donating blood today? Don't skip giving just because your day is already booked, you can donate just about any day of the week. Use the Red Cross web site to locate a blood donation opportunity near you.