The Worst Foods at a Coffee Shop
Coffee Shop Picks That Are Worse Than Your Latte
Stop feeling guilty about your regular morning latte; there are plenty of other options at the coffee shop that are much worse than that blonde cup of Joe. In fact, the average latte contains more protein (10 grams) and less sugar (13 grams) than all of these a.m. alternatives.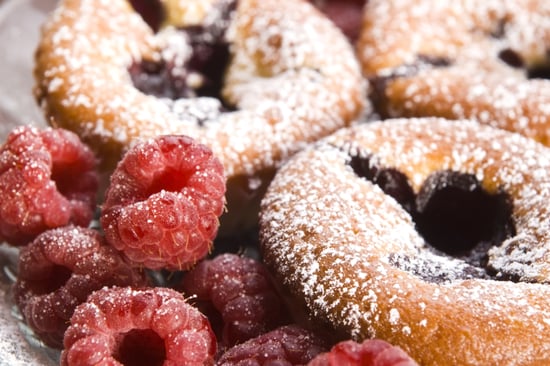 Fruit and yogurt parfait: Don't let the healthy name fool you; this cup is loaded with sugar. Some companies even add a sweetened fruit syrup to the bottom for more flavor. A breakfast like this contains 160 calories and 21 grams of sugar, yet only four grams of protein. That's less protein than one egg and a third of the protein that your latte contains.
Mocha Frappuccino: There's a reason this drink tastes so sweet — its 38 grams of sugar will have you bouncing off the walls before an even quicker burnout. Even if you order this drink with nonfat milk and no whipped cream, it can't beat your latte because of its lack of protein and calcium.
Pastries: These treats may seem like the perfect counterpart to a coffee drink, but be careful. Ordering one may double or even triple your calorie, refined carbs, and sugar intake. A blueberry muffin contains 380 calories, 19 grams of fat, 49 grams of carbs, and 28 grams of sugar. That's even more than a chocolate-filled croissant, which contains 350 calories.
Bagels: Holy carbohydrates! This rounded loaf contains 55 grams of carbs and 300 calories — and that's without any sort of spread. Although this bagel contains slightly less sugar than a latte, the calories can turn up empty. Make sure to order a whole-wheat bagel and finish it off with good-for-you ingredients like fresh veggies, light cream cheese, or nut butter.
Iced tea: While tea is full of antioxidants, many coffeehouses sweeten their iced tea, or they are made from artificial syrups that are diluted with water. This explains why a small chai tea from Starbucks contains 31 grams of sugar and only has five grams of protein despite the milk content! Leave the cinnamon to spice your latte on this one.