Worst Lifestyle Habits That Lead to Weight Gain
Scientifically Proven: The Worst Lifestyle Habits For Your Waistline
Last week the New England Journal of Medicine published a study following over 100,000 people over 20 years to quantify just how bad certain foods are. The short answer? Just what you think — fried foods, refined grains, and potatoes are the bad guys in your diet. An extra serving of french fries, for example, was associated with over three pounds of weight gain for each four-year study period.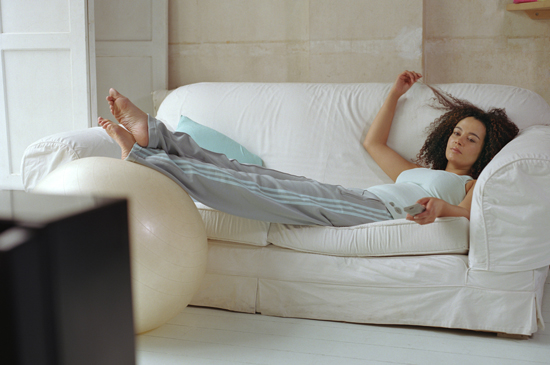 Of course, what we eat isn't the only culprit in what's making us fat. Read on for the top lifestyle practices that researchers found were bad for you.
Not exercising. OK, this is another no-brainer, but the study found that it was one of the most important lifestyle habits for preventing weight gain. In fact, researcher from the Harvard study found that over each study period participants who exercised prevents almost two pounds of weight gain.
Check out the rest of the list after the break.
Not enough or too much sleep. Getting enough sleep is one of those easy no-diet ways to help stay slim, but turns out, there is such a thing as too much of a good thing. Turns out, people gain weight when they get fewer than six hours of sleep as well as when they get more than eight. Too little sleep has been associated with eating more every day, while too much can mean you're not getting quality sleep, which can leave you too tired to exercise. One study found that too little sleep and too much sleep were both associated with about three pounds of weight gain compared to getting just the right amount.
Watching too much TV. A sedentary lifestyle can be measured in the hours spent watching sitcoms on the couch. In the Harvard study, watching TV was associated with a third of a pound in weight gain over each of the four-year periods.
Drinking alcohol. People who drink alcohol in the Harvard study gained almost half a pound over each four-year study period. Alcohol can be the source of empty calories — even if you aren't drinking fruity, sugar-filled cocktails, a glass of wine or a gin and tonic will still run around 100 calories each — and it also can impair your judgement in making food choices (until all of a sudden, late-night fried potato skins sound like a good idea).