The Worst Workouts For Injury
3 Injury-Prone Workouts and Tips on Avoiding Harm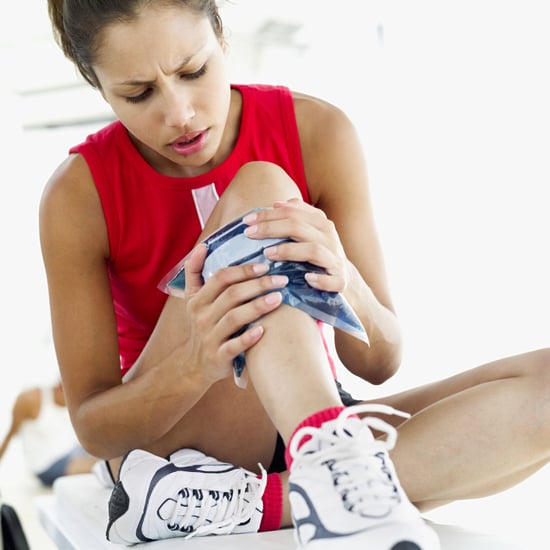 You might avoid certain workouts because you are fearful of injury. Or if you are like me, you might migrate toward certain classes or equipment because you are trying to maintain some fitness level while recovering from an injury. I'm currently working through back and leg injuries, so when it comes to protecting my body from further damage, I've learned that proper alignment is absolutely key for prevention. If you're also dealing with an injury (or worried about getting one), keep reading to see which workouts you should be aware of and follow these simple tips to avoid injuries while doing them.
Spin: Cycling can easily lead to hip, back, wrist, and knee injuries if your bike is not properly aligned. In addition, since biking consists of a lot of repetitive motion, taking several spin classes a week can lead to a muscular imbalance. You can overexert certain muscles, especially the tops of your thighs, while deconditioning other areas like the inner and outer thighs. To avoid these problems, always ask the instructor to help you properly set up your bike and cross train with other types of workout classes that target your core and thigh muscles.
High-intensity cardio: Fast-moving, intense classes like boot camp can lead to a variety of injuries, including sprained ankles, muscle pulls, low-back pain, dehydration, and overheating. If you are new to the class or technique, it's important to trust your body and modify moves or weights depending on your level of expertise. If you don't know a particular move, try it out at a slower pace to get the feel of it. Focus on proper alignment and your strength level rather than keeping up with the pace of the class. Remember, slow and steady win the race, and with gradual training your muscles and endurance will become stronger.
Weight lifting: Lifting heavy weights can cause a plethora of injuries, including stress fractures, sprains, strains, overexertion, and muscle pulls in wrists, shoulders, knees, and backs. However, proper weight lifting does have several benefits like helping weight management and improving strength. Sign up for a personal trainer to walk you through the weight room or see if your gym offers a group training session. By using correct alignment, you will target and strengthen the right muscles as well as save your tendons, muscles, and bones from some serious, unpleasant damage.
Still worried about injury? See three alternative low-impact workouts after the break!
Swimming: A great, low-impact workout, swimming makes you weightless, so your joints don't have to fight gravity. Swimming is a full-body workout and tones and strengthens the shoulders, back, abs, legs, and glutes. Join a masters swimming group (masters just means over the age of 20) in order to learn the strokes and breathing techniques.
Power walking: This low-impact activity is recommended by doctors and trainers for a reason. Power walking can be done on a treadmill or outside, can be as fat burning as slow jogging, and is much easier on the joints than running. Make sure to wear supportive, comfortable shoes, and work up to walking a rate of 4.5 mph, which fitness scientists at Washington University in St. Louis agree is the ideal calorie burning zone.
Pilates, yoga, or mat work: Increasing flexibility, posture, breathing, and core strength — the benefits of Pilates and yoga are seemingly endless. There are different levels and countless variations of poses and exercises. No matter your strength level or ability, you can slowly and carefully work your way toward more advanced poses.