Yoga to Become Olympic Event in 2012
Yoga to Become Olympic Event in 2012
When I first heard about yoga competitions, where yogis compete against each other to see who has the most grace, balance, and flexibility in challenging poses such as Inverted Locust pose, I was a little taken aback. I mean, yoga is supposed to be about union between your body and your mind, not about how bendy your spine is compared to Peggy Pretzel.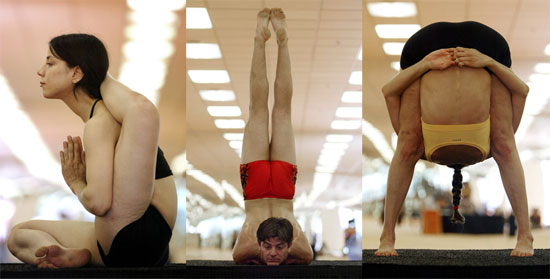 But yoga competitions are part of a movement to have yoga become an Olympic event. When asked what you thought of this idea, many of you were against it, saying that yoga is spiritual, not competitive. I'm sorry to be the bearer of bad news here, but it looks like come 2012, yoga will in fact become an Olympic event, just as Bikram Choudhury, the founder of Bikram Yoga, has always wanted.
To hear more details about how athletes will be judged, read more.
April Fools! Did I get you or did you know it was a joke all along?