Yoga DVDs For Beginners
Practice Yoga at Home: DVDs For the Beginner
Yoga is such an ancient form of movement that there have been thousands of DVDs made to teach all different ability levels. If you've never stepped foot on a mat, or have only taken a class here and there, check out some of my favorite yoga DVDs for beginners. They're great to do if you don't have a studio nearby, can't afford classes, or want to stretch and relieve stress while traveling. These videos are oldies but goodies, taught by three of my favorite female instructors.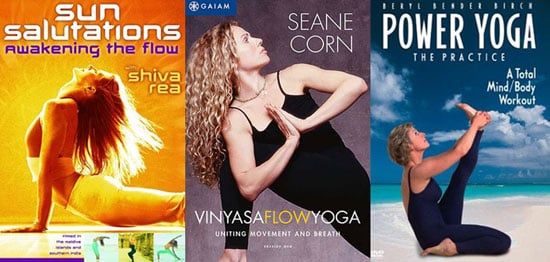 Shiva Rea: Sun Salutations (2005) This video goes back to the basics and demonstrates variations of the basic sun salutation. You'll learn common yoga poses, correct alignment, and guidance in yogic breathing. There are five short video segments about 10 to 20 minutes each, so start with one, and as you become comfortable, you can build up to completing the entire video. Shiva Rea is well known for her passion, calmness, and creativity, so you're bound to love her teaching style and the gracefully ambient music. I always feel open, relaxed, and blissful after Shiva's videos. This 68-minute video is available through Amazon for $15.
Keep reading to hear about the other two beginner DVDs.
Seane Corn: Vinyasa Flow Yoga (2004) I love that there are two DVDs included in this video: one with verbal instruction and one with just music. So you can listen along to Seane's detailed instructions at first, and when you've mastered the poses and alignment, you can follow along without her words. She is without a doubt one of my favorite yoga instructor's, not only because she is so educated about yogic technique, but she also beautifully delivers the message of yoga's spirituality. She is all about listening to your own body without judgment, moving with absolute awareness, and most of all, opening your mind and your heart. Order this 142-minute DVD through Amazon for $14.
Beryl Bender Birch Power Yoga: The Practice (2002) Ashtanga yoga isn't the easiest form of yoga since it's fast paced and involves a lot of movement between postures, but if you want to learn this dynamic style of moving meditation, this is a great DVD to show you how. You'll feel like you're taking an actual yoga class right in your living room, as this video films Beryl teaching a real class of students. Her warm and supportive personality really shines through, so you'll feel encouraged to honor your body's limitations as she leads you through the primary series. Ashtanga yoga is often taught by men, so it's refreshing to have a strong female role model to learn from. The 75-minute video is available through Amazon for $17, and you can also order the book ($12) to go along with it.