Yoga Directory iPhone App From Yoga Journal
Namaste on Your Way: Yoga Journal's FindYoga
Whether you're visiting your in-laws or on a business trip, spending a few days in a new location doesn't mean you have to put your yoga practice on hold. Word of mouth is great for finding a yoga studio nearby, but if there's no one around to give you a recommendation, you can turn to your iPhone, Blackberry, or Android and use Yoga Journal's new app FindYoga.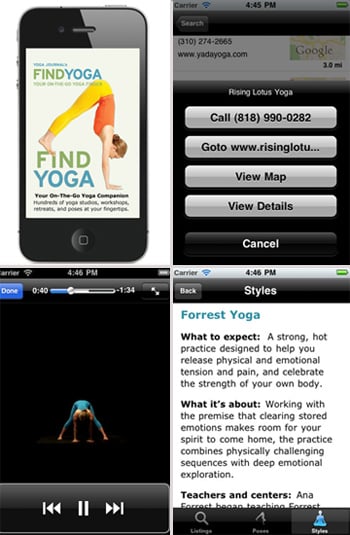 This free app is a cinch to use and can find you a yoga studio faster than you can chant "om." Just type in the zip code, tap "Search Listings," and it will offer you a directory of reputable yoga studios in the area complete with a phone number, website, description of the studio, and a map to get you there.
Not sure about the styles of yoga offered? Just tap "Styles" and there's a comprehensive list of 25 different types of yoga so you know what to expect from a class whether it's ashtanga, forrest yoga, or vinyoga. An extra bonus is the "Poses" section that includes 360-degree instructional videos that talk you through fundamental poses like Bridge, Wide-Legged Standing Forward Bend, and Butterfly. Sanskrit names of poses are included for beginners since many teachers use them in class. If you travel a lot, this is a helpful app you'll definitely want to download.