Yoga Journal Conference Review | 2013
Something For Everyone: The Yoga Journal Conference
I was thrilled to attend the Yoga Journal Conference held in San Francisco, a four-day event consisting of classes and lectures focused on all things yoga and how to live your best life. The event in SF brought together a truly exceptional group of experts to share their wealth of knowledge with yogis young and old.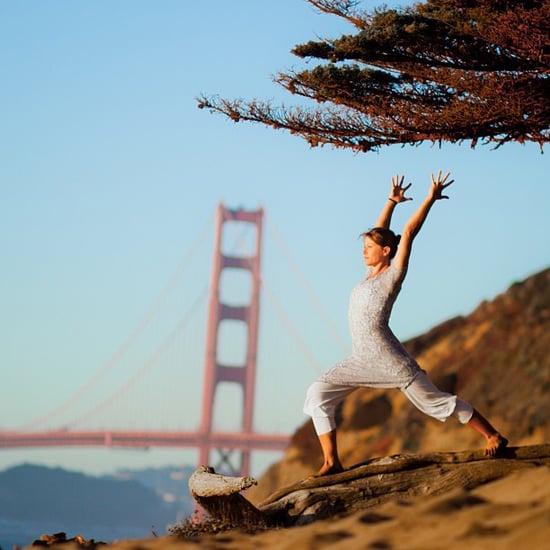 Come one, come all: Whether or not you're a seasoned practitioner, the conference caters to students of all levels. There were options for beginners interested in learning about the basics of yoga, while experienced yogis had the option of attending continuing education intensives or advanced physical practices. Overall, I found that there was a great mix of active practice opportunities and also lectures on subjects like meditation, healthy eating, and natural pain relief. Anyone who has an interest in yoga or alternative healing therapies would find themselves at home.
Learn something new: Whether it was a lecture-based workshop or two hours of tough flow, I was surprised about what I was getting out of each class. From the who's who of the yoga world to lesser-known local yogis, I was constantly learning and impressed by the depth of knowledge and creative teaching methods from these experts.
Keep reading to hear what surprised me about the Yoga Journal Conference.
Turn off the tech: As opposed to other big yoga events I've attended, there was a fairly strict no-camera policy — I saw few people on their phones tweeting things out or Instagramming pictures. While I appreciated the privacy this offered, I missed checking out what else was going on at the event via social media. During past travels, I've discovered exciting things through the use of social media, and I loved being in the know of what else was being offered.
Location, location, location: Taking place in a hotel just steps away from the San Francisco Bay and the Embarcadero, the location of the conference was ideal for someone new to this great city; there are healthy restaurants, attractions, and ample shopping just blocks away. But practicing yoga in banquet halls with no windows was a little claustrophobic at times, especially when things heated up during a tough Vinyasa class. There was also a lot of chatter going on in the halls, which was wonderful during breaks, but I sometimes found it hard to concentrate and connect during classes when there was so much happening just a few feet away.
From the volunteers on site to the early registration process, the conference was incredibly well-run and the level of instruction was stellar. Prior to the event, there was a description available online of each class and what would be covered, who would be teaching, and the level it would be catering toward. With all that said, the Yoga Journal Conference is exactly as advertised — a community event catering to the Yoga Journal crowd. And with events held all over the country this year, anyone who is a fan of this magazine or is looking to immerse themselves in the yoga scene for the first time should definitely check out a Yoga Journal Conference for themselves. You won't regret the experience.