Yoga Nightclub Trend
Would You Go to a Yoga Studio-Turned-Nightclub?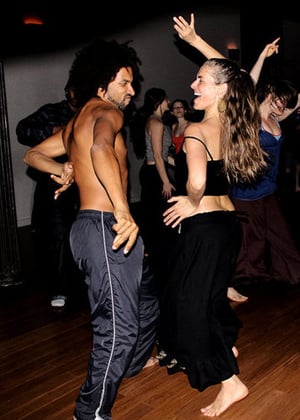 Your yoga studio might offer Friday night kirtan, but have you ever heard of a yoga studio transforming into a nightclub on the weekend? Shiva Rea's Yoga Trance Dance and Aarona's Yoga Soundscape fuse yoga with dance elements, but these days yogis are rolling up their mats and raving after class (sans the alcohol, of course). Get Your Dance On has popularized the trend of combining a challenging yoga class followed by a liberating dance party, complete with live DJs, funky, local musicians, and a smoke machine. After a detoxing and purifying class, yogis can continue to socialize by dancing in a noncompetitive, nonalcoholic, and all-inclusive environment. The energy stays high as guests sip on kombucha and coconut water and eat raw, vegan noshes. While most events occur in NYC at Judson Church, Urban Zen, and YogaWorks SoHo, the dance party has ventured to the West Coast in LA and San Francisco. I'm hoping to bring this dance revolution to my local studio. We're gonna tell that yogi to pass the kombucha tea!
Source: Aria Isadora Photography