Yoga Pose That Stretches the Hips
Strike a Yoga Pose: Humble Warrior
I feel quite regal in a Warrior 1 pose while really working my quads, but the Humble Warrior is possibly one of my favorite yoga poses ever. This variation of the classic pose is an intense stretch for the hips, chest, and shoulders. So much to love . . .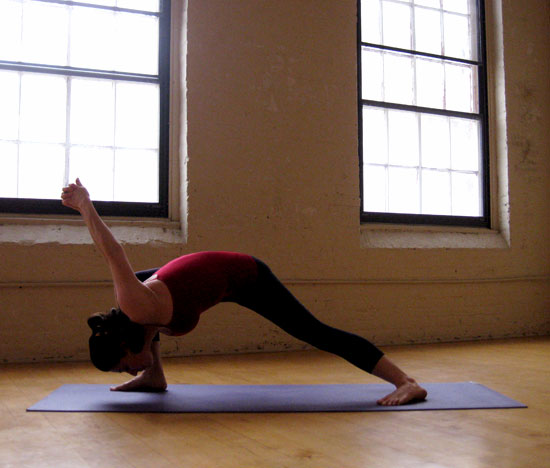 Sanskrit Name: Baddha Virabhadrasana
English Translation: Bound Warrior Pose
Also Called: Humble Warrior

If you want to see a more advanced version of this pose then
.
Begin in Downward Facing Dog, with both hands and feet pressed firmly into the floor.
Step your right foot forward between your hands. Turn your left heel in, press into your feet, and lift your torso up. Your right foot should be slightly to the right of the center of your mat (not directly in front of your left heel). With this positioning, your hips can be parallel with the front of your mat. You can place your hands on your hips, and gently direct your right hip back and your left hip forward. This is called squaring your hips.
Once your hips are square, interlace your hands behind you and press the heels of your palms together in a double fist. Keeping your right knee bent, hinge at your hips and fold forward as far as you can. Allow your arms to move toward your head to stretch your chest. If your head is hovering above the floor, gaze at the ground below you.
If your hips are very flexible, place the crown of your head on the floor as shown in the picture below.
Hold here for five breaths. Then release your hands to the floor, take a vinyasa and come back to Downward Facing Dog. Step your left foot forward and do Humble Warrior on the other side.