Yoga Studio Classes vs. Gym Yoga Classes
Yoga Class: Studio vs. Gym
With all the New Year's resolutions floating around, if "trying yoga" is on your list, you're probably wondering where the best place to practice is. With yoga's increased popularity, just about every gym offers yoga classes on their schedule in between Body Pump and Spinning, but there are also studios on every corner that teach yoga exclusively. Keep reading to find out which place you'd prefer getting your Down Dog on.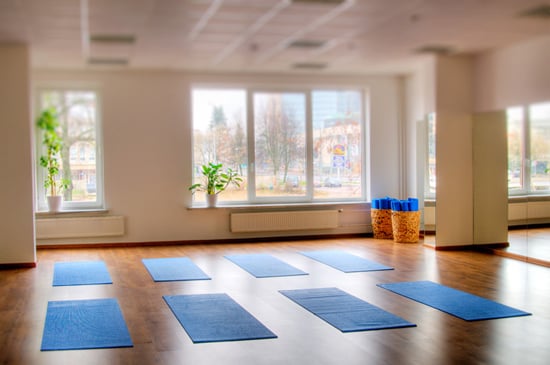 Price
Studio: Purchase single classes at a drop-in rate that's about $12 to $25 per class (depending on the length of the class), or you can buy a group of classes at a slightly cheaper rate. Some studios also offer monthly or yearly memberships, so classes are even cheaper, but this only pays off if you go a lot.
Gym: Many gym memberships include classes in the monthly or yearly fee, so yoga classes at gyms might be significantly less expensive than at a studio.
Continue reading to learn how studio's and gym's compare when it comes to atmosphere, convenience, and teacher qualifications.
Atmosphere
Studio: Heated bamboo floors, white linen drapes, lotus green walls, dim lighting, big windows, scented candles, and burning incense are common at yoga studios, so as soon as you set foot into the space, you instantly feel a wave of serenity wash over you. Both the people who work there and those who attend classes tend to be calm and pleasant.
Gym: Mirrors, carpeted or linoleum floors, fluorescent lights, stationary bikes or other equipment piled on the edge of the room, and the scent of sweat and metal might welcome you when you step into a yoga class at your gym. Since the space is shared by all fitness classes, and used by fellow gym goers when classes aren't in session, they tend to look and feel very gym-like. You might also notice the people in your class are more interested in getting a good workout than about relaxing.
Types of classes
Studio: With all the different types of yoga, there's a studio out there to teach it. That means once you try out a few styles, you can go to the studio that offers the specific one you prefer, be it Ashtanga, Jivamukti, or Bikram. This is a great option if you're really into the spiritual aspect of yoga and want to go deeper into a certain practice.
Gym: On the schedule, there isn't a whole lot of variation aside from Yoga Level 1 or Yoga Level Two. I'm not saying all gyms are like this, but most are. When it comes to types of classes, you get whatever is offered, which means not much variety. They're usually very physical, with no discussion of chakras, bandhas, or teachers speaking in Sanskrit.
Convenience
Studio: With studios cropping up all over the place, you're bound to have one within 15 minutes of your home or office. You can only do yoga there though, so if you want to run on the treadmill, take a Zumba class, or swim laps, you'll have to make a special trip to the gym.
Gym: It's a one-stop shop, meaning you can get your cardio in on the elliptical beforehand, and then hit up a yoga class right afterward without leaving the building. If you're pressed for time, this might be a great option for you.
Instructor Qualifications
Studio: If it's a reputable studio, the instructors are required to go through a teacher training, although that's not saying much since there's no standardized qualification in regards to certification. Some teachers may have taken a 40-hour weeklong workshop, while others study extensively for 200 hours or more. Regardless of training time, teachers at studios tend to have more experience than those at gyms.
Gym: It can be difficult to get a job teaching at a studio, so many yoga instructors start off at a gym. That means the yoga classes you take may be taught by less experienced teachers who are fresh out of training.
Do you prefer taking yoga classes at a studio or gym?
Source: Flickr User giena.lt