Yoga Tips Breathing From Your Diaphragm
Practice Yoga Breath In Your Daily Life
Over the weekend, I took a yoga class at the Yoga Journal Conference. It was a good way to learn from the best, while getting hands-on attention to help my own yoga practice. While correcting my pose, one of the teacher's assistants reminded me to do something that I always forget: breathe deeply from my diaphragm. Focused, deep breathing is an important aspect of yoga, since it helps you maintain the flow of your practice and balance, and relax muscles to increase flexibility. But once you're out of the studio, using your yoga breath also helps in your daily life.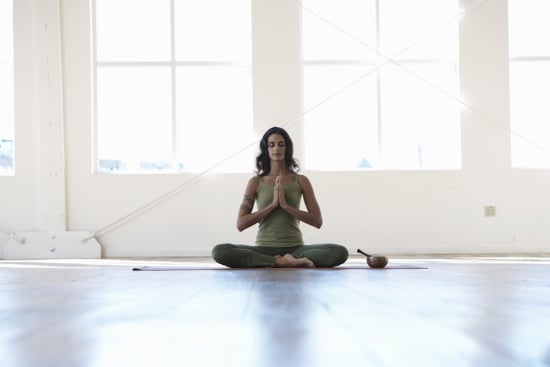 What makes a good breath? One that starts deep down in your diaphragm and fills your lungs with oxygen. It's the opposite of the shallow, short breathing that many of us do without realizing it. A deep breath doesn't have to be long, or noisy (as in, don't think you have to walk around making those loud throat noises), but you should make a conscious effort to pull your shoulders back, fill your lungs, and exhale slowly. Read our tips on learning how to breathe from your diaphragm here.
Learn how helpful deep breathing is in your everyday life after the break.
The benefits of deep breathing feel instantaneous: inhale deeply and as soon as you exhale you'll realize how much more relaxed you feel. Make this type of breathing your normal breathing to help beat stress and also condition your lungs to take in more oxygen, whether you're sitting at your desk or on your daily run.
Every time I go to yoga class, I'm reminded of just how limited my daily breathing can be. And since that weekend Yoga Journal class, I've been making a more conscious effort to continue to breathe deeply wherever I am. Or as my instructor told me after he coaxed my deep breath out, "Breathe like this for the rest of your life."