YogaWorks Review: SculptWorks, BarWorks, DanceWorks Classes
At YogaWorks, It's Not All About the Mat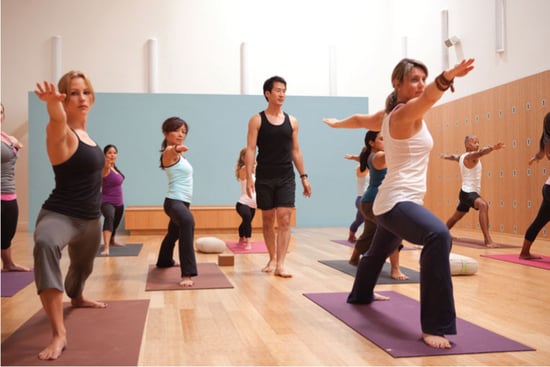 Always a sucker for a deal, it was a free week pass that brought me out to review YogaWorks, a chain of yoga studios located throughout California and New York. While the amount (and types) of yoga classes that the San Francisco location offers is remarkable, I found myself coming back for three of its non-yoga offerings — DanceWorks, BarWorks, and SculptWorks. In these classes, I learned to let go, that small can equal sore, and came across a class completely unique to anything else I've ever tried.
DanceWorks — DanceWorks, the studio's newest offering, is an energetic hour-long dance cardio class. I took the class two times — in the first, the movements were rooted in jazz dance, and in the second, modern; the class format stayed the same in both classes. DanceWorks starts off with a dance warmup centered around proper breath and alignment; after the warmup, you learn individual dance steps, which are then pieced together into a short dance routine set to a popular song. In the beginning of class, I was feeling nervous and self-conscious, but, by the time class ended, I was lighter, looser, and more in touch with my body. While I did sweat a little, DanceWorks isn't an intense cardio workout or filled with overly complicated moves, which makes it a fun class regardless of your fitness level. Be ready to let go of your inhibitions and shake those hips!

BarWorks — Developed by Sadie Lincoln, founder of Barre3 and trainer to Madonna, BarWorks is YogaWorks's answer to the growing trend of ballet-inspired fitness classes. Using the barre, the instructor led us through a series of sequences composed of small, controlled movements targeting different muscle groups. It was the first ballet-inspired class I'd ever taken and was surprised at how affected I was by such teeny-tiny movements; at one point my leg was shaking and I felt like it was on fire. In this class, you use your body's own weight to strengthen and sculpt, and each sequence is followed by a good amount of stretching. Besides the barre exercises, there is also a section of ab work — similar to what you'd find in Pilates — that's done on a mat. Even though the movements are tiny, BarWorks challenges your balance, strength, and flexibility  — and you better believe your thighs are going to burn. Like many of YogaWorks's classes, BarWorks is set to a soundtrack of popular songs; during my class I heard Radiohead, Florence + the Machine, and Sufjan Stevens.
SculptWorks — If you're looking to burn calories and feel it in your muscles the next day, SculptWorks is for you. The workout is filled with classic strength training moves like lunges, squats, and biceps curls — except with a twist. Many of the exercises incorporate the use of stretchy bands that are attached to the YogaWorks "Great Yoga Wall." To get an idea of what it's like to use these bands in a workout, think resistance bands meets Pilates Reformer meets TRX. If that's not enough, sprinkled between the strength training exercises are short bursts of intense cardio — we're talking heart-busting-out-of-your-chest cardio. By the end of the class, I was sweating and satisfied. I especially loved that a yoga studio offered a class like this in its roster.