Yogurt and Probiotics Can Help Prevent Yeast Infection When on Antibiotics
Antibiotics, Probiotics, and Yeast
Antibiotics might clear up an infection, but they can disrupt the beneficial bacteria in your system, leaving you feeling a little off in unexpected places. We had a board-certified physician weigh in on the matter, and here is her advice.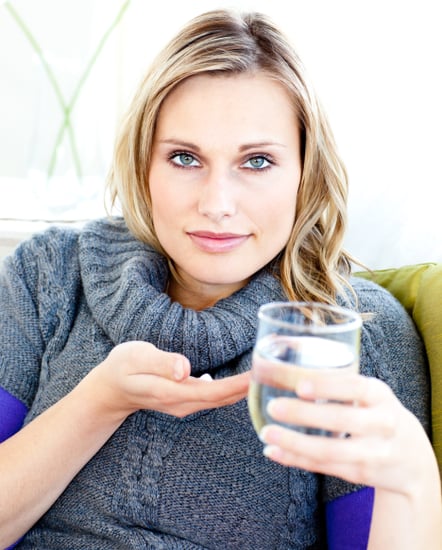 Dear DrSugar,
I am on antibiotics (Clindamycin) to clear up an infected tooth before having a root canal. Good times, I know. I haven't taken antibiotics in years, but know that they give me a serious yeast infection. I have upped my yogurt intake to twice daily and have been taking a probiotics pill twice a day too. Is that overkill? Should I be doing more? And if so, what do you recommend to keep the secondary yeast problem at bay? Thanks!
— Possibly Over-proactive
First off, I'd like to give you well wishes on a speedy recovery from your recent root canal! I'm really glad you asked this question, because antibiotics are some of the most commonly prescribed medications, and for women, taking antibiotics can definitely lead to yeast infections. To see why antibiotics can lead to yeast infections and what you can do to try to prevent it, keep reading.
Vaginal yeast infections, aka vaginal candidiasis, are caused by an overgrowth of the fungus Candida albicans. Candida albicans is commonly present in the vagina, mouth, and digestive tract and on the skin. Usually it does not cause disease or symptoms. There are other "good" bacteria that live normally in the vagina with Candida albicans and together they keep each other in balance. However, when the vagina has certain favorable conditions, the amount of Candida albicans increases, leading to a yeast infection. One of the most common of these favorable conditions is when a person takes antibiotics. Antibiotics are used to treat or prevent infections if a person is sick or has had a procedure/surgery that can increase the chances of having an infection (root canal!). The reason that the use of antibiotics can lead to an increased risk of yeast infections is that antibiotics tend to kill the "good" and protective bacteria along with the "bad" bacteria. This disrupts the normal balance of Candida albicans and the "good" protective bacteria in the vagina, thus leading to an overgrowth of Candida albicans.
Just for review, the symptoms of a yeast infection may include change in color, odor, or amount of discharge from your vagina; vaginal itching or burning; pain with intercourse; painful urination; or light vaginal bleeding. Typically, for vaginal yeast infections, the more common symptoms are itching and a white, thick discharge.
Some experts recommend eating yogurt with live cultures or taking probiotics containing Lactobacillus acidophilus when taking antibiotics to try to prevent a vaginal yeast infection. Lactobacillus acidophilus is an organism that normally lives in the vagina. Eating yogurt with Lactobacillus acidophilus or taking probiotics with this "good" bacteria will help to replenish the vagina with protective bacteria species and will help keep the balance of organisms in the vagina in check, thus hopefully preventing a yeast infection.
In terms of the amount of probiotics and yogurt you are taking daily, unfortunately there is no research that gives appropriate recommendations on how much to take of each while on antibiotics to prevent yeast infections. Also, the Food and Drug Administration (FDA) does not regulate Lactobacillus acidophilus (in over-the-counter probiotics), thus its safety, efficacy, and purity may not be known. Web MD suggests the typical doses range between one to 10 billion living organisms taken daily in three to four divided doses. However, directions may vary among the different manufacturers of probiotics. Also, antibiotics may reduce the effectiveness of probiotics or yogurt and thus should be taken two hours prior to taking the antibiotics to be most effective. It is hard to say whether you are overdoing it, but what I can recommend is only taking the recommended dosage that is printed on the directions of the probiotics bottle. One serving of yogurt a day should be plenty, however, given that you are also taking probiotics, I would recommend you check with your primary care physician regarding taking multiple servings of live-culture yogurts as well as multiple doses of probiotics daily. Your primary care physician will be able to tell you if they feel you are taking in too much Lactobacillus acidophilus and will be able to tell you what amount of it is appropriate for you.
DrSugar's posts are for informational purposes only and should not be considered medical advice, diagnosis, or treatment recommendations. Click here for more details.