Smoothies and salads are my go-to because they're a great way to get in a variety of plant-based foods all at once. And since nutritionists Stephanie Clarke, RD, and Willow Jarosh, RD, of C&J Nutrition recommend getting protein, healthy fats, and fiber at every meal to help you lose or maintain your weight, I've found one tiny ingredient that includes all three — hemp seeds.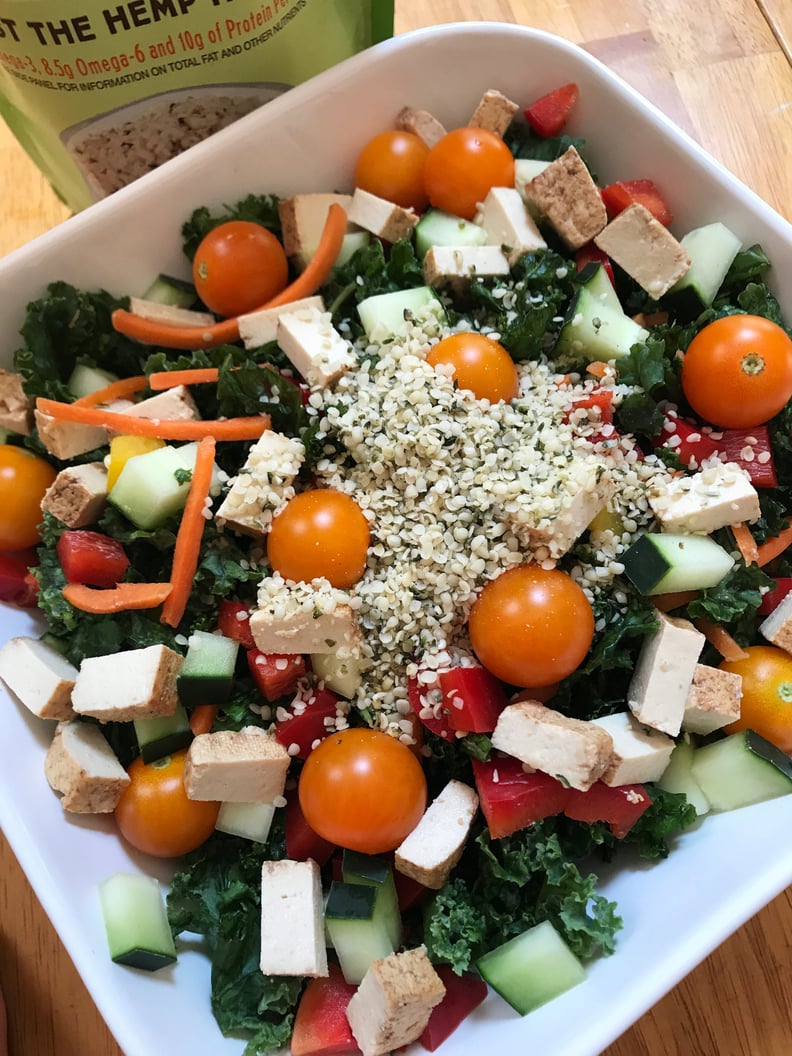 Also called hemp hearts, these are actually shelled hemp seeds. A 180-calorie, three-tablespoon serving offers 10 grams of protein, 2.5 grams of omega-3s (the daily recommendation is just 1.1 grams), two grams of fiber, and has just two grams of carbs. Also worth noting, hemp seeds offer all nine essential amino acids, making it a complete protein, so it's a great way to get some healthy, plant-based protein into your smoothie if you're not a fan of protein powder. You'll also get 20 percent of your daily iron.
You might think it's way too high in calories, but just for comparison, a two-tablespoon serving of almond butter is 190 calories and offers just seven grams of protein. I usually add one tablespoon of hemp hearts to my smoothies and salads, so it works out to 80 calories and 3.3 grams of protein.
You add flaxmeal to your smoothie for omega-3s, you say? While one tablespoon does offer 1.1 grams, it also only offer one gram of protein, so hemp hearts will satiate your hunger a little better.
You'll hardly taste these cute little seeds in your smoothie, and they add a lovely subtle nutty texture and flavor to your salads. Hemp hearts are also a great topping for oatmeal, cereal, yogurt, or added to muffins and pancake batter.
If you don't know where to start, Manitoba Harvest Hemp Hearts are the perfect products. In addition to the traditional hemp hearts, you can also get Hemp Heart Toppers in the following flavors: Chipotle, Onion and Garlic; Onion, Garlic and Rosemary; Maple and Cinnamon; Coconut and Cocoa. Add them to salads, soups, smoothies, etc.