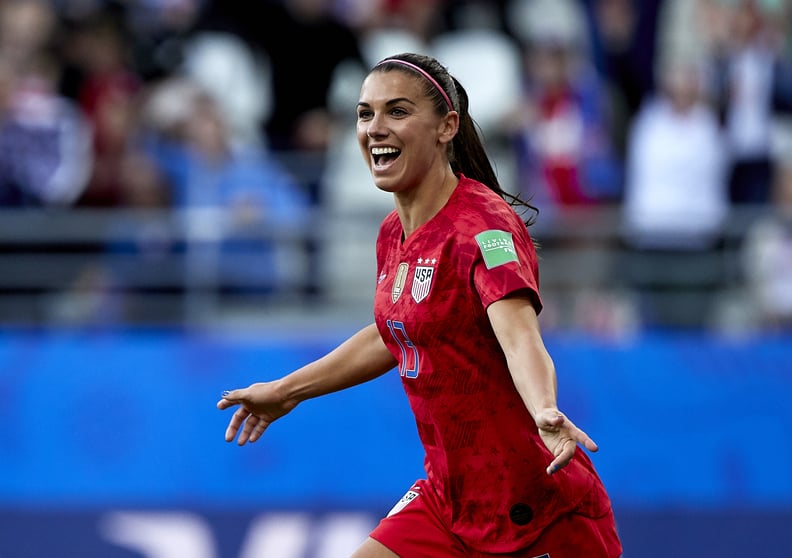 The United States of America? Psh, try the United States of Alex Morgan. The 29-year-old soccer player helped the US Women's National Soccer Team crush their first FIFA Women's World Cup game against Thailand on Tuesday, scoring a whopping five goals in the 13-0 shutout. What a beast.
In addition to the fact that the USWNT's victory broke the all-time record for biggest win in Women's World Cup history, we must also applaud Morgan's stellar performance in the game. The forward's five goals — which are cumulatively referred to as a "glut" in the soccer world, just FYI — make her the second player in WWC history to score that many goals in a match. The only other player to do so is former American soccer player Michelle Akers, who scored a glut against Chinese Taipei back in 1991.
Seeing as this was the USWNT's first Women's World Cup game this year, the likelihood of Morgan earning the coveted Golden Boot is looking pretty high. This award is given to the top goal scorer of the entire competition, and the aforementioned Akers currently holds the record with 10 goals scored during the WWC in 1991. We're rooting for you, No. 13!
Ahead, relive Morgan's exhilarating game, and keep reading to see just how thrilled soccer fans were to see her crush it on the field. Alex Morgan 2020, anyone?
Fan Reactions to Alex Morgan's Record-Tying Performance