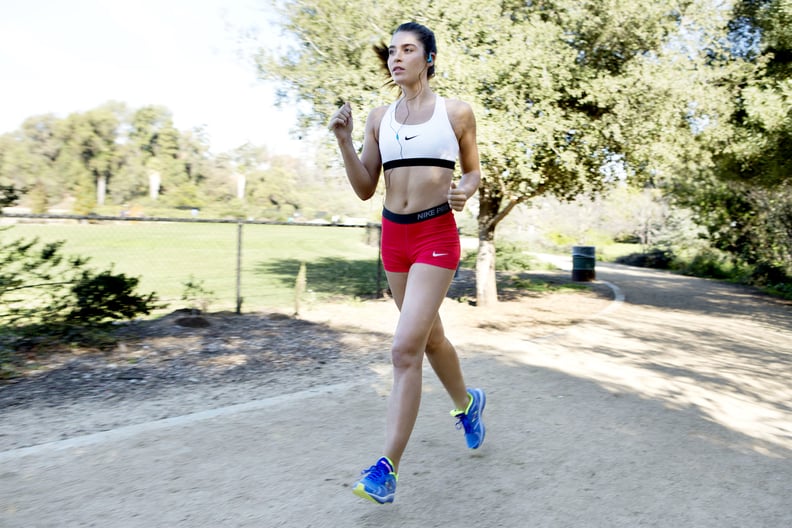 POPSUGAR Photography | Kat Borchart
POPSUGAR Photography | Kat Borchart
Ask any personal trainer what sort of shoes you should buy for your fitness pursuits and there's going to be a big debate. It may sound like hyperbole, but there may be as many opinions on this topic as there are shoes at your local athletic apparel store. Let's cut through the fads, trends, and head-scratching confusion with some real-world, functional advice from trainers who are more concerned with your health than an apparel endorsement.
Before you go out and buy a new pair of shoes, it's important to define what you'll be using them for. "People who do a lot of running need to focus on a totally different set of needs than those that plan on doing a lot of heavy lifting," says Kendall Wood, NASM CPT, and author of Core Fitness Solution.
What do you need in a pair of athletic shoes for heavy lifting? It may surprise you but the trend for folks spending more time in the weight lifting part of the gym is truly a case of less is more. According to Nathane Jackson, CSCS: "My favorite shoe is the New Balance Minimus, while the Nike Free, Reebok Nano and the Merrell Flux Glove offer a similar design." Why are these great for strength training? Jackson told us that they "all have very little heel lift, making for a near barefoot experience while allowing the user a greater proprioceptive feedback," which is especially useful when weight training.
If you're doing a lot of running, less used to be more but new designs are focusing more on stability and heel support. Of course, the industry's hallmark of lighter, durable materials is still at the forefront but the notion of running without support (we're looking at you, barefoot running hipsters) is as passé as leg warmers. You'll want to look for well-padded options that hug your heels but also provide an ample amount of toe room. This all combines to make for an almost bouncy feel that creates a more responsive stride that still gives you all the balance you need. Great options include: the Nike Free Run, the Adidas PureBoost, and the Wave Paradox by Mizuno.
What if you want a shoe that works for both running and weight training? Look for a little more than a minimal heel, but not as chunky as a cross trainer where you have enough room for your feet and toes along with some flexibility and arch support that lets you run, stand, press, and lift without any awkward sensation or feelings of overcompensating. A few great options include: the Brooks Neuro (which is especially great if you're also planning some sports in your fitness), the New Balance Fresh Foam 1080, and the Nike Free Train Versatility.