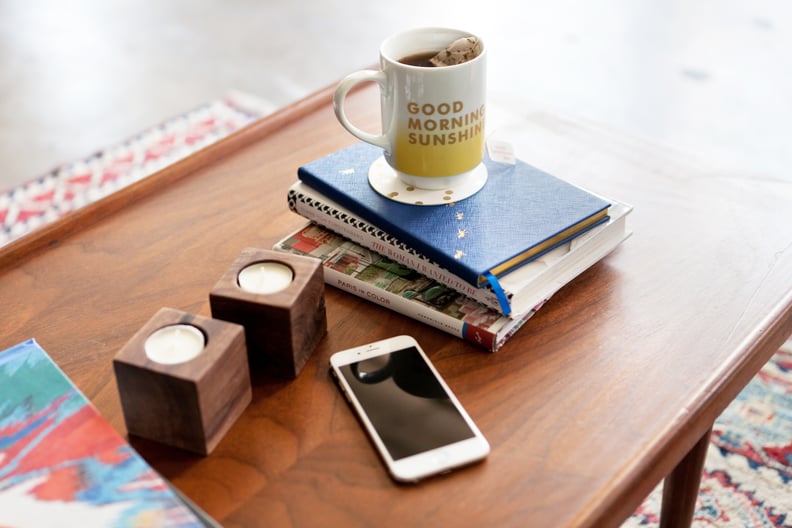 POPSUGAR Photography | Mark Popovich
POPSUGAR Photography | Mark Popovich
Looking to sip your way to some serious health benefits? Not only is tea a great way to improve your overall health, but it has some powerful weight loss boosting capabilities as well. We consulted with some tea experts — Billy Dietz, tea specialist at DAVIDsTEA and Kristina Richens, certified tea expert and Minister of Commerce at The Republic of Tea — as well as Lisa Eberly-Mastela, RD, MPH to find out which teas are best for shedding some pounds.
While these aren't outright medical claims or prescriptions for weight loss, teas have well-studied (and scientifically proven) natural benefits that can help your body perform at its best. Eberly-Mastela noted that "all tea will support weight loss because it helps you stay hydrated, which supports weight loss," but our team of experts chose a few standouts to add to your weekly routine.
Types of Teas
Green Tea and Matcha. These teas are "known for increasing metabolism," said Richens. And she's right! A study published in the American Journal For Clinical Nutrition found that green tea promotes fat oxidation, "beyond that explained by its caffeine content." Read: caffeine boosts your metabolism on its own, but green tea's got that extra mojo. It's also been shown that matcha can stop the growth of new fat cells. "This is due to the antioxidant catechins found in green tea," said Richens. "It triggers the release of fat from fat cells, and also helps speed up the liver's ability to turn fat into energy." Drink up!
Dandelion. Richens told POPSUGAR that this floral tea "can help eliminate excess water weight," and noted that "this small, yellow flower dots meadows around the world, [but] its roots are known as a powerhouse of healthy benefits," within naturopathic and homeopathic medicine. "The dandelion's use traces back to the 10th century when Arabian physicians revered the root for its cleansing properties and as a natural aid for digestion.*
Oolong. Oolong tea has been studied and proven to be effective in helping obese patients lose weight. Dietz also recommended Oolong for a metabolism boost.
Pu'erh. Another great metabolism-booster is pu'erh, a fermented variety from China. "If you are a bit hungry but not able to have a full meal, a smooth and full-bodied pu'erh could help hold you up!" said Dietz.
White Tea. Similar to green tea, white tea can stop new fat cells from forming — it's been studied and published in the journal Nutrition & Metabolism to help with weight loss.
Black Tea. Black tea is higher in caffeine, and "any tea with caffeine will support high energy levels, which will in turn support weight loss," said Eberly-Mastela. "High energy leads to more movement." She recommends drinking black tea before a workout to get a better calorie burn.
Special Ingredients
Cinnamon. This sweet spice "can suppress your appetite and alleviate cravings," said Richens. "It is also known for lowering blood sugar levels," (this has been studied and proven) "Which can impact the body's insulin production and potentially the storage of fat. When blood sugar levels are normal, the body doesn't store fat as quickly." We've experienced this first hand when we used cinnamon to curb sugar cravings.
Peppermint. Speaking of which, peppermint can also help suppress appetite and aid in weight loss. Dietz recommends a blend from DAVIDsTEA called Le Digestif: "a mix of apple mint, fennel, ginger, and peppermint." Lipton also makes a blend called "Soothe Your Tummy" which combines ginger, peppermint, and fennel as well.
Leaves and Herbs. Richens shared a few more ingredients to look for: gymnema leaves (the "destroyer of sugar" in Ayurvedic medicine), "may help to reduce cravings for sweets," while banana leaf has a compound called corosolic acid, "which can help the pancreas' production of insulin." She also listed the trendy herb cordyceps (popular within traditional Chinese medicine) to "boost energy and endurance."