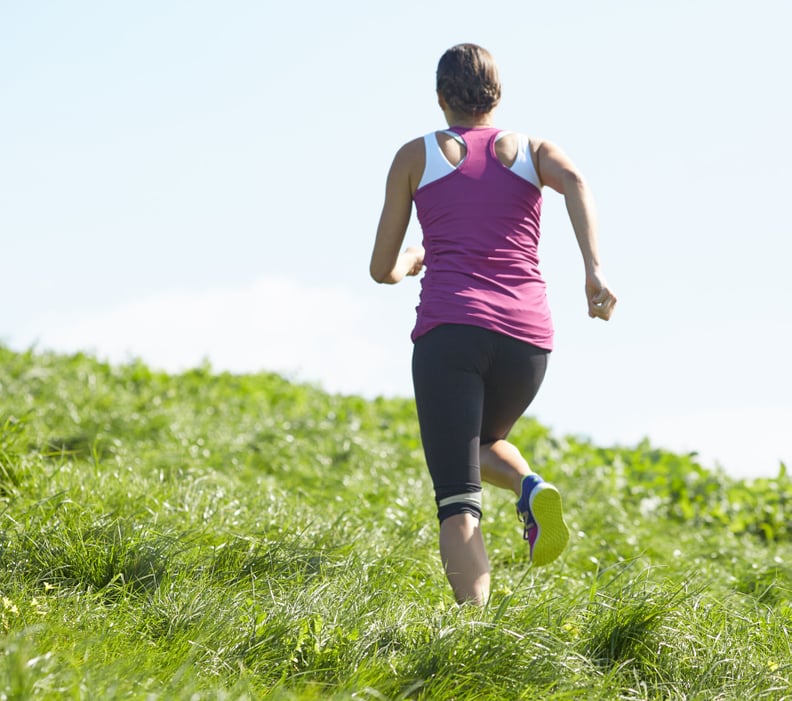 How Much Did I Run?
It was March 2016, and the weather was just starting to get nicer, which inspired me to commit to running more regularly, three times a week (three to four miles). After about a month, I kicked it up a notch and started running four times a week. On Mondays, Wednesdays, and Thursdays, I ran from 6 to 7 a.m. (six miles) with some mommy friends, then I did solo 80- to 120-minute runs on Saturdays. I kept up these four weekly runs for about three months, through the end of June.
What Happened?
After three months of running four days a week, at least an hour each time (getting in about 24 to 26 miles a week), I was excited to step on the scale, convinced all my hard work would show.

I thought something was wrong with the scale.
I thought something was wrong with the scale. I seriously thought something must be wrong because I had gained almost 10 pounds in the four months since I'd started running. Nope, it most certainly wasn't muscle, because when I compared photos of myself from April, my face and belly looked pudgier.
My first thought was that I needed to run more often, run longer, run faster, or do more hills. Then I came back down to earth and realized the issue wasn't how much exercise I was getting — I was doing more than enough! — I needed to point the finger at my diet.
My long morning runs caused insane hunger, and I was noshing all day long. A snack after my morning run, breakfast, another snack, lunch, a snack, dinner, than another little something before bed — I was eating a crap ton, but I thought that hour-long run gave me the green light to. I was actually burning way fewer calories than I thought I was, and eating in a calorie surplus is what caused the scale numbers to go up.
What I Did to Fix It
When I realized I was eating with reckless abandon, I took a closer look at my diet and cut out both the postrun and prebed snacks, so I was only eating three meals and two snacks in between. I focused on getting more protein and including healthy fats and more fiber at each meal. I also cut down on the processed carbs and sugar I was eating every day, and that definitely helped.
Aside from eating more than I needed, another reason I was gaining weight was because I was only focused on doing steady-paced cardio. So in July, I gave my runs a rest and started doing CrossFit. Now, almost two years later, I still do some running here and there, but adding weight training and high-intensity interval training (HIIT) made a huge difference in my body composition.