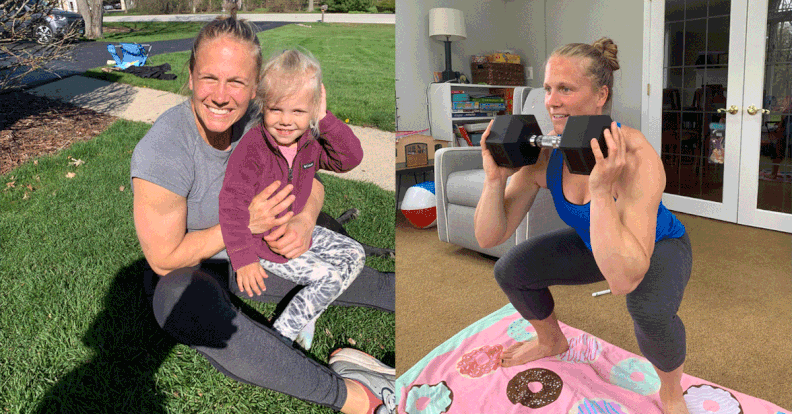 Michele Fumagalli
This is Meet My Workout Routine, where we profile weekly workout routines — unvarnished and imperfect — from women across all walks of life.
Who: Michele Fumagalli, registered dietitian, mom, former pro and collegiate soccer player, 2018 CrossFit Games competitor, recipe developer, and blogger based in Chicago.
What: Her workout routine over one week in spring 2020
The details: Michele described this week of workouts as "a little interesting": her daughter was sick and the Chicago weather was less than ideal. "Real life, right?"
Michele gave POPSUGAR an up-close-and-personal look at a week of her workouts: the good, the bad, and the sweaty! Keep reading for the inside scoop.
01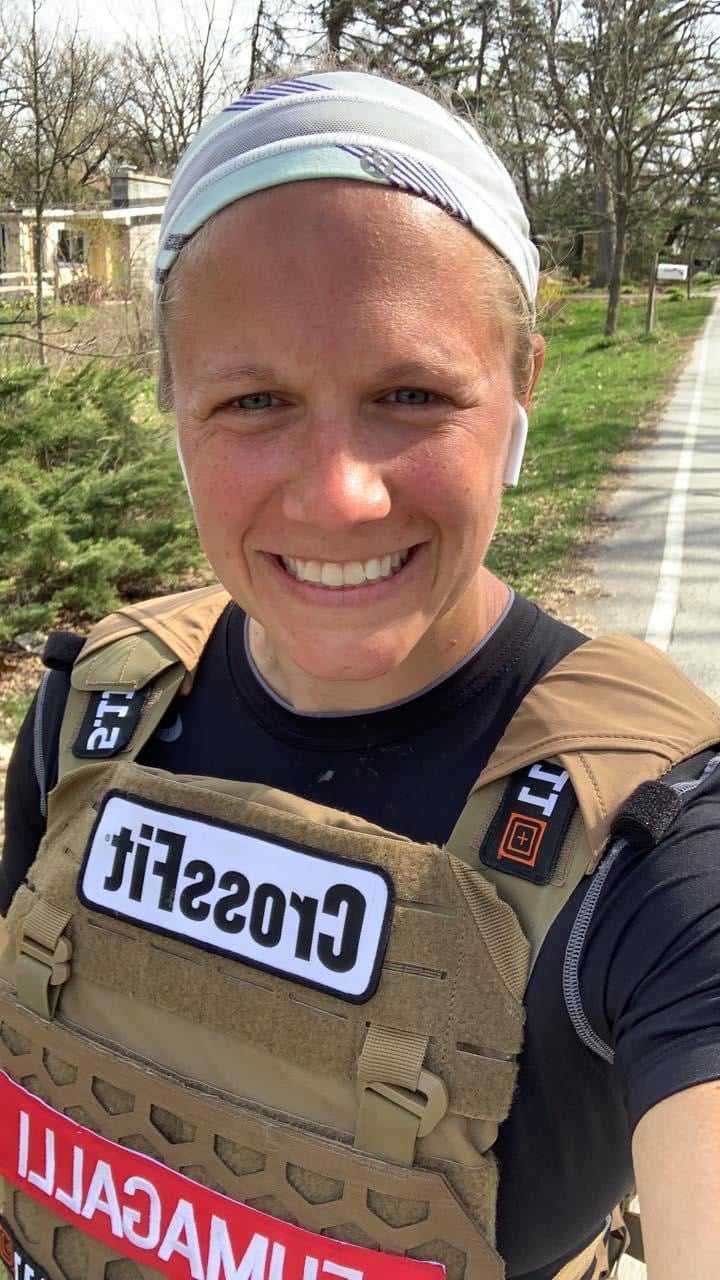 Monday
What: 5K run with a weighted vest, followed by a ten-minute family walk for a cooldown.
Where: Around the neighborhood
Michele's Notes: "I was planning on running to a local ice cream shop 4.75mi away with my daughter (curbside ordering) then have my husband pick us up. However, we would have been fighting the wind the entire trip to decided to save that for another day and run in the neighborhood. Added a weight vest (which I haven't used for months) because, why not! Didn't work out day before so was ready to move my body."
02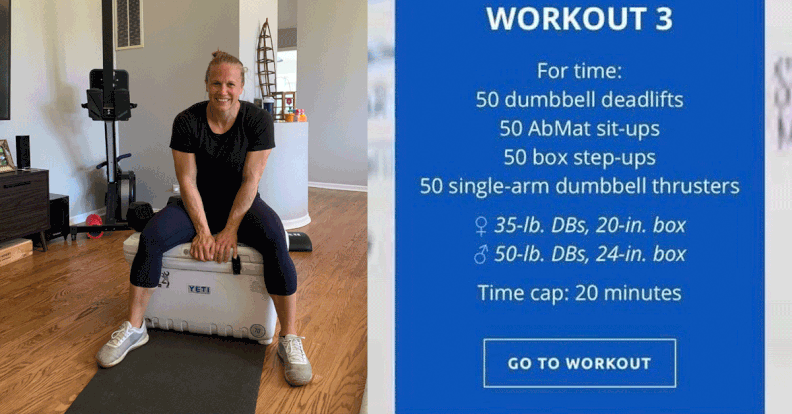 Tuesday: CrossFit Dumbbell Workout
What: CrossFit dumbbell workout for strength and cardio
Where: Family room
Michele's Notes: "I am all about variety, tapping into what I want to do, what's best for me, and how to fit a workout in with what's going on that day (family, meetings, etc). My husband is working from home so we most often work together and 'take turns' for workouts and some 'me' time. Our garden bed construction has taken over the garage, so I moved my workout inside and got creative."
Tip: Michele said this workout can also be done with bands, soup cans, or water jugs.
03
Wednesday: Cardio Bike Workout
What: One hour stationary cycle bike ride with increasing resistance, followed by a short family walk.
Where: Bedroom
Michele's Notes: "When I bike I either listen to podcasts or Audible books, or [watch] a show. Today, I watched The Crown — so good! In the past it has been Serena on HBO, nutrition and business podcasts, Becoming by Michelle Obama, and Atomic Habits by James Clear. I have really liked biking the last few months as it feels good to constantly move for a longer period and I love how strong it makes my legs feel. Being on the bike is some great 'me' time and working out has always been a part of my self care."
04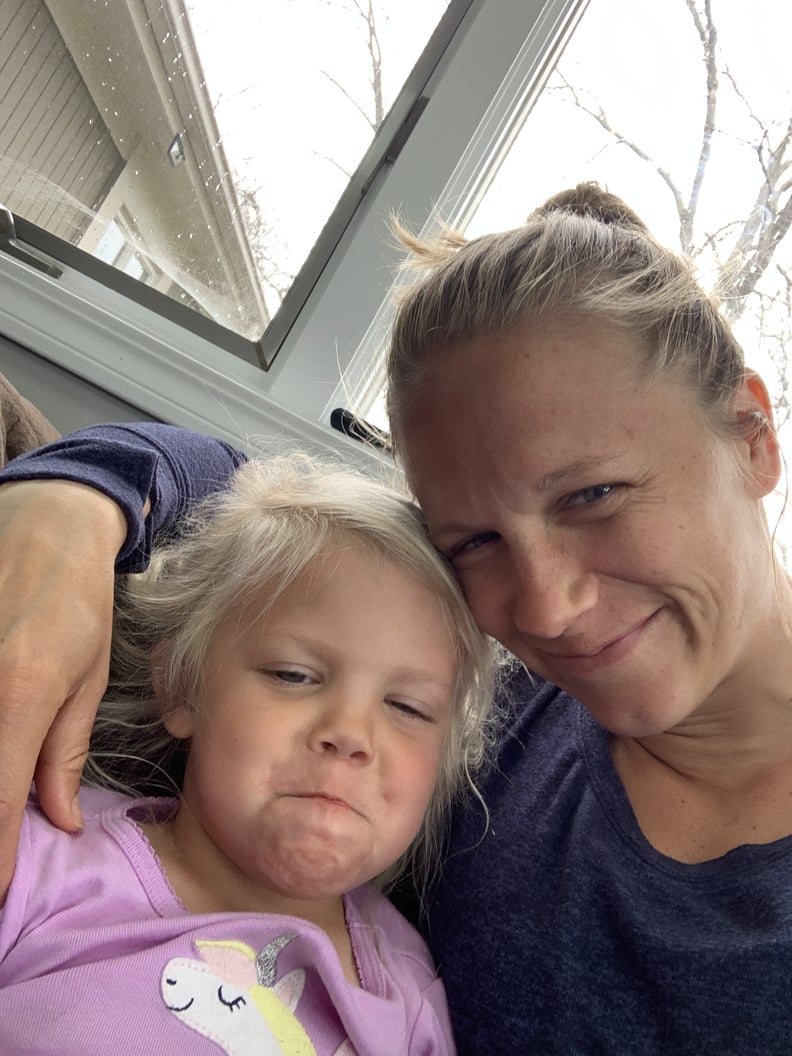 Thursday and Friday
What: Rest
Where: Home
Michele's Thursday Notes: "My daughter has been battling a high fever and random belly pains for a few days. After only getting five hours of sleep the last two nights in a row, my body and mind needed a day of little movement, rest and snuggles with my daughter."
Michele's Friday Notes: "I planned to and wanted to get a workout in today, but it wasn't in the cards after another stressful sick kid day and night. Two doctor's appointments today and multiple tests — it was exhausting without a workout. Thankfully Gwen's fever broke the next day. The important takeaways: I did not force a workout, and continued to remind myself to not feel guilty and to listen and trust my body . . . Working out could have just caused more unnecessary stress."
05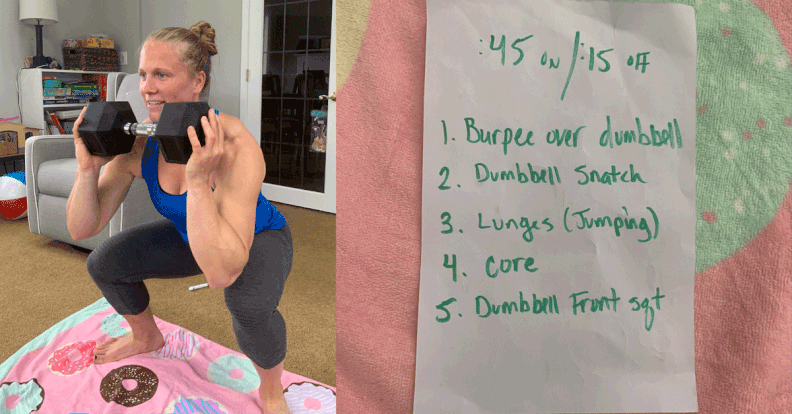 Saturday
What: One-dumbbell HIIT workout and a CorePower On Demand yoga class
Where: Her daughter's playroom
Michele's Notes: "I love workouts like this as you don't have to think as much but simply move from one thing to the next. Yoga has been really nice and was a prefect reset following the workout. CorePower On Demand provides a few classes a week and I'm loving them."
06
Sunday
What: 20-minute cardio strength workout, two-mile family walk, and garden bed construction in the garage
Where: Garage and driveway, and around the neighborhood for a walk
Michele's Notes: "I wanted to go for a longer run but as the afternoon rolled on I really was not feeling like it . . . I still wanted to do something, so I put together a simple workout in the garage/driveway while my daughter and husband played ponies a few steps away."
Tip: "Know you can change up what you originally planned for the day. The key: I still moved my body and reaped the mental and physical benefits of it. "
07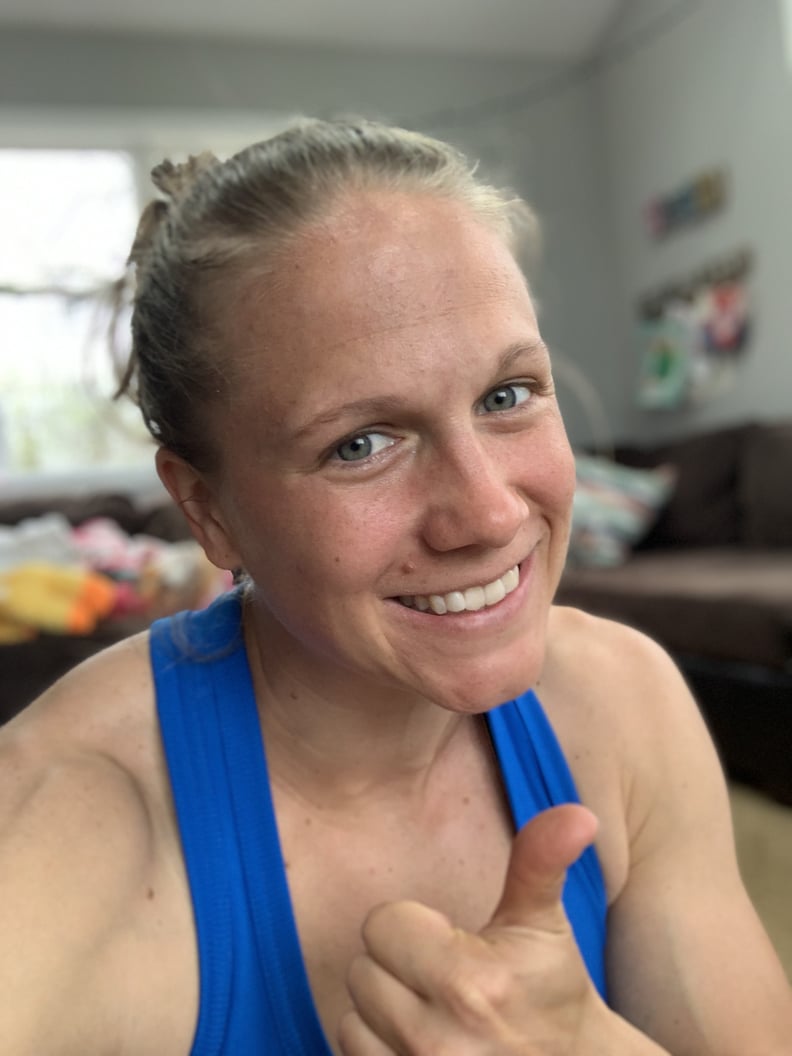 Michele's Workout Tips
Check out the workout tips, tricks, and takeaways that keep Michele moving and motivated.
Work out "not as a chore," but because of how it makes you feel.
"Do something you enjoy" — and remember that this can change from day to day!
"Add variety to your workouts."
Get support from friends, family or a partner.
"Be gentle with yourself. We are living in a global pandemic," Michele said, and it's OK if your diet and workouts look different right now. "Give yourself some compassion rather than judgement."