Daphne Oz's Postpartum Meal Plan Sounds So Good, You'll Want to Follow It Word For Word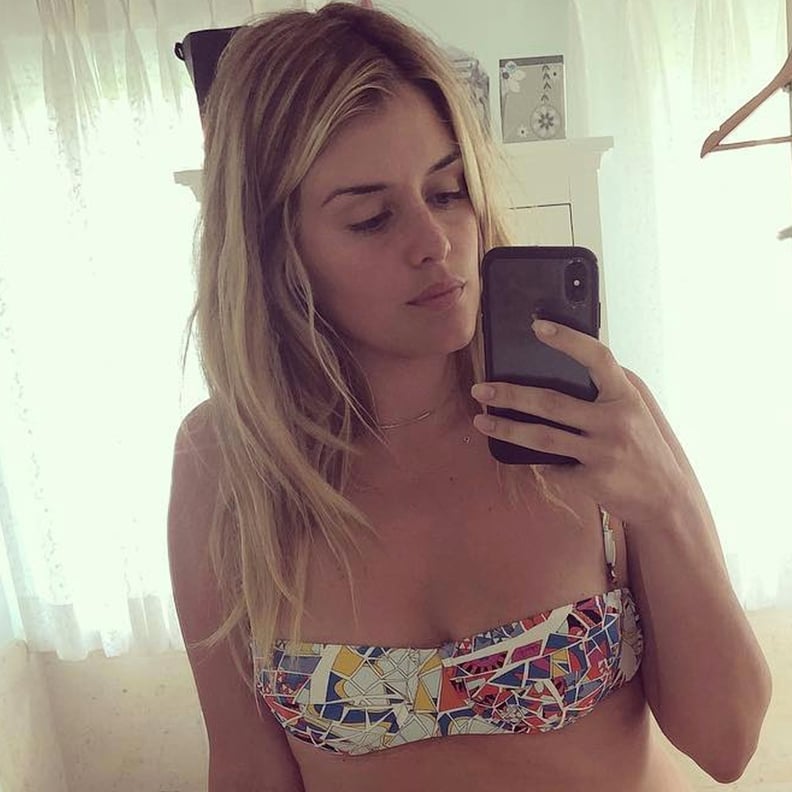 When it comes to figuring out a meal plan that makes you feel good after having a baby, it's helpful to find inspiration from other women who've been there. Daphne Oz is a mom of three who gave birth to a baby girl in December 2017, and as the food-lover she is, she has pretty darn good ideas that are easy to re-create at home. The former cohost of The Chew posted an intimate photo six months postpartum and shared a little bit of her philosophy on losing baby weight — without obsessing over it. "New week, new commitment," she said. "I celebrate on the weekends so that I feel strong sticking to my healthy goals throughout the week as I work to lose this baby weight. And so I don't go insane in the process."
She advised, "I find it helps to write down what my 'plan' for the day is — some things [may] shift as needed, but having a vision in mind means I'm not aimlessly searching for something to eat at meal times." Solid tip, right? As far as what a full day of eating on a weekday looks like for Daphne, here's an example she shared from breakfast through dinner.
Daphne's Meal Plan For the Day
Breakfast: Coffee and a banana with almond butter (for a rush-out-the-door morning)
Lunch: Hydrating chopped salad with greens, cucumbers, broccoli, basil, chopped chickpeas, hemp hearts, and red wine vinaigrette
Snack: One hard-boiled egg and a handful of baby carrots
Dinner: Leftover jerk chicken and sautéed broccoli rabe with shallots
Sounds pretty satisfying to me! Whether you're on a postpregnancy journey or not, you'll love her ideas for quick and easy recipes. It's easy to get in the habit of eating the same healthy thing every day, which can become stale and uninspiring. In addition to this typical day of meals, Daphne has shared other meal plans on her Instagram Story highlights. Take a look at her helpful suggestions ahead, and be prepared to add them to your rotation.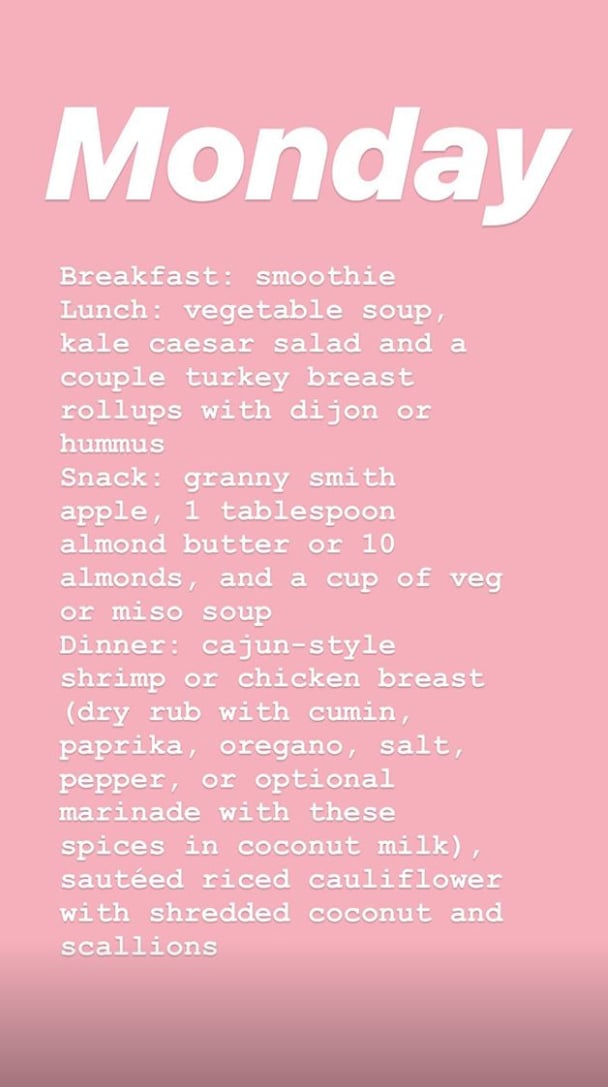 A Breakfast Smoothie, Miso Soup, and Cajun-Style Shrimp Are on Monday's Menu
I love the idea of marinating spiced shrimp or chicken in coconut milk for an easy flavor upgrade.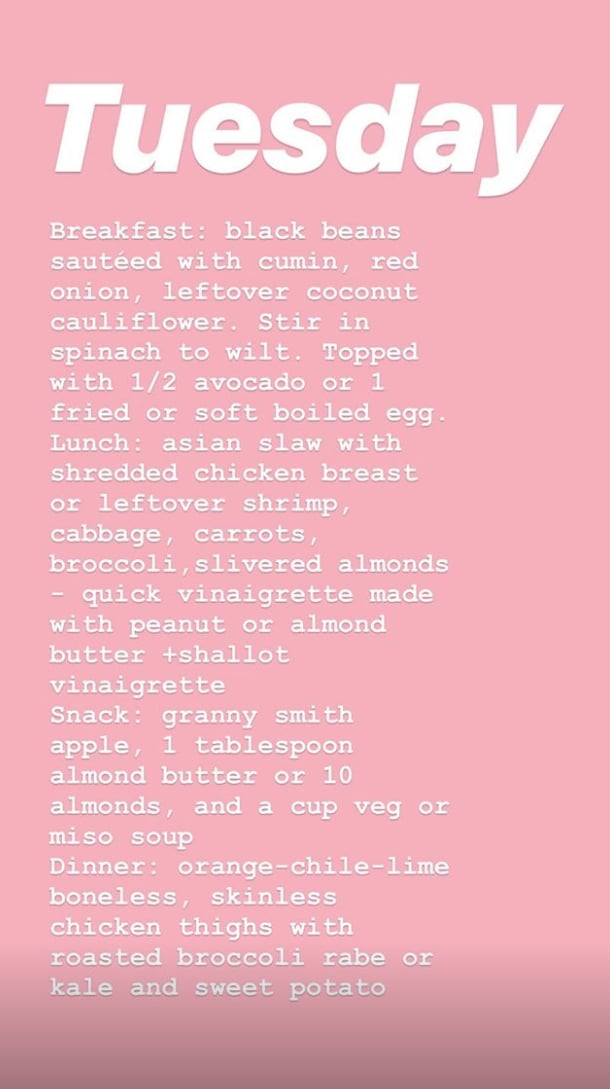 Nix the Boring Breakfast For Sautéed Black Beans With a Soft-Boiled Egg
See the long list of ingredients? A day's worth of healthy meals doesn't have to be as simple as eggs, salad, and chicken breasts. Daphne adds oomph to her Asian slaw salad with an almond butter-shallot vinaigrette, and she's not opposed to chicken thighs, which are fattier but far more flavorful.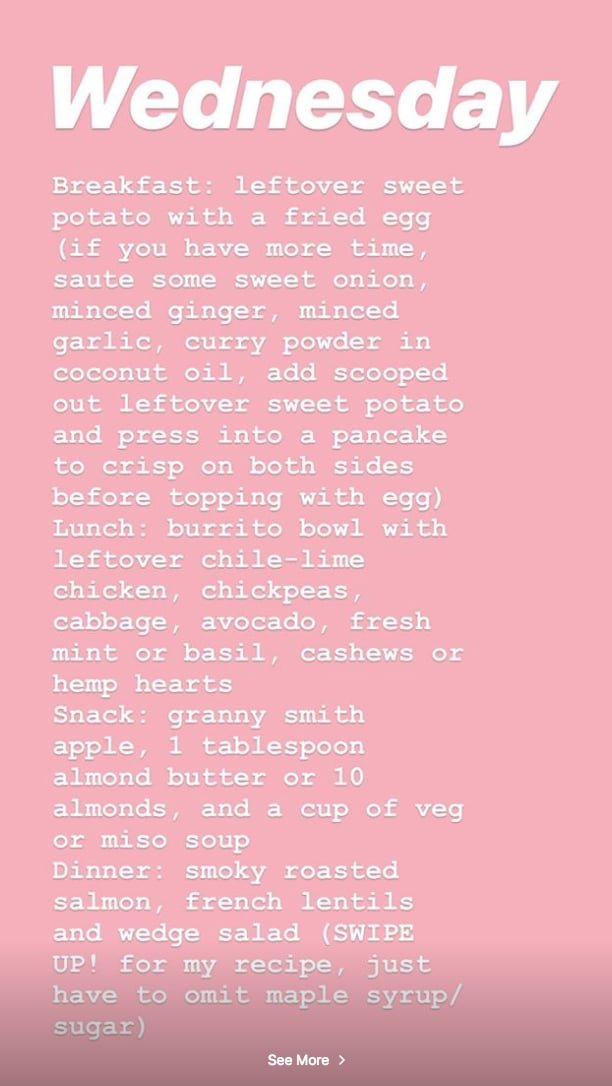 Leftovers Are Your BFF
If you're losing cooking steam midweek, try using leftovers from dinner for a speedy breakfast — in this case, leftover sweet potato with a fried egg. Pairing roasted salmon with bloat-beating lentils makes for a hearty and feel-good dinner. Daphne also loves this recipe for avocado wedge salad (without the maple syrup).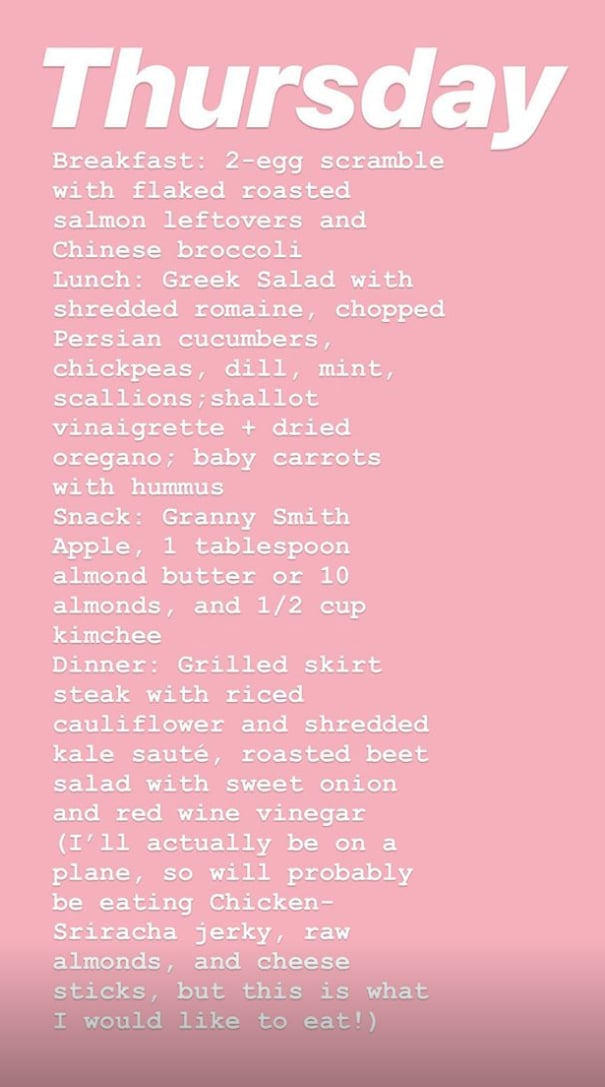 Pro Tip: Pack Your Own Plane Food
Everybody's on the cauliflower-rice train these days, and for good reason. Try Daphne's dinner idea by pairing it with grilled skirt steak, sautéed kale, and roasted beet salad. Also, rule of thumb: pack your own plane food! Chicken jerky, almonds, and cheese sticks are in Daphne's bag.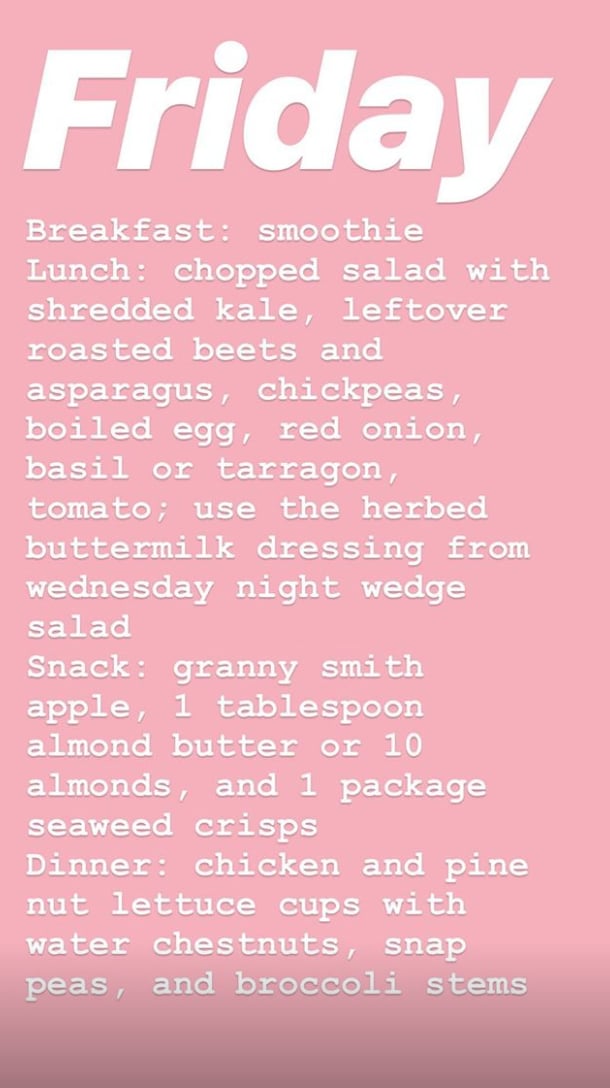 Lettuce Wraps Are Always a Good Idea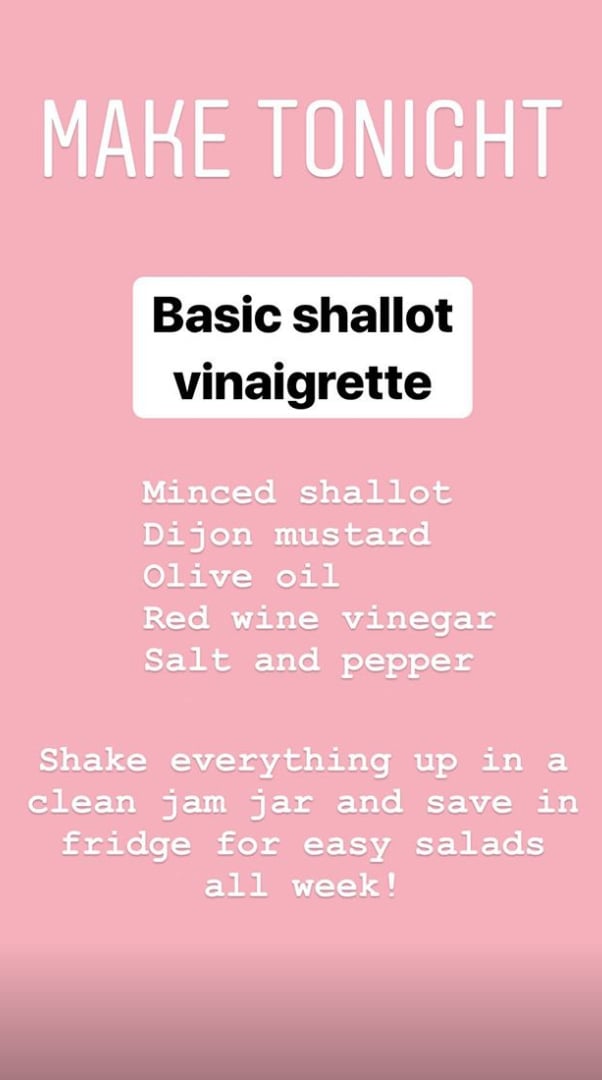 Always Have Ingredients For a Quick Vinaigrette
Daphne's go-to vinaigrette for salads is minced shallots, Dijon mustard, olive oil, red wine vinegar, salt, and pepper — just shake it all up and store it in the fridge. She also loves making this vegan caesar dressing that swaps anchovies for seaweed.
Quick Lunch Idea: Sautéed Veggies, Coconut Aminos, and a Fried Egg
Daphne shared this Instagram snap of her veggie-packed lunch of broccoli rabe, yellow squash, shallots, sesame oil, coconut aminos (a healthier alternative to soy sauce), and chile flakes.
Channel Daphne's Advice — Set Goals, but Don't Go "Insane" in the Process
It's all about feeling good and fueling your body.