Sometimes the physical symptoms come out of nowhere. Heart racing, uncomfortable tightness in my chest, shortness of breath, and an inability to focus. I feel out of control, like I'm about to explode. The fearful, anxious inner dialog quickly follows where I ask myself, "Why is this happening right now? When will this be over? Just breathe. Everything is going to be OK. But what if it's not? What if I start feeling worse? What if I can't get this under control? No, you can. You have to. Just breathe. In and out. In. And. Out. Just breathe."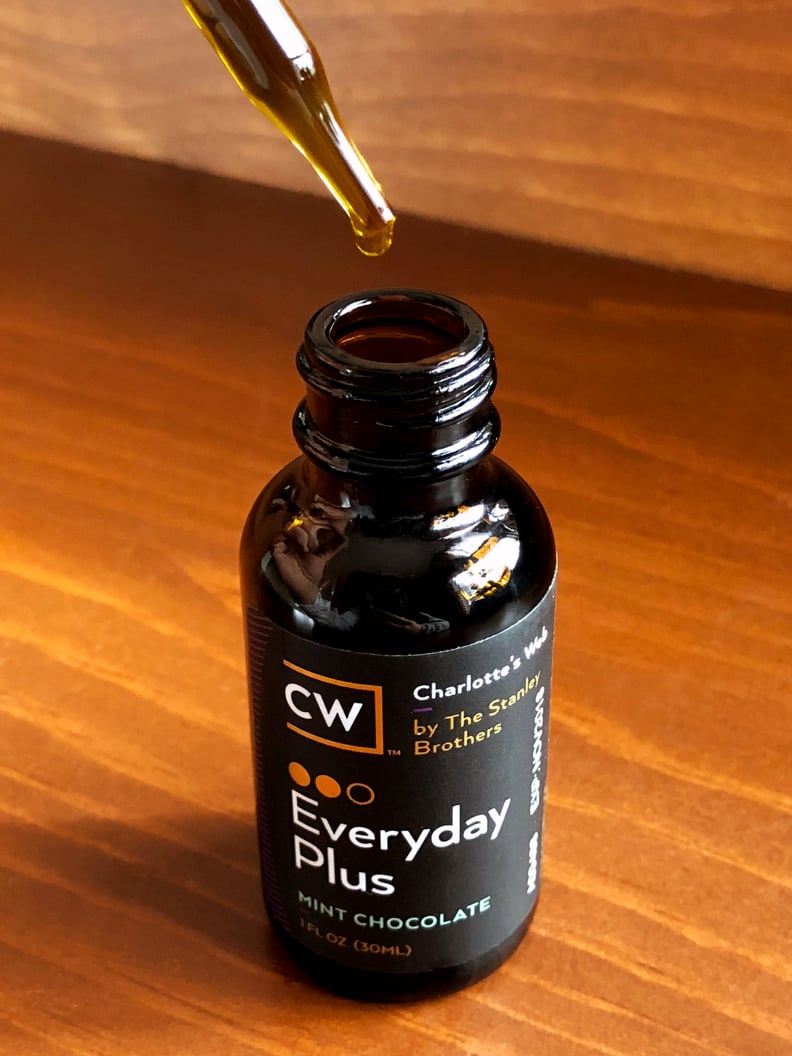 I've suffered from anxiety most of my life, and this is how I feel when I have a panic attack. Most of the time I can get it under control by breathing and talking myself down, or removing myself from a stressful situation, like a crowd. Sometimes I need to take a prescription called lorazepam, but that's only when it gets really bad.
I'd love to be free of these debilitating symptoms, and would rather not be dependent on a prescription for emergencies. So when I heard that CBD oil can help with anxiety, I wanted to give it a try. To make matters worse, I also suffer from chronic pain that can flare up when I work out. Knowing that CBD may help with pain and anxiety, I started taking CBD oil about three months ago to see if it could help.
I didn't really notice if it helped with anxiety — that is, until the one morning when I forgot to take it.
I began with really low doses every morning and night, and gradually increased over the course of four weeks, until I got to 40 mg per day. After that first month, I continued to take CBD every morning, but only took it at night after late-night workouts, to help me sleep.
During those three months, I didn't really notice if it helped with anxiety — that is, until the one morning when I forgot to take it. I was sipping on my coffee at work and started to slowly feel all the common symptoms: chest tightness, shortness of breath, heart pounding, headache, nausea, and an overwhelming feeling of anxiety.
I had no idea CBD was helping this much. I was so used to feeling normal, feeling the absence of anxiety. I called my wife frantically and told her to pick up a bottle since I knew I was running low. As soon as I got home from work, I took my normal dose, 40 mg, but after an anxiety attack, it takes a while to shake it off. I didn't feel like myself for a few days, kind of like I needed to heal from it.
Since that day, I've continued to take CBD oil daily. Admittedly, I have mixed feelings about it. While I don't want to be hooked to any particular drug, CBD oil seems like the better option compared to prescription meds, since I experience no negative side effects. It obviously curbs my anxiety symptoms. But I also love that it prevents insomnia after late-night workouts, and helps with overall inflammation and pain. I'd say those are reasons enough to keep taking it. And I can tell you, since the day of my panic attack, I haven't forgotten to take it once.
— As told to Jenny Sugar
Any cannabis products referenced above are not intended to diagnose, treat, cure, or prevent any disease. The writer is not a medical doctor, and their experience is based on personal use, the results of which may not be typical or intended. The legality of cannabis products varies by state, and readers are encouraged to check their local laws before purchasing and using cannabis products. Nothing in this article should be construed as advice regarding the legal status of cannabis products. Any views expressed in this article by a third-party sponsor are those of such sponsor, and do not necessarily represent the views of POPSUGAR.