Everything You've Ever Wanted to Know About Jenny Craig (Including If It Actually Works)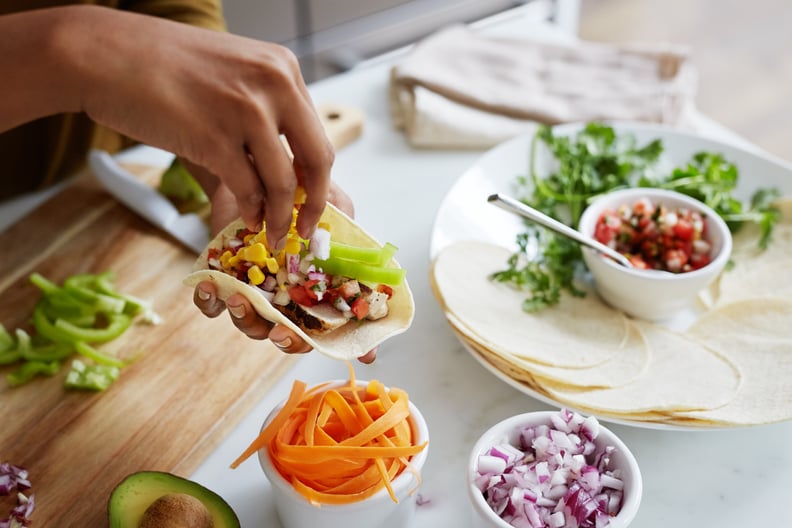 POPSUGAR Photography | Sheila Gim
POPSUGAR Photography | Sheila Gim
So you're researching diets, looking for weight-loss solutions, and evaluating your options. A program you've definitely heard of, but may not know the logistics of: Jenny Craig. We've all seen the commercials, heard the jingles, and maybe have even had a relative who's done this diet — but how does it work?
We chatted with registered dietitian nutritionist Lisa Talamini, senior science expert at Jenny Craig via email to get the scoop. She told POPSUGAR that "the program takes a holistic approach to weight loss and weight management, focusing on food, body, and mind." So the goal is weight loss, and the tools are preplanned meals and expert coaching. Let's break it down!
The Food
This is the premise of the program: the diet. Or rather we should say, the food (which tastes fantastic, according to the very high ratings from US News and World Report). Jenny Craig premade meals — which range in price but start at $3 each — are how members lose weight on the program. Here's the gist of it.
You eat often. Members eat six times a day — three main meals with three snacks.
You don't eliminate foods groups. There is no food group elimination, but a heavy emphasis on the Jenny Craig meals. "Jenny Craig entrees are the basis of every meal," said Talamini. "Members add in their own fruits, vegetables, and dairy for balance and variety."
NO calorie counting! Hallelujah, right? There is no calorie counting or macro counting on Jenny Craig.
The food is dietitian-approved. "The Jenny Craig menus are designed by RDs to meet national guidelines," said Talamini. When eating on the JC plan, members eat foods with "less than 10 percent saturated fat and less than 10 percent added sugar calories," in addition to unlimited amounts of "non-starchy vegetables [i.e., celery, cucumbers, tomatoes, broccoli], and low-calorie condiments and flavor enhancers that add satisfaction, flavor, and heart-healthy benefits."
You're not locked into these meals forever. The goal isn't to keep you on Jenny Craig food permanently — it's a tool to help you reach your weight-loss goal. Talalmani told POPSUGAR "While members during the weight-loss part of the program are encouraged to follow their plan to obtain the best results, as the member approaches their goal, they are encouraged to start eating more of their own foods. Their consultant works with them on healthy meal planning and food preparation, as well as strategies for dining out and managing social situations. The goal is to develop a healthy, sustainable, enjoyable lifestyle."
The Coaching
So you've got the food, but now you need a little bit of help and guidance. This is the second part of the program, and just as crucial as the meals: the consultants. "The Jenny Craig program offers a personal consultant who provides support and behavioral skills for developing a healthy relationship with food, while the Jenny Craig menus act as a guide for members to right size their portions," said Talamini.
These consultants go through rigorous, "intensive training," according to Talamini, which "focuses on active listening, motivation-based counseling, and education on basic nutrition, physical activity, and behavioral strategies for weight management and lifestyle change." This education is paramount for equipping Jenny Craig dieters with information that can help them sustain their healthy lifestyle. Consultants educate members on how to combine their premade, precalculated Jenny Craig meals and snacks with what the brand calls "Fresh and Free Additions" (read: high volume, low calorie) that are "rich in water and fiber to keep them feeling full longer with fewer calories."
Losing Weight With Jenny Craig
It's not just marketing and catchy jingles: Jenny Craig is science backed. US News and World Report ranked Jenny Craig as the number two diet overall for weight loss; Journal of American Medical Association (JAMA) also backed Jenny Craig's efficacy, citing that the structure of the program results in more sustained weight loss over the course of two years. "Annals of Internal Medicine, one of the most widely-cited peer-reviewed medical journals in the world, identified Jenny Craig as one of the most effective weight-loss programs," said Talamini. "[The study was] based on evidence that its participants achieved greater weight loss at 12 months, compared to control groups."
If you're looking for something specific to Type 2 diabetes or if you're prediabetic, Jenny Craig has a program that is tailored to Type 2. The brand shared a study with us from the April 23, 2014 issue of Diabetes Care that showed that "people with Type 2 diabetes who followed the Jenny Craig Type 2 diabetes program for one year lost more weight, had significantly lowered HbA1c (blood sugar) levels, and reduced heart-related risk factors than people who received the usual standard of care."