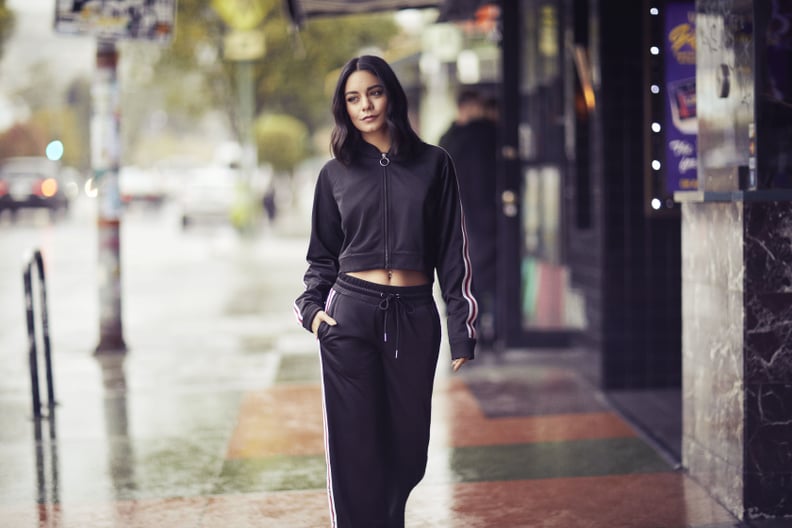 Courtesy of Avia
Courtesy of Avia
Vanessa Hudgens works out every day. Or at least she tries to, the 30-year-old actress told POPSUGAR ahead of her first-ever activewear launch (the collection with Avia is super cute, and you can check it out here). In the past, she's been open about how fitness gives her confidence, and she further explained to us that it's a vital part of her well-being and mental health. But when it comes to getting the most out of her workouts, she needs to be surrounded by other people.
"I'm the type of person that needs to be in a class," Vanessa said. "I need someone telling me what to do, and I love being in a group environment because I'm very competitive, so it pushes me to work harder than I would if I was by myself." She'll do home workouts every now and then — yoga DVDs led by David Swenson, whom she studied with on a retreat, to name one — but group classes are ultimately where she thrives. The "best recipe" for her body, she said, is a combination of indoor cycling, Pilates, and yoga. And she doesn't need anything else; that's what works.
Vanessa is so set in her ways that, when asked if there are any new classes she wants to try, she hesitated, then noted, "I'm a pretty tried-and-true person. I have tried so many things, and I know what works for my body. I know what I enjoy. If a girlfriend's like, 'Oh, my God. I tried this class, I love it so much, and I think that you'll really enjoy it,' then I'll go try it." But on her own time, she sticks to what she enjoys. Why let a good thing go, after all?
She has a point. Working out in a group setting, though intimidating for sure, can be the thing that gets you out of bed in the morning. Why? Because when there are other people around you competing for the same goal, it's thrilling. It's empowering. Also, like Vanessa pointed out, an instructor is telling you what to do, and structure and consistency make the best formula for success. Stay up to date on the latest classes if you're looking for something new. Or if you're like Vanessa, keep doing what you're doing — you're doing great.