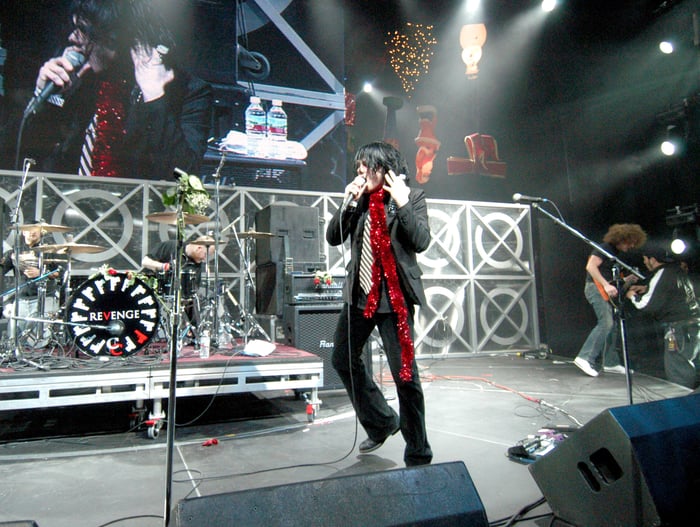 Ever since I was in high school, my workout playlist has been filled with emo music. Sure, I like to break a sweat to pop and hip-hop, too, but there's nothing like the angsty music from my teen years to fuel me to sprint faster, squat lower, and squeeze in a couple more reps.
I picked 28 of my favorite emo songs to work out to — trust me, narrowing it down to just 28 was like asking me to pick a favorite child — all of which have a fast tempo and high BPM to keep you motivated. I stuck to what I believe is the golden age of the emo music era: the early 2000s, ranging from Jimmy Eat World's Bleed American album that came out in 2001 to Straylight Run's debut self-titled album from the fall of 2004.
And as an emo purist, I made sure to only incorporate bands that are truly emo; I used the website isthisbandemo.com to double check (sorry, Paramore fans!). One caveat: the website states that Fall Out Boy isn't an emo band, and perhaps they evolved away from the genre, but I am a firm believer that the 2003 album Take This to Your Grave is one of the best emo albums of the decade.
Please find the full playlist below, and keep scrolling for a nostalgic look at all the music videos. Press play and great ready to not only work out your body, but also work through your feelings.
"Sweetness" by Jimmy Eat World
"Grand Theft Autumn" by Fall Out Boy
"Cute Without the 'E' (Cut From the Team)" by Taking Back Sunday
"The Taste of Ink" by The Used
"Best Of Me" by The Starting Line
"Helena" by My Chemical Romance
"All That's Left" by Thrice
"Hands Down" by Dashboard Confessional
"My Eyes Burn" by Matchbook Romance
"A Favor House Atlantic" by Coheed and Cambria
"Devotion and Desire" by Bayside
"I Write Sins Not Tragedies" by Panic! At The Disco
"Ohio Is for Lovers" by Hawthorne Heights
"Set Phasers to Stun" by Taking Back Sunday
"Pain" by Jimmy Eat World
"Understanding In a Car Crash" by Thursday
"At Your Funeral" by Saves the Day
"Tell That Mick He Just Made My List of Things to Do Today" by Fall Out Boy
"Car Underwater" by Armor For Sleep
"For The Workforce, Drowning" by Thursday
"The Tension and the Terror" by Straylight Run
"A Decade Under the Influence" by Taking Back Sunday
"I'm Not Okay (I Promise)" by My Chemical Romance
"Take It Away" by The Used
"Embers and Envelopes" by Mae
"Up and Go" by The Starting Line
"The Middle" by Jimmy Eat World
"The Swiss Army Romance" by Dashboard Confessional