Enlightened Just Launched 5 New High-Protein, Low-Cal Flavors (Spoiler: Movie Night Is the Best)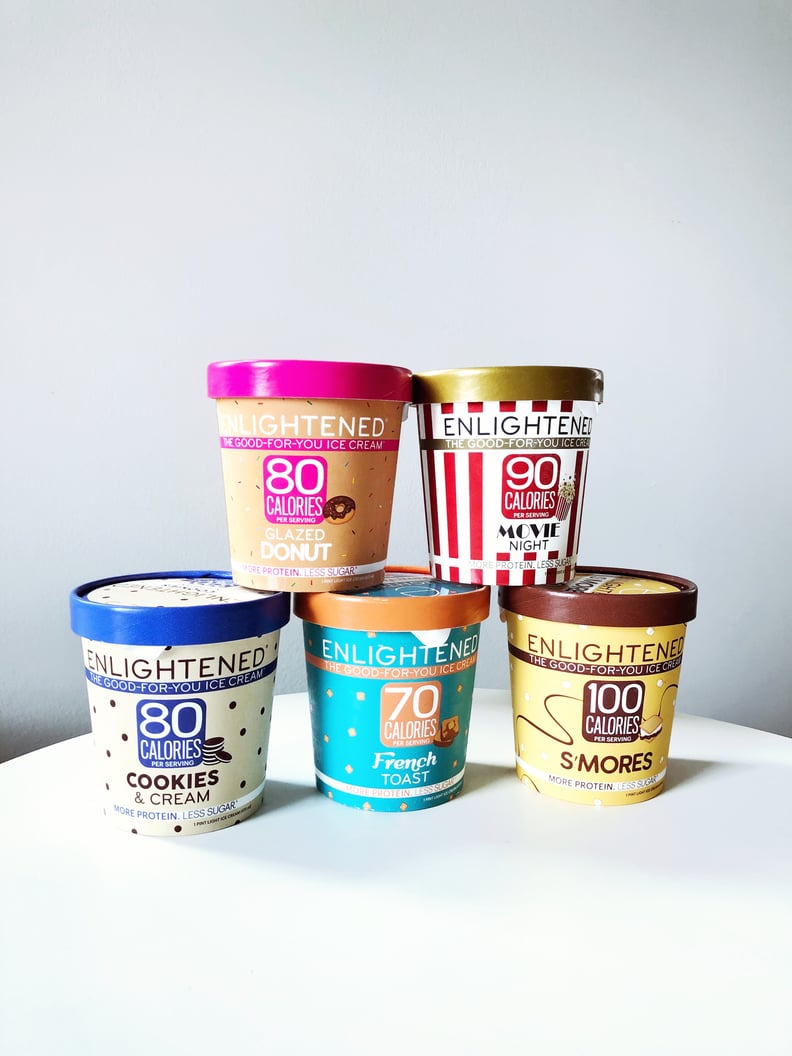 POPSUGAR Photography | Dominique Astorino
POPSUGAR Photography | Dominique Astorino
It's been a while since we've seen new flavors from Enlightened, but they came back with a vengeance. Dropping five new flavors — Cookies & Cream, Movie Night, French Toast, S'mores, and Glazed Donut — the brand has continued their high-protein, low-calorie, low-sugar, low-carb legacy with some seriously innovative new treats that are worth a taste . . . or two. Or three.
Here's what our coworkers thought of each and every new (and healthy!) flavor. Which one will you choose?
Cookies & Cream
A classic cookies and cream flavor is always a crowd-pleaser, and this one was no different. Though the other flavors in this taste test seemed to be somewhat polarizing, Enlightened's take on an Oreo-inspired ice cream really did the trick for our tasters.
Good texture and flavor.
Best one!
Reminds me of real ice cream.
Great texture.
Light, but lots of flavor!
Creamy!
Feel like it's missing sugar?
I prefer oatmeal raisin cookies, but I would eat this!
Yum yum — tastes like full on Oreo!
★★★★☆
S'mores
Remember what we said about polarizing flavors? Perhaps the most divisive was S'mores. Some were enchanted by the marshmallow-flavored ice cream base, while others weren't wowed.
Yum! Marshmallow ice cream = *heart emoji*
A bit too sweet.
Delicious!
Too artificial.
Tastes good and has a good texture!
Tastes like bubblegum???
LOVE! Great texture.
Not loving this — also I am obsessed with s'mores so I have high expectations/standards for this flavor
★★★☆☆
Movie Night
Never thought we'd be into butter-flavored ice cream, but here we are. This buttered-popcorn base is swirled with caramel and speckled with chocolate bits, and on the whole was well-received (yet still, despite almost all positive reviews, it got two people who said "BLEH").
Little bit of savory and sweet.
Love the buttery flavor! Surprisingly my favorite. Who knew I'd fall in love with popcorn ice cream?
Like the toffee flavor.
BLECH!
It's like toffee had a baby with vanilla ice cream and chocolate syrup.
Yasss, salty and sweet!
Perfect combo of salty and sweet.
Supertasty!!! Never thought I would like it!
Not for me, please turn the movie off
Not amazing but not bad
Didn't expect to like it this much!
★★★★
French Toast
Here we are again — a polarizing flavor that had some begging for more and others turning their noses. Verdict: If you're into breakfasty-flavored things and love maple syrup, this is for you.
Reminds me of the French Toast Crunch cereal!
I like this!
The syrup saves it . . . almost.
Whoa! Cold French toast that's low-carb? YES.
Heavy on the butter.
French Toast is THE ONE! Viva la brunch!!
Tastes artificial. Not a fan.
Digging the maple.
★★★☆☆
Glazed Donut
The nail in Glazed Donut's coffin was actually its name. Despite being named for the plainest of doughnuts, this flavor had swirls of chocolate icing and rainbow sprinkles, thereby making it a chocolate sprinkle doughnut . . . and people were confused. And you know how people behave when they're confused . . .
Nope! Strange flavor. Very artificial.
Is this froyo?
Misleading flavor.
FAKE NEWS! False advertisement!
Unclear what I just ate.
Yummy artificial goodness.
Funfetti dream.
★★☆☆