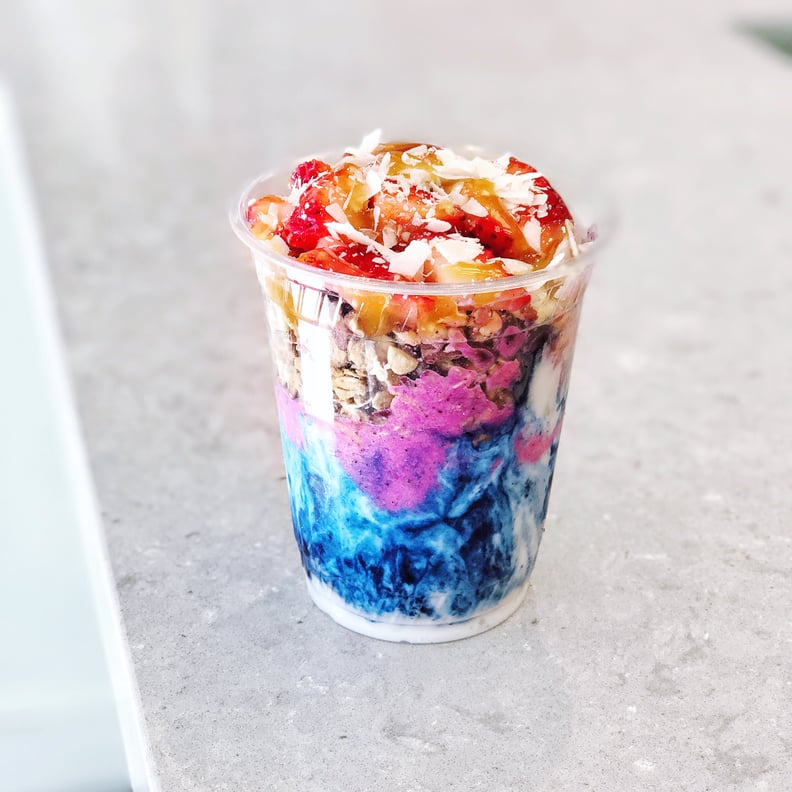 POPSUGAR Photography | Dominique Astorino
POPSUGAR Photography | Dominique Astorino
A "Unicorn Parfait" that you'll find in Friday's food log
Since becoming a fitness writer, I can't tell you how many questions I get about my routine, my food, my favorite products . . . actually, I can tell you. I get one to four questions a day from anyone from family to complete strangers. Most recently, a co-worker asked me what my typical week looks like, so I decided to lay it all out.
This is a sample week, spliced together from two different weeks because of the holiday weekend and travel throwing off my usual routine, but this is actually a very accurate (and painfully honest) account of what my days look like on any given week. Some days my nutrition is on point, other days I'm in a downward spiral of processed carbs. I'm a human, OK!
The through line with my food is that I make a lot of cleaner choices, so I don't actually have an issue if I decide to eat half a pint of ice cream or go out to dinner with friends. I also make healthy foods that I LOVE, and I don't force myself to eat things I don't enjoy. I eat often, so I'm never super hungry (that's when I make my worst decisions — food and otherwise), and try to plan ahead as much as possible.
Sunday
Exercise: This past Sunday was a rest day for me in terms of workouts, but I still was a bit active — I headed up to the Muir Woods National Monument (one of my favorite places!) for a brisk early morning trail walk (not sure if you can call it a hike) for a couple miles before heading back to the city.
Note: I've been following the Tone It Up nutrition plan's eight-week challenge, so on Sundays I meal prep to set up for a healthy week. I use this time to make protein muffins for the week, chop and prep veggies, cook quinoa, make chia pudding, etc. I also typically have an apple cider vinegar metabolism drink every morning, but since it's so redundant, I left it out of the food diary.
Food:
M1: Rebbl's Maca Mocha (I'm OBSESSED, and you need to try it). There's no coffee in it, just maca!
M2: Small fresh-squeezed OJ from Whole Foods while grocery shopping and a lemon protein muffin that I ate fresh from the oven while meal prepping.
M3: Hefty salad and an Icelandic yogurt (skyr — another obsession of mine).
M4: Cauliflower-acaí smoothie (TBH, it was pretty flavorless . . . I need to work on my recipe).
M5: Quinoa bowl with chicken, wilted kale and garlic, roasted sweet potatoes, edamame, and a little truffle salt — holy yumminess.
Monday
Exercise: Mondays and Tuesdays vary for me, but it's usually a studio class of some kind, like Flywheel, SoulCycle, Core40, or yoga. On this particular Monday, I did a 60-minute C2 CorePower Yoga, with my friend Janine teaching. It was sweaty, challenging, yet powerfully relaxing and restorative. Lots of balance work and single-leg poses!
Food:
M1: Iced almond milk latte from Starbucks with a whole lot of cinnamon.
M2: Protein muffin — this week I made lemon chia seed (in lieu of poppy) from the TIU plan and added a little almond extract (great decision, TBH). They're probably my favorite protein muffins to date!
M3: Leftovers from that miraculous quinoa bowl the night before.
M4: Chia pudding with cacao nibs and strawberries.
M5: TIU "tahini tray dinner" with chickpeas, cauliflower, broccoli, and roasted sweet potatoes. I prep these in bags with olive oil, tahini, and minced garlic so I can throw it all on a cookie sheet, bake it, and call it a night. For "dessert," I had GT's guava goddess kombucha.
Thursday's workout
Tuesday
Exercise: I love the slow, low-impact, muscle-shaking burn from Lagree-method Megaformer classes, and there's a Core40 on my train line to work! I do the Core40 Ramped class, which is Megaformer with an extra gravity challenge thanks to the carriage getting a little incline.
Food:
M1: Two coconut Perfect Fit protein pancakes with coconut flakes and a little organic maple syrup.
M2: Protein muffin.
M3: Greek chicken quinoa salad (I made it myself! Kalamata olives, cucumbers, tomatoes, artichoke hearts, chicken, quinoa, greens, and a little olive oil and salt with a half a lemon squeezed in.).
M4: Icelandic yogurt.
M5: Tahini tray dinner and a little bit of Halo Top's birthday cake flavor ice cream for dessert.
Wednesday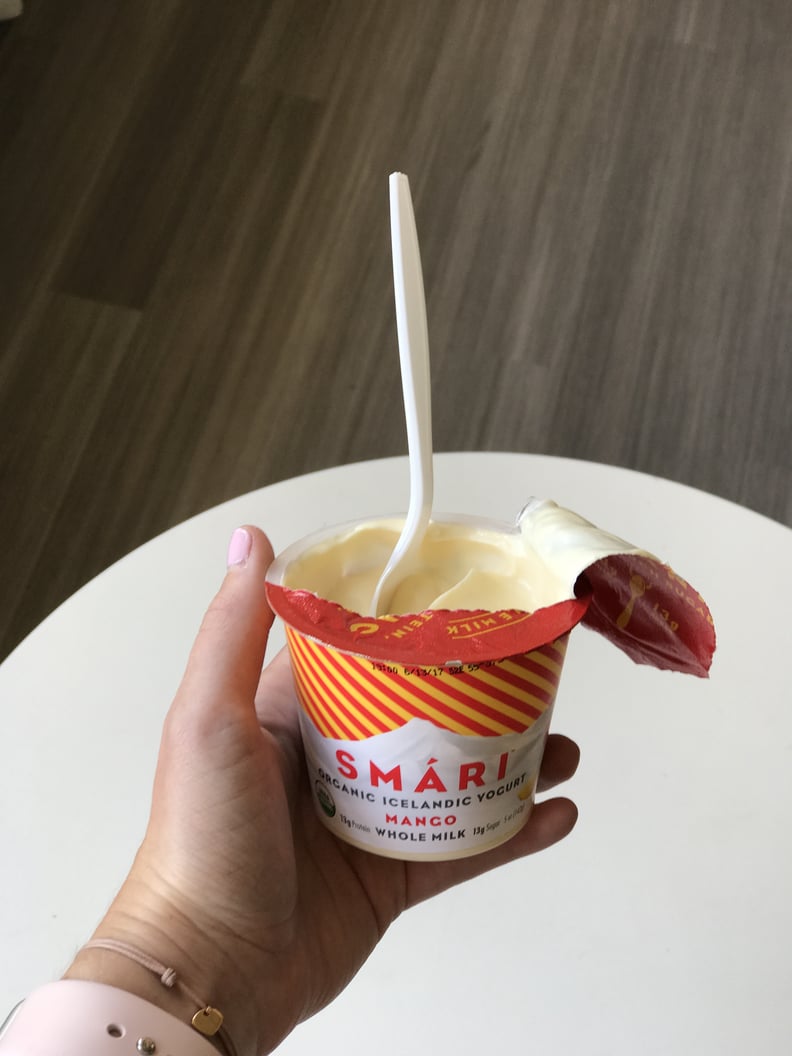 Exercise: Wednesday was a rest day! I don't always use this as my rest day, but that's just how it turned out. Sometimes I go for a run, sometimes I try a new studio or something like boxing, but I gave my body a break on this day.
Food:
M1: Another iced almond milk latte (I'm a creature of habit) and a protein muffin.
M2: Protein smoothie (I went to Barry's Bootcamp across the street, solely for the Fuel Bar).
M3: Greek chicken quinoa salad.
M4: Icelandic yogurt (word to the wise, Smári's mango flavor is like mango lassi in a cup).
M5: Crispy tofu nuggets and sautéed zucchini. One of my weeknight staples (so easy to make and so cheap!).
Thursday
Exercise: Thursday is my morning for personal training with my PT, Liz. We do a different workout every week, using weights, kettlebells, battle ropes, sleds, and all sorts of cool gym things I had never used before working with her.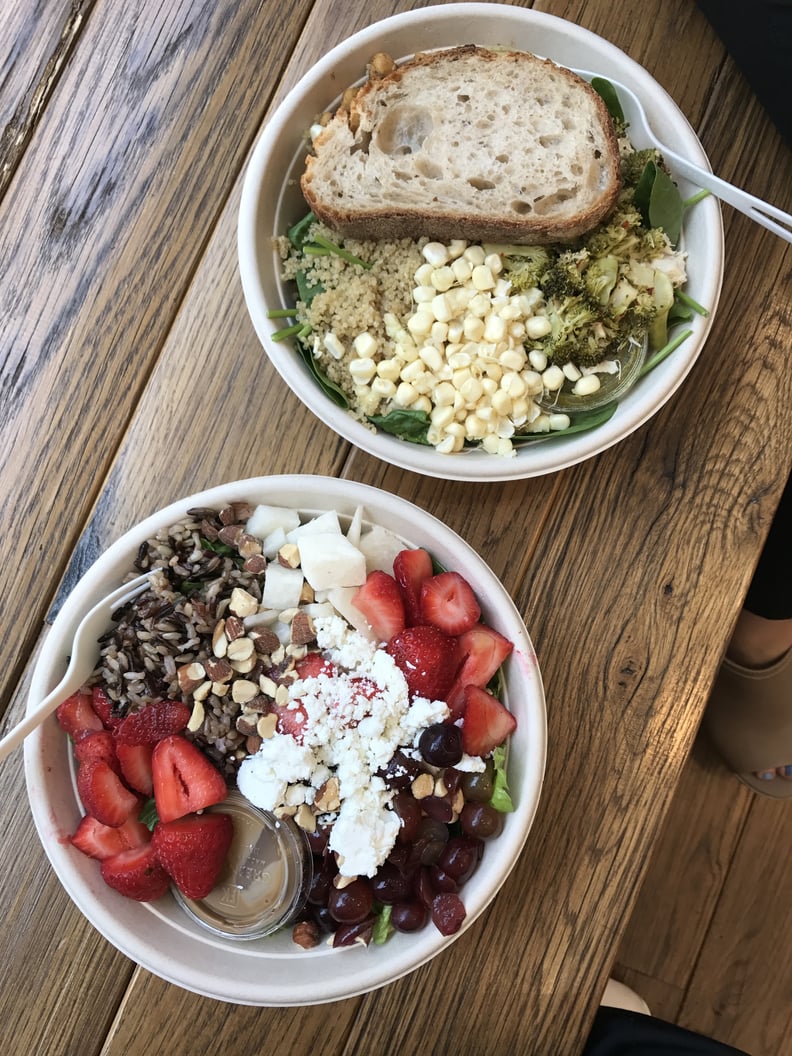 My Sweetgreen Bay Bowl (bottom)
Food:
M1: Two scrambled eggs (I get pasture-raised eggs from Vital Farms; they're expensive but worth it for a variety of reasons I won't get into here) and another iced almond milk latte.
M2: Protein muffin.
M3: I work dangerously close to Sweetgreen, and I'm obsessed with the Bay Bowl. My trainer told me to trade kale for romaine since romaine is a little easier to digest. I also do no raisins, add a double serving of strawberries, and get extra sprouted almonds.
M4: Chia pudding with cacao nibs.
M5: Made dinner with friends: pistachio-crusted salmon, coconut rice (we made it with brown rice), and a pineapple mango pico I made with some jicama and jalapeño. For dessert, I made a superfood hot cocoa with coconut milk (from a can), lots of cacao powder, manuka honey, and Moon Juice's Brain Dust.
Friday
Exercise: I don't always double up (nor would I recommend it, unless you're in a conditioning program!), but Friday was a double day for me. I love starting Friday with an early a.m. SoulCycle class with Luigi (he's hilarious and inspiring, and he always starts my day off on a good foot). So, 45 minutes of intense cycling was workout one.
I was also shooting my Instagram Story and Snapchat show for POPSUGAR, You Glow Girl, on Friday, testing all-white activewear (spoiler: it's awesome), so I went to Barry's Bootcamp for a power lunch session (50 minutes of weights and running). Needless to say, I went to bed at 9 p.m. and slept very, very well that night.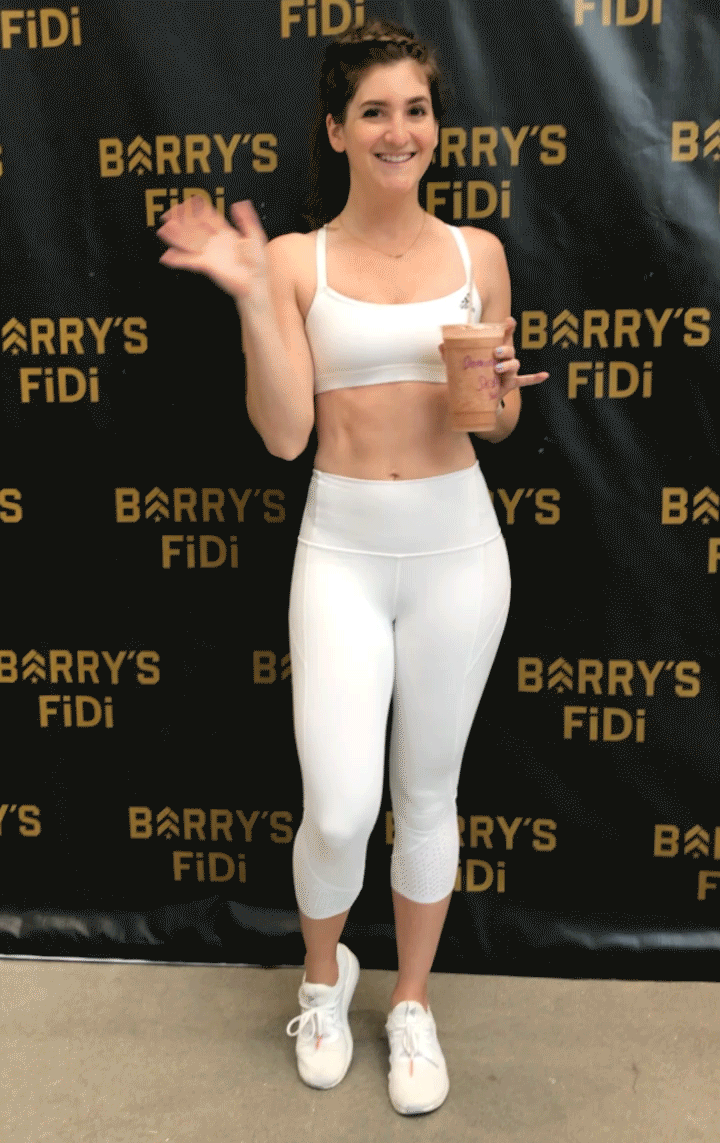 Food:
M1: Luigi and I went to Project Juice in the Castro after SoulCycle for a "unicorn parfait" — coconut probiotic yogurt with blue majik layered under a dragon fruit smoothie bowl blend, topped with granola, fruit, and coconut flakes (pictured at the top of this post). YUM. Also a cashew milk coffee.
M2: Protein muffin.
M3: I didn't get to eat lunch right away because 1) Barry's and 2) was making the Instagram and Snapchat show. I grabbed a protein shake from Barry's immediately after class to refuel and keep my body nourished. I get the Skinny B*** (unfortunate name, excellent shake) with strawberries instead of blueberries. It's also made with vegan protein and BCAAs for recovery!
M4: OK, this is another food I don't really talk about, but I love celery with cream cheese! Is that weird? IDK. I grew up with it. So yeah, I ate celery with cream cheese.
M5: I stopped at Lemonade on my way home and got seared ahi with an edamame salad and soba noodles with kimchi vegetables. AND a strawberry rhubarb lemonade, because why not.
Saturday
Exercise: My weekends have been a little up in the air lately from travel, but this past Saturday I went to Level 2/3 Hot Yoga at Love Story Yoga in San Francisco. It's a shorter class than the Sunday one (70 minutes instead of 90), and while challenging, it's still gentle and low-impact, and it helps me wind down.
Food:
M1: Iced tea and sweet coconut toast from Samovar before heading into yoga.
M2: N/A
M3: Bowl of pork, rice, coconut slaw, and beans from Cuban restaurant Media Noche . . . and also a little guava cheesecake ice cream dipped in dark chocolate ("Mi Abuela Favorita").
M4: Literally so many cherry tomatoes and a little ranch for dipping.
M5: I'm not proud of this, but I 100 percent walked to a Walgreens to get Ben & Jerry's Half Baked and Top Ramen. NOW YOU KNOW MY SECRETS.