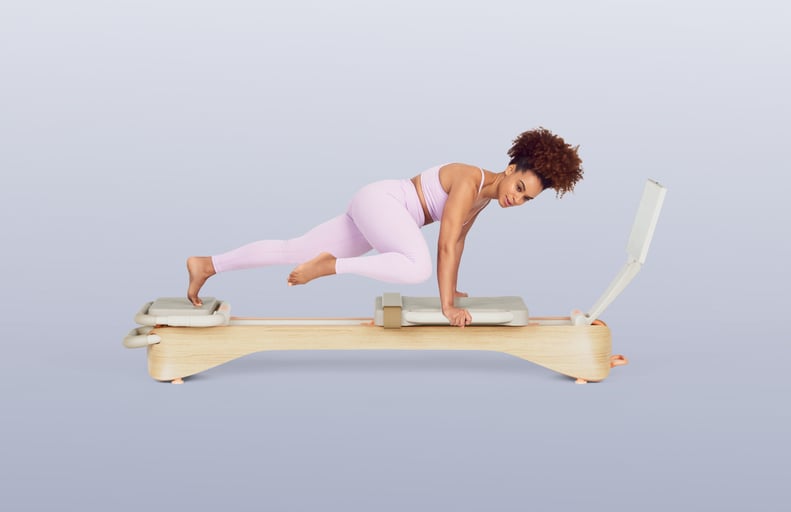 Courtesy of Frame
Courtesy of Frame
After a successful seed funding round, Frame has just debut their apartment-friendly connected Home Reformer. Along with Pilates, Frame will also offer bootcamp, yoga, kid-friendly, and other live and on-demand at-home fitness classes.
Here's what you need to know about this reformer ahead of its upcoming preorder launch in early October.
What Is the Frame Home Reformer?
The Home Reformer is a Pilates reformer with a screen attached so you can follow along to instructor-led classes. It is a device intended for at-home use so that no matter if you live in an apartment or a house, you can practice on a reformer in the comfort of your own home instead of needing to venture to a Pilates studio. Available in all black or white with pink and wooden accents, either option will easily coordinate with any decor.
Along with the reformer, you can also purchase a weighted bar, Pilates ball, Pilates ring, and hand weights. For those that preorder their reformers in October, deliveries are expected to begin in early 2022.
How Big Is the Frame Home Reformer?
The reformer is 6.5 feet long, 19.7 inches wide, and 11.5 inches tall. With a standard queen size bed being 80 inches long you can slide it under (using the attached wheels) or store it next to whatever size bed you already own.
How Much Is the Frame Home Reformer?
The reformer will be going for $2,999. Before the sticker shock settles, know that the price does include the cost of delivery and that there will be an option available to enroll in a 36-month (about $84 per month), zero percent APR financing program. There is also a $45 monthly cost for the class subscription, unless you enroll in the $500 annual membership.
So, if you were to pay for the reformer in full and the annual membership it would be $3,499 followed by a $500 annual payment for the membership. But, if you were to pay for everything on a monthly basis it would be about $129 per month for the first three years to cover the device with the membership and $45 per month after that for the membership alone.
Frame's Home Reformer is meant for seasoned Pilates practitioners and novices alike as it plans to host a wide variety of classes to match a range of fitness levels. For more information, check out Frame's website here.