POPSUGAR Photography
POPSUGAR Photography
"I was always taught to pay a lot of attention to my body and the foods that make me feel good."
"I'll start by saying I was always taught to pay a lot of attention to my body and the foods that make me feel good," Gigi said. "It's really important to get tested for your allergies and know what's inflammatory for your body, what you shouldn't be eating. I think all of those things are really important, more than following one person's fitness and diet routine."
As the face of Reebok's incredible campaign, Gigi explained that instead of following what works for someone else, everyone should listen to their own bodies and respond with what makes them feel good, in addition to changing things up often. "Changing your diet and your workout routine a lot is really important because your body gets a lot of muscle memory, and once you've done something for so long it just stops working," she said.
But what makes Gigi feel good?
Just like her impressively well-rounded career, Gigi is into a well-balanced meal. "Meat, veg, carbs — anything, as long as it's made well," she said. Gigi gave us a good idea of what her refrigerator looks like, and as someone who is always on the go, it makes perfect sense.
"It's a lot of organic, fresh ingredients, like tomatoes, garlic, onions, milk, eggs, flour — things that you know are good ingredients, that you can kind of mix up and make whatever you want," she told us, adding "a lot of meat."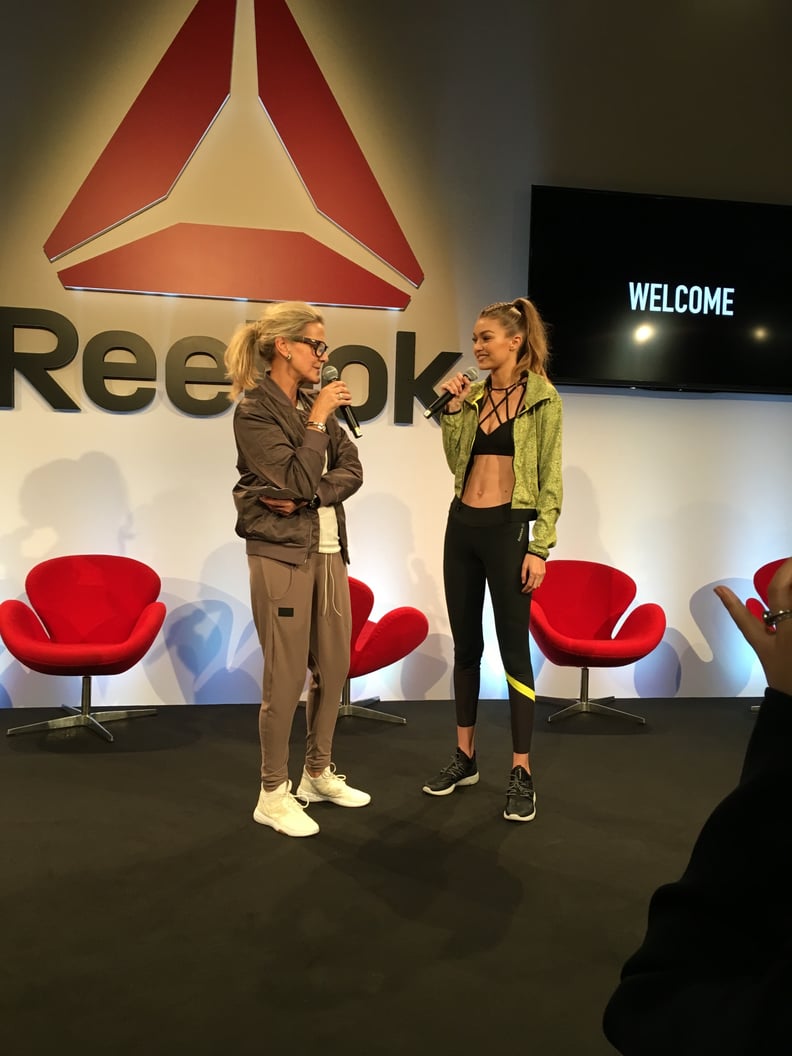 Minced meat was the first thing that came to Gigi's mind when talking about her staple food items because of all the different directions it can go in, explaining, "I love spaghetti bolognese, but you can also make meatballs or burgers."
Another one of Gigi's essential kitchen items: eggs. "I love baked eggs, if you have an organic tomato sauce, you can do baked eggs with bacon and just have bread on the side," she explained, as I salivated subtly. "Anything that you can kind of mix into a lot of different things that you like is good. Just depends on what you like."
Gigi has worked with Reebok on the #PerfectNever campaign, aiming to take the notion of "perfection" and crumble it into a million pieces, redefining what it means to be "perfect" and push yourself to be the best version of yourself, physically, mentally, and socially. And just like the empowering messages Gigi has been spreading with the campaign, she made it very clear that her meals are far from perfect, too.
"It would be a lie to say that I'm always cooking [on my days off], because on set, I'm eating the sh*t set food and I'm down with a cheese and egg burrito with hot sauce," Gigi said. "I'm into it."