Gwyneth Paltrow Predicts Wellness Trends in 2023
Gwyneth Paltrow Predicts What's Next For Wellness, and It Involves Psychedelics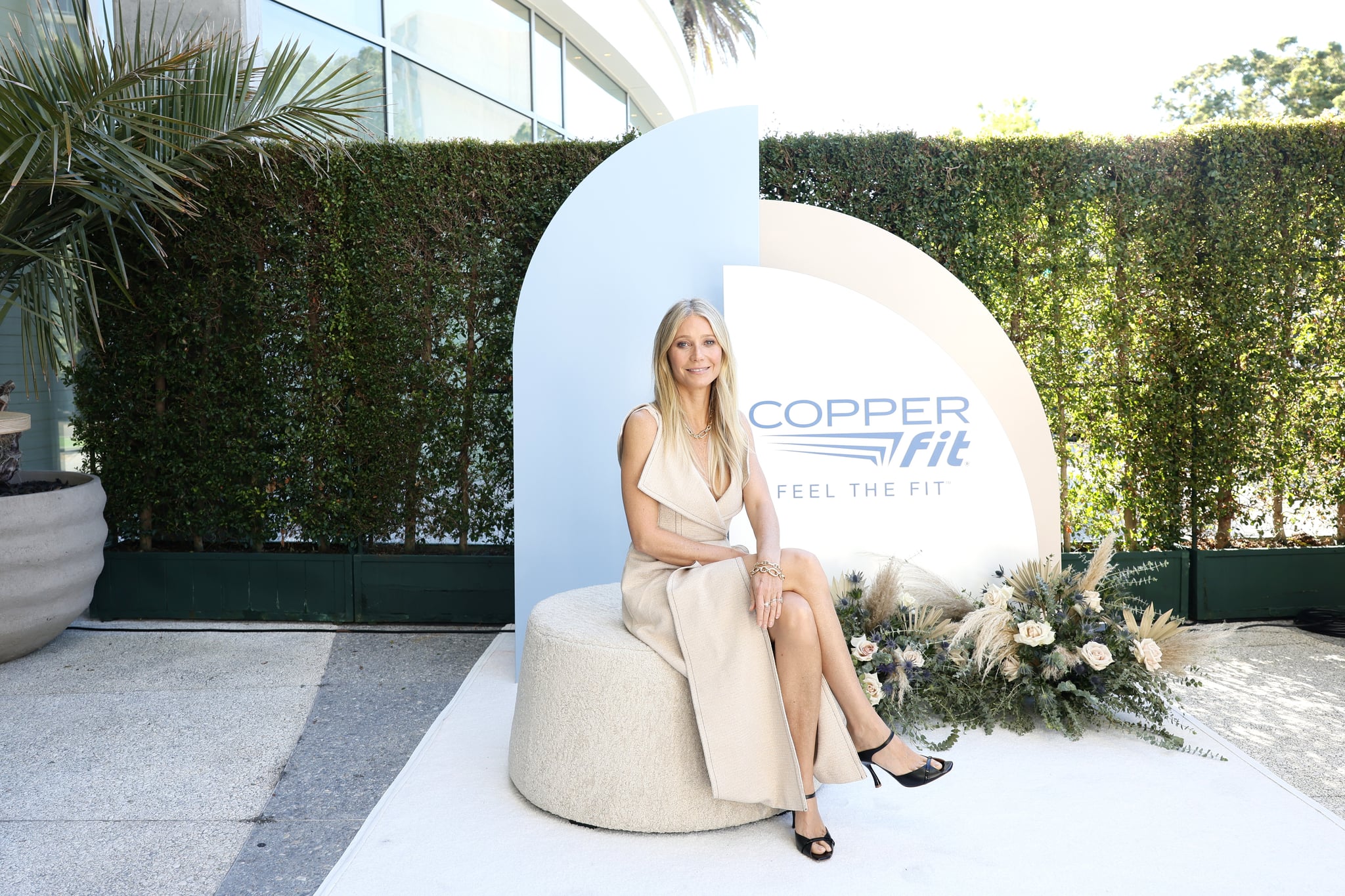 Gwyneth Paltrow left her comfort zone long ago. The actor, who just turned 50, stepped back from the film industry to turn her passion for wellness into a multipronged lifestyle company in 2008. She became known for fringe recommendations, like healing stickers and vagina-scented candles. Soon enough, Goop was as much an adjective as a brand name. And time has done nothing to quell her intrepid spirit: lately, she's been doing cold plunges with her husband, Brad Falchuk, despite hating the cold. "I'm adventurous," she says. "I'll give anything a try."
Paltrow spoke to POPSUGAR on Oct. 19, at a Los Angeles launch party celebrating her new collaboration with Copper Fit. The capsule collection consists of various products meant to aid recovery and avoid injury. There are compression socks, arch-relief bands, and a posture-support brace, all infused with copper, which, the brand claims, reduces odor.
"I do get luckily asked to do collaborations with people, and unless it's really something authentic that I can get behind, I won't do it," Paltrow says. "But I love this product." Paltrow was sold after trying the compression knee sleeve on her usual hikes. "I broke my knee doing 'Iron Man' and had surgery, and I've always had some instability and some arthritis in my knee." Her favorite product, however, is the arch-relief band. "This is so random, but I have really high arches in my foot," she says, likening the band to reflexology.
The collection is already a multigenerational crowd-pleaser in her inner circle. "My mom loves the stuff. My daughter loves the leggings." That's, she says, by design: "It's for a woman who is a little overwhelmed with all the stuff that she has to do and somebody who is looking for that little bit of extra support — maybe it's an age thing, maybe it's just the capacity that she has to take on in her life. I just thought about all of the women that I know and love who are active."
"I'll give anything a try."
Though passionate, Paltrow isn't a perfectionist. She laughs when I refer to her as the queen of self-care ("Hardly") and admits she should probably be stretching more. She turns to Instagram for inspiration like everyone else. (Mari Llewellyn is a favorite follow.) Yes, she'll try cold plunging, but she's not staying there for long. "My husband has gotten really into cold plunging, so I've been trying to do that after a workout, too, for recovery," she says. "It's so hard, and I hate being cold. You can sit in that thing for six minutes." Paltrow clarified that Falchuk sits in tub for six minutes. "I'm one minute, and I jump out. I pop out of there like a jack-in-the-box."
It's that balance that's helped Paltrow be consistent. "I feel like I am very committed, and if someone lays out a plan for me, I'll really follow it, but I also feel like I commit by taking a day," she says. "When I'm in New Orleans and eating a fried shrimp sandwich and having milk punch and french fries, when I want something as a special treat, I really want to do it and eat it and not feel guilty. Then I can feel motivated to start again."
But as present as she feels in person, looking her signature sun-kissed self in a beige wrap dress, Paltrow is often looking ahead. She teases a "really fun" Goop collaboration that's getting announced in a few weeks — although she doesn't share specifics — and says she would like to partner with a fashion brand in the future. Paltrow also hopes to work on another show. (Her documentary series "The Goop Lab" premiered on Netflix in 2020 and was shortly after renewed for a second season that has not come out yet.)
As for Goop's famous holiday gift guide, "It's all locked and loaded." Paltrow says the Goop team get the majority of the guide done during the summer. This year's will have the same categories as years prior, with a few surprises, which she again is tight-lipped about. "I'm excited for this one," she says. "It's going to be a fun one."
Paltrow is also making her predictions for the year ahead. "I think psychedelic therapy is going to continue to really grow." Paltrow is referring to the supervised use of psilocybin to treat mental illnesses like anxiety disorder or depression. She adds, "I'm seeing a lot of cold therapy. I think that's going to continue to be a trend for sure. Also personalized medicine, even around supplementation — making sure that people are taking things that they actually need or are lacking in."
"It's all led me to be this whole tapestry of who I am."
It's clear that Paltrow is comfortable thinking several steps ahead — but maybe less likely to spend much time considering the past. When I ask her what advice she would give to herself in the early Goop days, if she could go back knowing what she knows now, Paltrow pauses. "I could have gone back and said a million things, but I don't regret any step that I took or any mistake that I made because it's all led me to be this whole tapestry of who I am. The harder things about me, the more wonderful things about me, it's what makes me me." She adds, "I guess I would just say, 'It's going to all be OK.'"