Halo Top Released a New Flavor, and It Tastes Just Like Your Childhood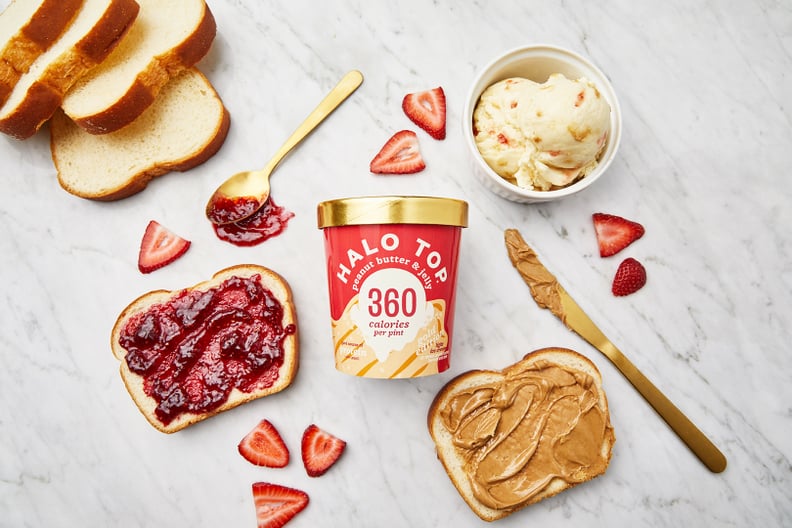 Halo Top
Halo Top
With each changing season comes a new Halo Top flavor: Winter was Gingerbread House, Spring was Blueberry Crumble, and Summer was Peaches and Cream. Now, just in time for back-to-school season, the healthy ice cream company is releasing another limited-edition flavor: PB&J.
The pint is packed with peanut butter ice cream and swirls of strawberry with cannoli bites. But it will only be available for a short time — the new flavor is a "Gold Edition" and will only be in stores for a few weeks; once it's sold out, it's gone. The new flavor will be available at retailers nationwide, including Walmart, Ahold, SEG, Meijer, and more. Each pint is 360 calories and 20 grams of protein.
We got our hands on some pints to check out the new flavor, and it tastes just like a homemade peanut butter and jelly sandwich. This is one of our most positively reviewed Halo Top flavors ever; our editors raved about the taste and how much it reminded them of their favorite lunchbox staple. Here's what POPSUGAR staffers had to say:
"Best flavor I've ever tried. Brought me right back to my childhood!"
"Don't taste the jelly, but it's delicious!"
"Holy sh*t! Sorry for swearing, but this is definitely the best Halo Top [flavor] I've tasted. No chalkiness either; a real ice cream texture."
"It's the perfect mix of peanut butter and jelly and surprisingly doesn't taste artificial. One bite just transported me back to my days of eating Smucker's Uncrustables. This stuff is good!"
"I wasn't sure how to feel about a PB&J flavor of ice cream, but it wasn't bad. I will say that I didn't get any hints of jelly (maybe the other editors picked it out!), but the peanut butter flavor wasn't overwhelming at all."
"Absolutely love the peanut butter flavor of this ice cream."
"I'm not a peanut butter person, but this might have done it for me."
"It didn't have a watered-down flavor. I would probably eat the whole thing in one sitting."
"Um, that is unreal — it literally tastes like a PB&J sandwich, bread and all (but in the best way). I need this in my freezer at all times, please and thank you."
★★★★
And the sneak peek isn't exclusive to POPSUGAR; some lucky fans can try the new flavor ahead of time too. Starting on July 15, the first 1,000 fans can get a first taste by visiting halotop.com/new and entering the code HALOTOPPB&J at checkout.
If you're a fan of PB&J and want to be transported back to your childhood, be sure to stock up on the pints when they become available and for as long as supplies last. The only things missing are a glass of milk and a bag of potato chips!