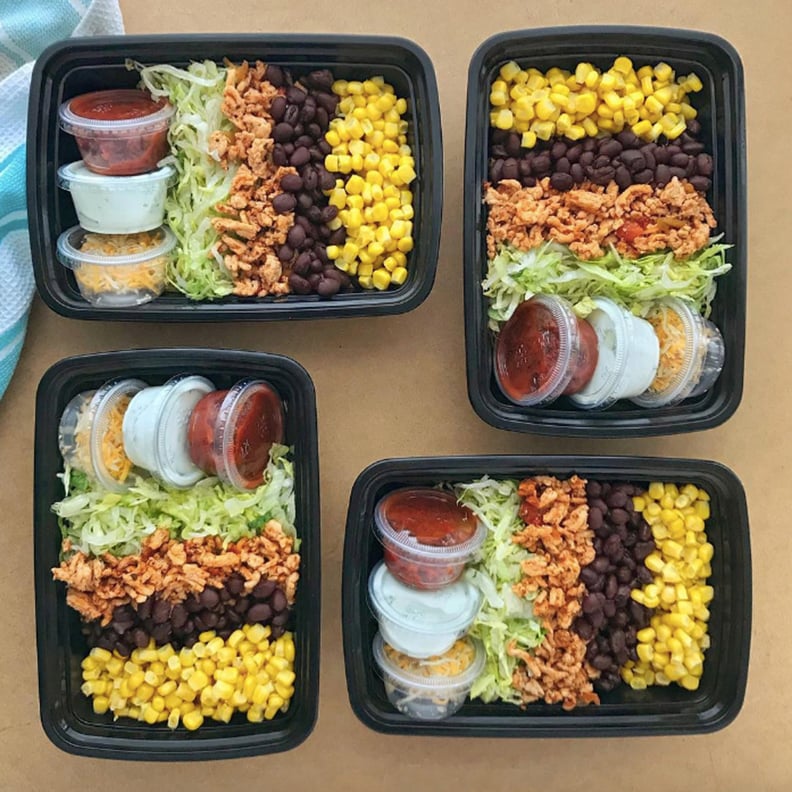 Scrambling for a healthy and delicious lunch can be as challenging as your most difficult project. Not only does your midday meal have to be delicious and satisfying, but it should also be affordable and low-maintenance. A good way to ensure your lunches meet all those criteria? Meal prep your lunches in fresh batches so you can focus more on life and less on waiting in line for yet another cafeteria sandwich.
We've rounded up 25 easy and nutritious lunches you can store in your fridge all week long. You are sure to find mouthwatering options that fit your cooking skill level, budget, and dietary needs!
01
Soft-boiled eggs on fresh spinach with sides of quinoa, avocado, and greens.
02
Buffalo chicken burgers with a side of Cajun sweet-potato fries.
03
Sweet and spicy chicken and veggies with steamed white rice.
04
Turkey, avocado, spinach, and feta cheese wrap with garlic aioli.
05
Poke bowl with salmon, crab, cucumbers, rice, mangoes, and hot sauce.
06
Taco salad with shredded lettuce, chicken, corn, beans, and toppings.
07
Quinoa, seasoned beans, and steamed broccoli.
08
Mediterranean salad with whole-grain pita bread and a side of sweet grapes.
09
Whole-grain pasta salad with tomatoes, cucumbers, broccoli, and peppers.
10
Savory chicken, rice, and spinach.
11
Soba noodles with zucchini, edamame, cabbage, and carrot slaw.
12
Whole-grain pasta, zoodles, carrots, chickpeas, and a side of spicy almond butter sauce.
13
Brown rice, corn, tomatoes, beans, spinach, and fresh fruit.
14
Cubed steak, roasted sweet potatoes, and chopped broccoli.
15
Thai chicken salad wraps, dipping sauce, and green grapes.
16
Spinach salad with chopped cucumbers, peppers, purple cabbage, seeds, and a side of fruit.
17
Minced turkey or beef with four-bean salad.
18
Grilled chicken, greens, and cherry tomatoes on a bed of fettuccine pasta.
19
Homemade chow mein with spaghetti squash, onions, carrots, and celery.
20
Zucchini noodles with almond pesto and tomatoes.
21
Shredded honey chicken with cabbage and veggies.
22
Salmon patties with cabbage salad.
23
Greek chicken-and-noodle salad with onions, broccoli, and colorful peppers.
24
Seared salmon with grilled broccoli and pasta in cauliflower sauce.
25
Vegetarian nacho bento box with black beans, corn, tomatoes, and lettuce.