No Need to Stand! This Arms and Abs Dumbbell Workout Is All on the Floor
While we are fans of full-body workouts, sometimes you just don't want to stand and lift. We get it. We've created a simple arms and abs workout that can be done on the floor for those days when being upright is just too, too much. And all you need is set of dumbbells, between five and 10 pounds, and a comfy space on the floor.
No-Standing Arm Workout
Equipment needed: medium-weight dumbbells
Directions: Warm up with shoulder circles, seated scarecrow, and a 30-second plank. Then perform this six-exercise circuit three times, resting for one minute between circuits. Cool down with a spinal twist and a hip-flexor stretch.
Exercises:
Single-arm chest press: 10 reps, each arm
Skull crusher: 12 reps
Overhead reach with leg lower: 10 reps, each side (alternating legs)
Dumbbell crossover punch: 12 reps, alternating sides
V-sit with single arm fly: 10 reps, each arm (alternating sides)
Double crunch pulse with weight: 20 reps
Keep reading for a detailed explanation of each move.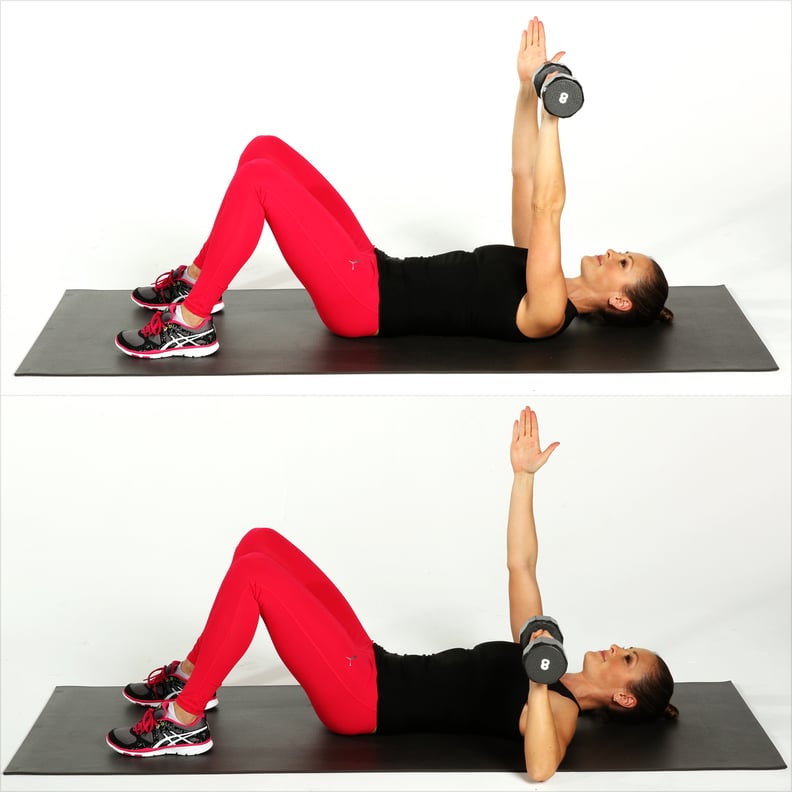 Single-Arm Chest Press
Reps: 10, each arm
Lie on your back with your heels about a foot away from your butt. Hold a dumbbell in your left hand and bring both hands to the ceiling.
Bend your left elbow, lowering your upper arm to floor. Exhale and straighten your elbow, pressing the weight back to the ceiling to complete a rep.
Do 10 reps with each arm to create a set.
This exercise will work your pecs, but your abs need to work to stabilize your torso since you're working one arm at a time.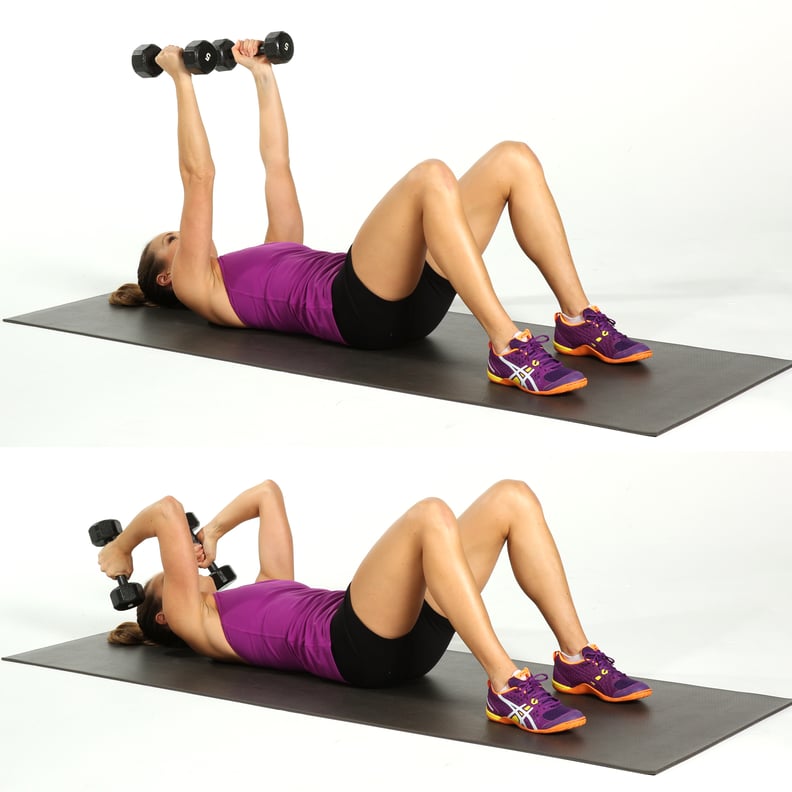 Skull Crusher
Reps: 12
Grab a set of dumbbells, and start by lying on your back with the knees bent.
With one dumbbell in each hand, raise your arms so they are above your chest, making sure your elbows are straight but not locked.
Slowly lower both arms toward your head, bending your elbows to 90 degrees as the dumbbells reach the mat. Aim to lower your dumbbells so they are on either side of your head, elbows bent and pressing in toward your head.
Lift your arms back to starting position. This is one rep.
This exercise works the triceps; for a more challenging variation, lift your legs to a table-top position with your hips and knees both bent to 90 degrees. Be sure to keep your torso stable.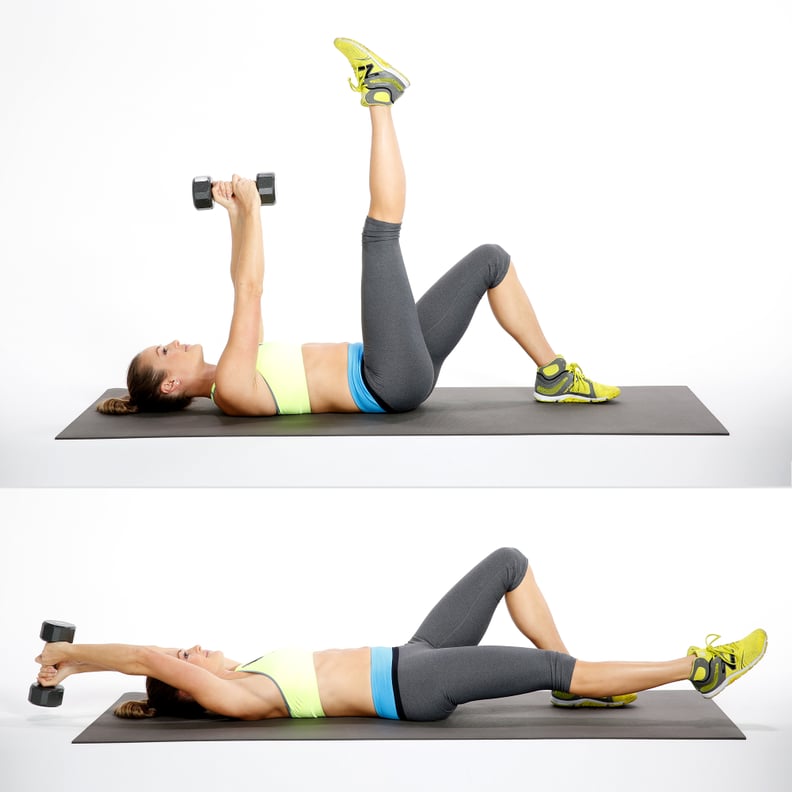 Overhead Reach With Leg Lower
Reps: 10, each side (alternating legs)
Lie on your back with your arms reaching toward the ceiling, holding one weight with both hands. With the sole of your left foot on the mat, bring your right toes toward the ceiling.
Exhale and lower your arms and leg toward the floor, keeping your lower back touching the mat.
Inhale and return to starting position to complete one rep. Repeat on the other side, and continue alternating for 20 reps total.
This exercise challenges the abs to stabilize the torso, but will also fire up the shoulders.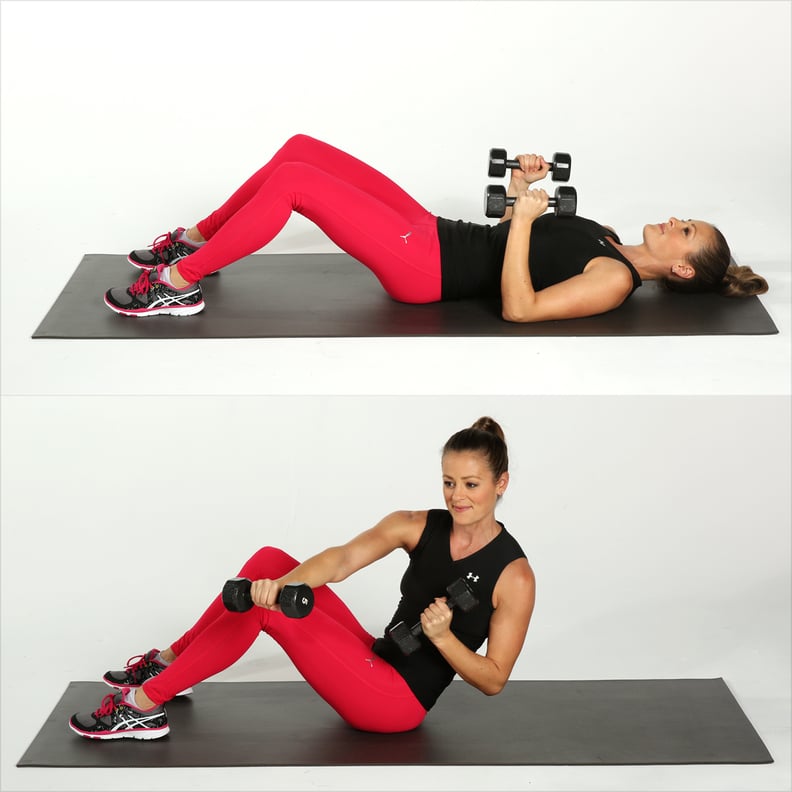 Dumbbell Crossover Punch
Reps: 12, alternating sides
Begin by lying on your back with your knees bent and your feet flat on the ground, about two feet from your butt. Hold weights, five- to eight-pound dumbbells, in both hands at your chest with your elbows on the floor.
Keeping your hands at your chest, roll up to a sitting position. Twist your ribs to the left as you "punch" your right hand to the outside of the left knee.
Bring your right hand back to your chest as you untwist, bringing your torso back to the center, and roll down to the ground.
Repeat the sit-up, twisting to the right side to complete one rep.
The sit-up works the abs, and the punch works the arms.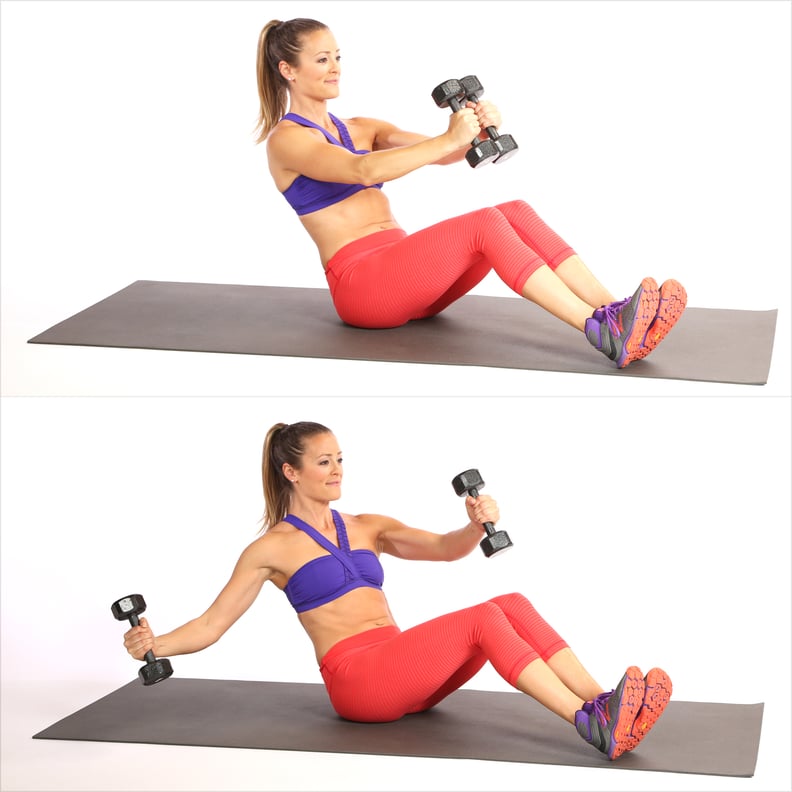 V-Sit With Single-Arm Fly
Reps: 10, each arm (alternating sides)
Begin sitting with your heels planted about two feet from your butt, holding the weights at chest level with a slight bend in your elbows. Lean back a few inches, pulling your abs toward your spine to keep your spine long and straight.
The left arm remains still, as you open your right arm to the side, making sure the weight doesn't go beyond your shoulder.
Bring your right arm back to center to complete one rep. Switch arms and repeat on the other side.
Holding the V-sit will works the abs, but they will kick in even more as you move your arm from center. The fly works the shoulders and chest.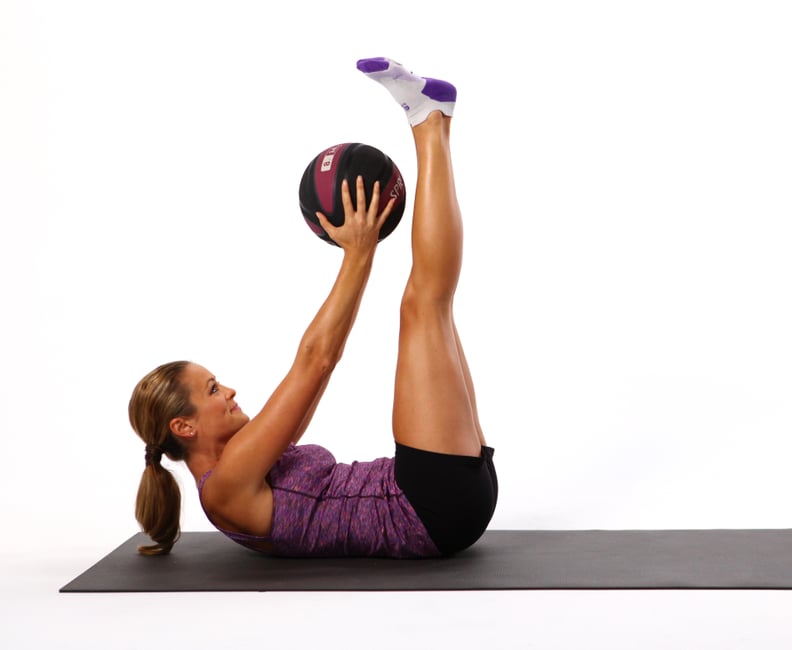 Double Crunch Pulse With Weight
Reps: 20
Begin lying on your back with your legs in the air, toes toward the ceiling, holding a medicine ball or dumbbell over your chest with straight arms. Engage your abs to press your low back into the mat while lifting your head, neck, and upper back off the mat.
Exhale and round your low back so the bottom of the pelvis raises as you lift your upper body an inch higher off the mat. Aim the medicine ball toward your ankles as you perform this double crunch.
Inhale, and lower your pelvis and upper back an inch toward the floor.
This is a great move for targeting the upper and lower abs.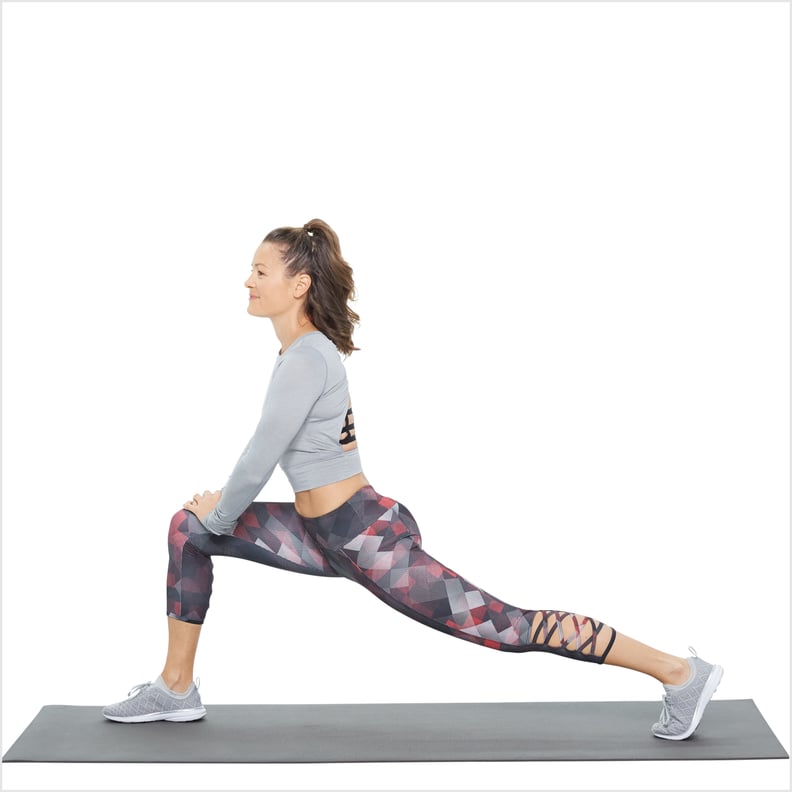 Cooldown: Runner's Lunge
From standing, step your right foot forward, coming into a lunge. Place you hands just above your right knee for support.
Reach through your left heel to lengthen the front of your left hip. Hold this position for 20 to 30 seconds, then switch sides.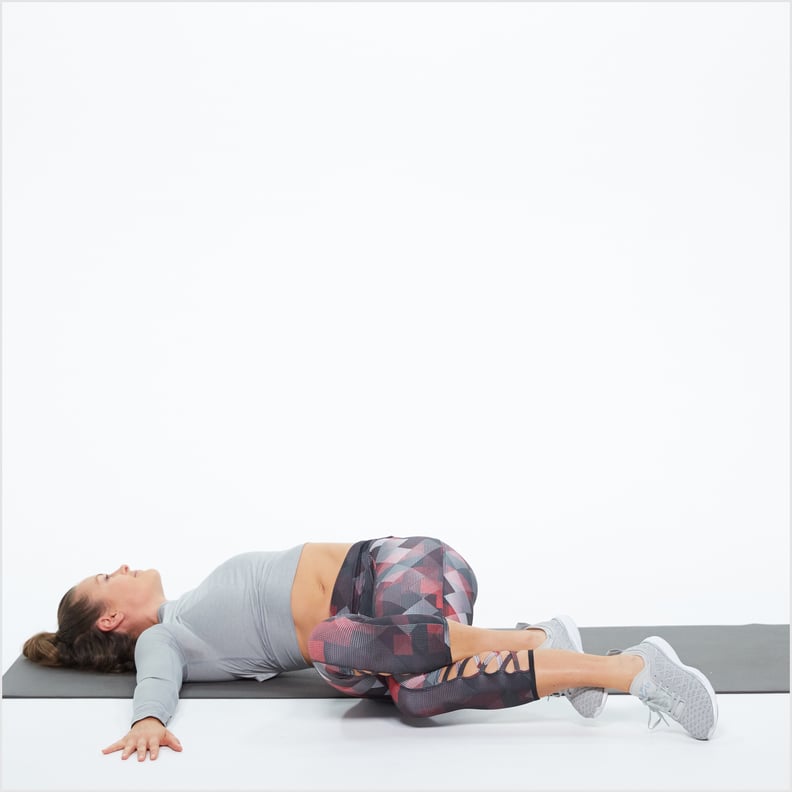 Cooldown: Lying Low Back Twist
Lying on your back, extend your arms out to your sides. Bend your knees, and cross your right leg over your left.
Slowly rotate your knees to the right, allowing them to come to the floor. It's OK if your left shoulder comes off the floor. Hold for 20 to 30 seconds. Then, slowly bring your knees back to the center.
Reverse directions and twist to the left. Repeat as needed.