Let's get ready to work your muscles — but first, we warm up.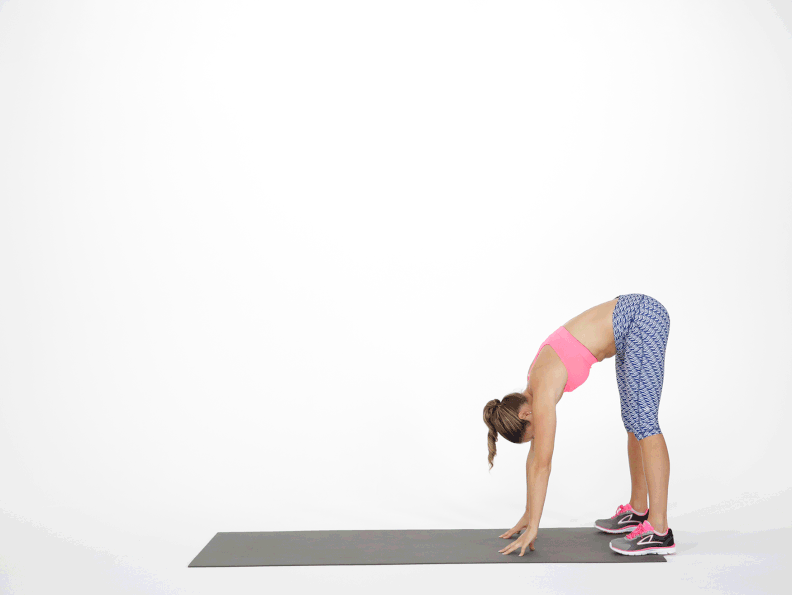 While you work on strength and stabilize your core, you'll also help prevent soreness from strength training by properly preparing your muscles for your workout. Barry's Bootcamp trainer Erica Stenz loves using this move at the beginning of her conditioning classes and told POPSUGAR, "I like to do plank walkouts before a strength training set because it's a good way to start getting the heart rate up and it's a good dynamic stretch for your hamstrings as you walk your hands back to your toes."
Here's how to do a walkout warmup:
Stand at the back of your mat and circle your arms out to the sides to reach toward the ceiling. Look up, and feel your chest opening up.
Keeping your back straight, bend forward, hinging at your hips to bring your hands to the mat. This position brings length to the back of the legs. If your hamstrings are tight, bend your knees a bit to take tension off the muscles.
Walk your hands forward, moving into a plank, and hold each step to stretch your calves a bit. This warms up the shoulders and hands nicely.
Hold the plank for a few seconds to really wake up your core.
From your plank, walk your hands back to your feet until you are in another forward bend. Slowly roll up to standing, letting your head hang and keeping your neck relaxed. Once you are fully upright, you're ready to repeat the walkout for a total of three to five reps.