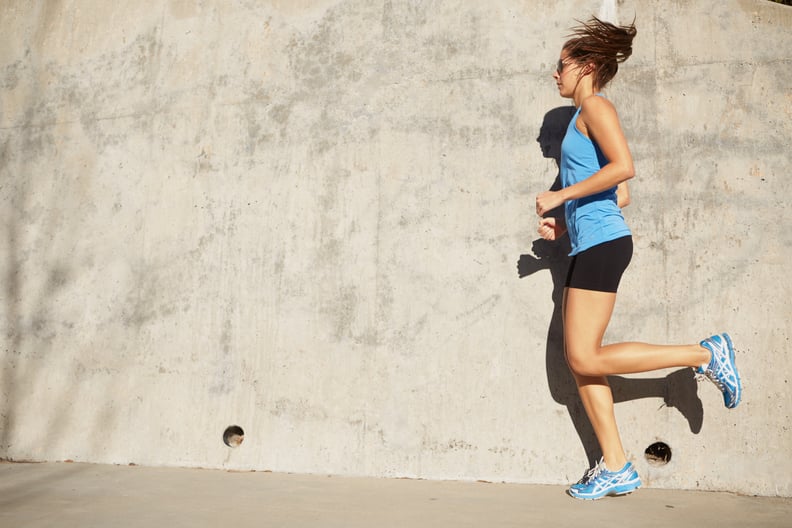 POPSUGAR Photography | Ericka McConnell
POPSUGAR Photography | Ericka McConnell
After making major changes to my training and rethinking the way I eat, I finished a race more than five minutes faster than I had at the same race, on the same course, just one year prior. I immediately began celebrating on social media, bragging about my new personal record (PR).
But then someone much wiser challenged me to rethink the way I define "personal record." My beloved high school swim coach encouraged me to celebrate a "lifetime best" and stop using the word "personal" to describe my success. What's personal about that new, better time anyway?
Do you really improve at any race by yourself?
When forced to really think about the changes we make to get stronger, better, faster, there are almost always other people involved: family and friends who show up for every race, holding signs and buying celebratory brunch; friends and family who have learned to schedule weekend gatherings around long runs — they all contribute to our ability to be better. Without this support, would any of us have the self-discipline to stick to training on those cold, rainy mornings when no one's around to push us out the door?
One significant change that propelled me over the finish line faster was my running club. How many seconds could I attribute to their motivation throughout the Summer? How many seconds did I spare because they helped me run up the huge hills on this course every Monday night for three months? More importantly, when I crossed the finish line and they were there smiling and cheering for me, wasn't that even better than my finish time?
What's a race without community support?
What's a race without volunteers? A training run. That's it. And no one's training runs are as fast as that same distance on race day. How many seconds can be attributed to the perfectly placed water stop? That volunteer you see at every race who offers a high-five or a motivating word when you feel like stopping to lie down for a bit saves minutes off of every race. Strangers who devote their weekends to cheering, fueling, and motivating racers are worth time shaved off every training run.
What would happen if we couldn't rely on our local running stores to fit, recommend, and replace our battered running shoes? Without the guidance of the experts at the local stores, we'd never run again after our first blister, bloody toe, or lost toenail.
What are coaches and mentors worth to your time?
The coaches I had growing up are still part of my life in ways that they don't even know. I hear their voices when I'm tempted to quit just a little before my mileage is up. I hear their voices when it's too hot, too cold, too something to get out of bed and go for a run, a swim, or a bike ride. Little phrases or mottos they instilled in my head when I was younger are still there. I hear "focus and intensity" and "hustle up" most clearly on the days when I don't want to hear anything but an excuse to skip a run. They've long since forgotten the words they used to encourage all of us, but maybe for most of us who are weekend warriors into adulthood, those adages are still there.
Perhaps there are runners who can completely claim that a personal record is personal; they received no support, guidance, or help in getting faster. For most of us, though, perhaps it's time to retire the PR and start celebrating the LB.