Make Disneyland the Healthiest Place on Earth With These Cleaner-Eating Hacks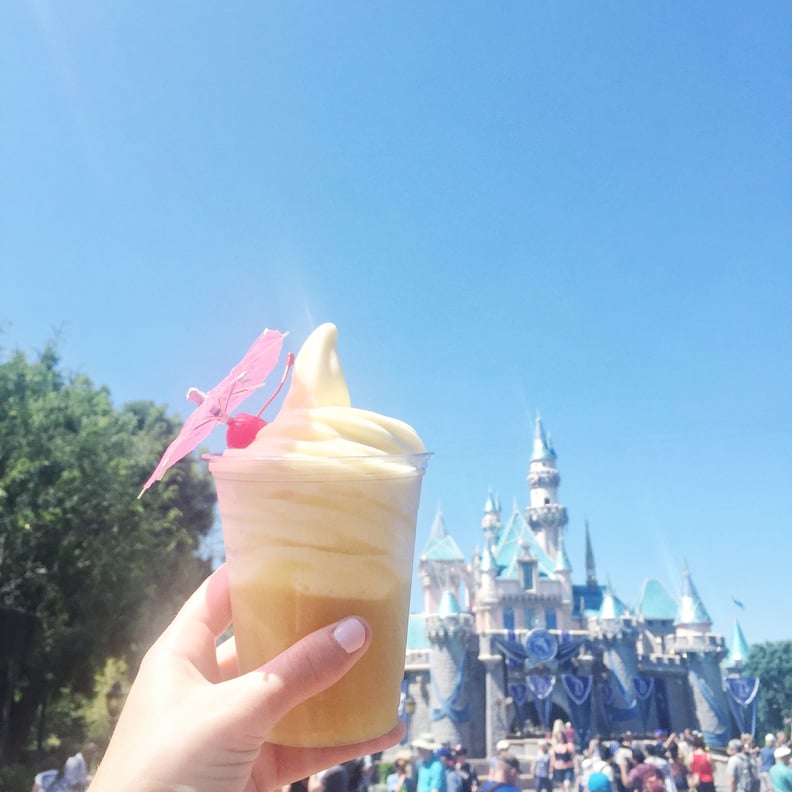 POPSUGAR Photography | Dominique Astorino
POPSUGAR Photography | Dominique Astorino
As someone who just came back from a pumpkin-hot-cocoa-soaked, deep-fried trip to Disneyland, I know that sometimes your trip to the Happiest Place on Earth is just a day to indulge (and maybe eat a few too many churros). And at first glance, it seems like indulging is the only option and that there are only three food groups in the park: sugar, refined carbs, and fat. If you're lucky, it's a deep-fried, sugar-coated combo of all three.
And look, a full day at Disneyland can easily get you 20,000 to 30,000 steps on your Fitbit (my stint yesterday got me 27,000 — about 11 miles with 2,500 calories burned), so honestly, you don't need to worry about it too much, especially if this trip is a once-a-year treat to yourself. But if you really are trying to stay on course (or you have an annual pass!), there are some surprisingly healthier choices at this beloved theme park. Use this cheat sheet to eat leaner and lighter at Disneyland.
Mickey Check meals. Designed for kids but great for anyone, the Mickey Check meals meet healthy nutrition guidelines. According to Disney's site, these menu items "limit calories, saturated fat, sodium and sugar." You can find these items on most of the kids' menus across the park.
Salads galore. Many of the fast-casual restaurants around the park offer salads. Some of the better ones include the picnic salad at Hungry Bear in Critter Country (turkey breast, strawberry, and jicama!), the salade de maison at Cafe Orleans in the French Quarter, the spinach salad with grilled chicken at Carnation Cafe on Main Street, or the grilled lobster tail salad at Ariel's Grotto in California Adventure.
Leaner proteins. While many a treat at Disneyland is deep fried or possibly processed, you can totally opt for leaner, protein-dense foods. The turkey leg probably comes to mind, as it's one of Disneyland's most popular snacks. And that's a food where you can know the ingredients pretty well, since you know . . . it's just turkey. Not into one-pound-plus turkey legs? Keep things lean at the Bengal Barbecue in Adventureland next to Indiana Jones with beef, chicken, or veggie skewers.
Snack smarter. Several snack vendors across the entire park now carry foods like fresh fruit (pineapple spears? heck yes!), coconut water, and pickles. Choose a fruit or veggie snack, or pack your own to keep yourself full throughout the day.
Check all your options. While a tempting, superrich, and fatty meal might be right under your nose, there's typically a healthy option right around the corner. Can you resist the famous (yet quite fatty) clam chowder bread bowl next to Pirates of the Caribbean? Right around the corner is the French Market Restaurant, where you can get oven roasted chicken with potatoes and veggies. Hanging out in Tomorrowland? Skip the cheeseburgers at Galactic Grill and try a protein-packed breakfast burrito (skip the queso to keep it light) or Wicket's wicked veggie wrap with beans, greens, cucumbers, corn, and tomato.
Water, water, water. Disneyland is in Anaheim, CA, which boasts a particularly hot, sunny climate — that plus walking, being on your feet all day, and being outside? You've got the perfect ingredients for dehydration. Additionally, when you're thirsty, your brain can confuse the sensation for hunger, causing you to unnecessarily eat when all you really needed was a little H2O. Bring a reusable water bottle, as there are fountains around the park to refill!
Eat a good breakfast. Fill up early with a good, nutritious breakfast to set the tone for your day. If you didn't eat before you got to the park, try the aforementioned breakfast burrito in Tomorrowland, or head to the Carnation Cafe on Main Street. It's got steel-cut oatmeal with berries and a spinach and tomato egg white frittata with mushrooms and avocado (aaaand it comes with a side of fruit).
Try a dairy-free, vegan favorite. Skip the ice cream and try a pineapple cooler from Adventureland. The Dole Whip is one of the most treasured treats among Disney fans, and for good reason! This milk-free frosty cup of goodness is a pineapple nice cream soft-serve on top of Dole pineapple juice. We recommend sipping one of these in the air-conditioned Tiki Room for a break from the heat. Don't forget to drink a little water, too.