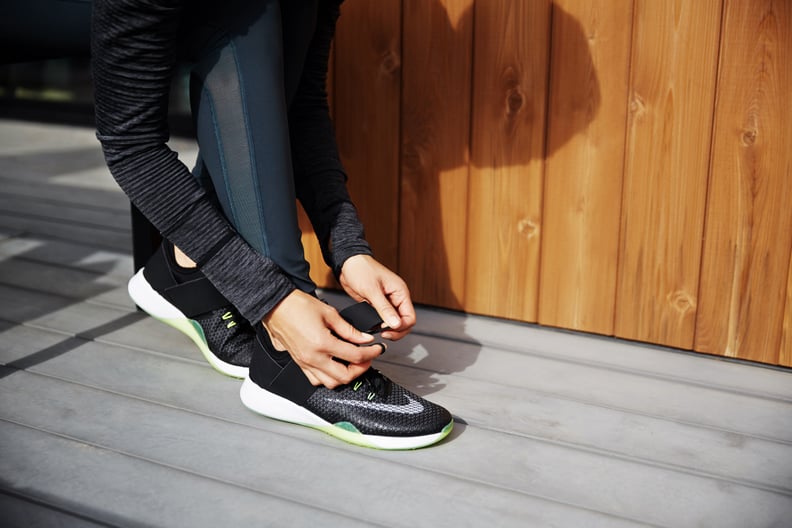 POPSUGAR Photography | Sheila Gim
POPSUGAR Photography | Sheila Gim
On March 14, my worst fear came to fruition during a Barry's Bootcamp class. It was my first week working for POPSUGAR, and as a fitness bonding experience, my team and I attended the boutique fitness class after work. For weeks, I was nervous to work out and sweat in front of a group of women I had just met for whom I wanted to make a good impression. If I was terrible during a group fitness class, what business did I have being a fitness editor at one of my favorite digital media companies?
To prepare for this bonding excursion, I took a Barry's Bootcamp class in New York the week before. Since I had been a member of Orangetheory Fitness, I enjoyed the format of the class: half spent on the treadmill, half spent on the floor using dumbbells and bodyweight moves. Although I expected it to be difficult, I loved the class. I found the workout challenging but doable and left feeling like I had crushed the goals I set for myself.
After my positive experience in New York, I felt confident enough to take on Barry's Bootcamp in San Francisco. My team members could not have been more welcoming and friendly during my first week, and I knew they wouldn't be judging me during our workout. Although I started to get butterflies in my stomach before the class, I was eager to lace up my running sneakers and enjoy another tough workout.
I started on the floor and everything went well: I grabbed a set of dumbbells and churned out the reps. Then, we moved to the treadmill. The first couple minutes were fine at a steady jog; I kept up the pace at around five miles per hour, then 5.5 miles per hour. Once I got up to six miles per hour, I felt confident with my pace. When the instructor told us to go faster, I punched the speed up to seven. Then my foot slipped, my shoe got caught on the belt, and I lost my balance. Holding on to the sides of the treadmill, my feet lost control and my entire body rolled off onto the floor. Luckily, my manager was next to me and was able to hit the emergency stop button so I didn't roll off as fast as I would have.
I have been running on a treadmill regularly since I was 14 years old and have never fallen off — until I did in front of a room full of fit strangers and new coworkers. Luckily, I wasn't really hurt; just a few scratches and bruises, including my ego. Choking back tears, I sauntered back up to the treadmill and walked at a slow four-mile-per-hour pace for the rest of the treadmill portion. I wasn't about to risk my life and limbs again by running on that death trap.
After class, my coworkers were so supportive and offered words of encouragement, which helped ease my feelings of utter humiliation. I'm supposed to be a fitness editor and I couldn't even run on a treadmill. For the rest of my time in San Francisco, I stuck to indoor cycling classes for my workouts; I felt a little safer clipped into a bike.
When I got back to New York, I steered clear of the treadmill. I used to run about three miles a couple times a week, but instead I got my cardio in on the stairclimber and Spin bike. I was terrified of running again; every once in a while, I would have flashbacks of losing my balance and rolling off the Woodway.
Then, I got an invite to an event at the Mile High Run Club in New York. The class would consist of just running for 50 minutes on Woodway treadmills, the same treadmills used in Barry's Bootcamp. A few weeks after my humiliating spill, I RSVP'd yes to this event and faced my treadmill fears.
For starters, I wore the wrong shoes to Barry's. I wore my outdoor trail running shoes, which have extra traction on the bottom. The traction is what got caught on the treadmill and caused me to lose my balance. For the Mile High Run Club class, I stuck to my flatter Asics.
In the days leading up to the class, I envisioned all the times I successfully ran and sprinted on a treadmill instead of the one time I fell off of it. I reminded myself that I have been running on treadmills for more than half my life and I will continue to run on them again. One bad fall in a class shouldn't prevent me from doing a form of exercise I genuinely enjoy.
During the Mile High Run Club class, I took it pretty easy. I didn't sprint all-out at my max pace because I was still worried about slipping. But I did gradually increase my speed and challenge myself as the class went on. Plus, I had my fellow fitness assistant editor Tamara Pridgett on the treadmill next to me to offer encouraging high-fives and moral support.
Before I knew it, the 50 minutes were up — and I didn't fall! I left the class feeling sweaty, accomplished, and most of all, relieved. After facing my fears during a running class, I was able to get back on the treadmill at the gym. I also bought a three-pack at Barry's, and I'm planning my triumphant return. I may fall off the treadmill again, but I know I'll be able to get back up and keep going.