How to Take CBD Oil For Maximum Effects, According to an Expert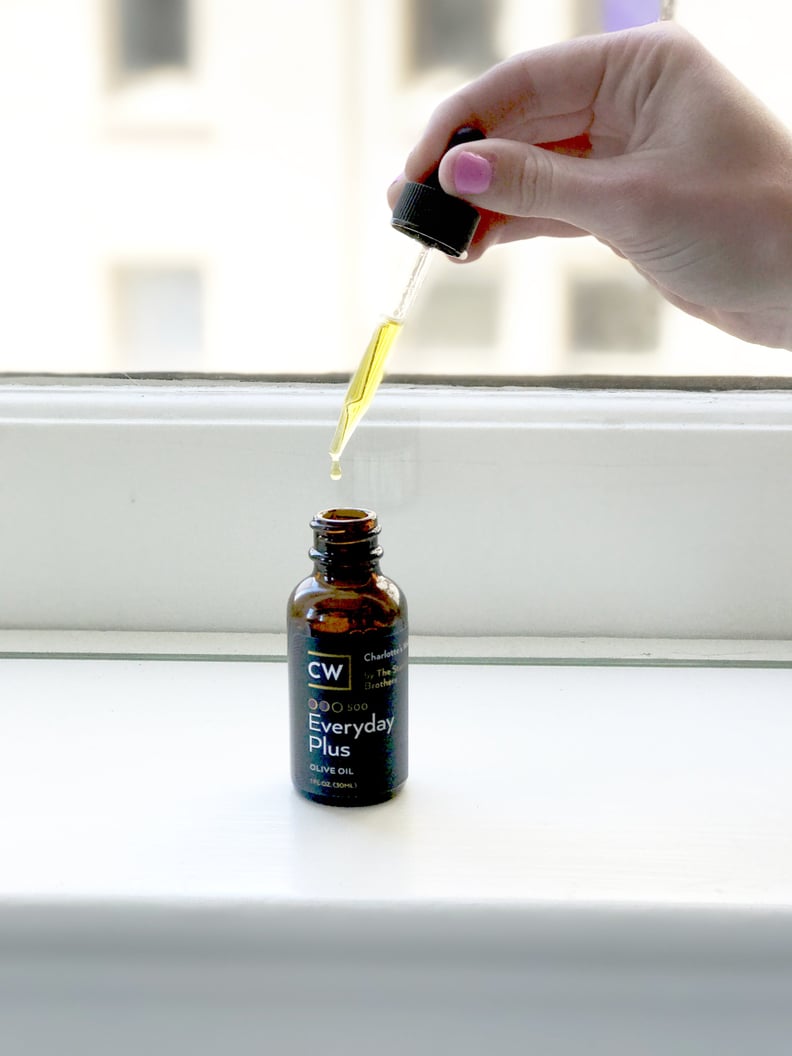 POPSUGAR Photography | Brinton Parker
POPSUGAR Photography | Brinton Parker
You may have heard about the purported health benefits of cannabidiol (CBD), including relieving anxiety and pain, reducing seizures, and getting better sleep. CBD is derived from the marijuana plant, but it doesn't contain THC, the compound that makes you feel "high."
If you're interested in trying CBD for yourself, one of the most common ways is with CBD, or hemp, oils. Unfortunately, many of these products don't come with instructions on the best way to take it, so we asked neuroscientist and cannabis expert Josh Kaplan, PhD, about the best way to consume your CBD oil. Dr. Kaplan said there are two ways to take CBD oil: under your tongue ("sublingually") or swallowing it immediately (whether by itself or mixed with food). The method in which you take CBD oil depends on the results you are looking for.
The Best Way For Fast Relief
In the sublingual method, you put a drop or dropper of oil (depending on the suggested serving size) under your tongue and wait a minute or so before swallowing. Dr. Kaplan says this way is best for quick relief.
"Once the CBD passes through the skin under your tongue to the blood, it rapidly makes its way to the brain and the rest of the body, where it can start having effects," he told POPSUGAR. "These effects are therefore felt within minutes and can last for a few hours." So if you're looking for a fast relief from pain, migraine, or acute stress, that may be the way to go.
"Plus, it allows you to easily titrate the dose," he said. "That is, you get relatively rapid feedback and can take another dose if necessary."
If You Want It to Last Longer
You can also drop CBD oil directly in your mouth and swallow it as is or mix with your favorite food or beverage. Dr. Kaplan suggests this way works best if you are seeking long-lasting relief because the effects last longer when taken orally.
"The downside is that they take longer to kick in because it gets absorbed through your digestive tract, which is slower," he explained. "While it may take an hour or two before the effects are noticed, they may last longer than the sublingual method of consumption."
He noted that if your oil also has THC (found in some cannabis oils), taking it orally may maximize the effects of the THC, since the byproduct of it being processed by the liver is a stronger compound than THC. But CBD oils, including hemp-derived varieties, don't typically contain any THC. And if they do, it's in very small amounts that aren't enough to have any effects.
The Final Verdict
It all depends on your desired results; both ways have their advantages. If you want your CBD to work quickly, then taking a dosage under your tongue, waiting a minute to 90 seconds, and then swallowing will be the way to go. If you're looking for the effects to last longer, then you may want to take it orally.
Any cannabis products referenced above are not intended to diagnose, treat, cure, or prevent any disease. The writer is not a medical doctor, and their experience is based on personal use, the results of which may not be typical or intended. The legality of cannabis products varies by state, and readers are encouraged to check their local laws before purchasing and using cannabis products. Nothing in this article should be construed as advice regarding the legal status of cannabis products. Any views expressed in this article by a third-party sponsor are those of such sponsor, and do not necessarily represent the views of POPSUGAR.