How to Get Fit by Working Out Less
Is it better to work out more or less? Our friends at Shape have the solution.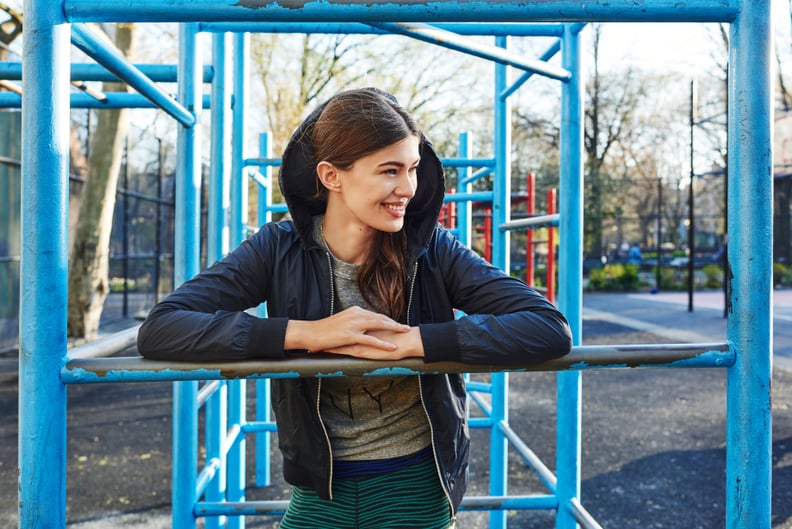 Fitness is in my blood. Growing up, my father worked as a surf lifeguard on the Australian coast, and I was expected to start junior surf lifeguard training when I was just 10. At that point, I did it mainly because he wanted me to, not because I loved it, but his example showed me the importance of staying physically fit and having fun while doing it. (He's actually competing in the Rottnest solo swim, a 21k open water swim held in Western Australia, as I type this!)
Growing up in an active family was fun, but when I hit high school, my relationship with my body took a turn for the worse. I started to feel insecure about what I saw as my flaws. So I did what I thought I was supposed to: exercise more and eat less. And when I started to see results, I kept exercising even more. Over the next few years, I added countless fitness programs to my workout schedule. I did everything from triathlons, to Bikram yoga, to Thai kickboxing. And I absolutely loved all of it! But this newfound love for working out and desire to keep seeing results created a vicious cycle. I didn't want to drop anything, which meant I was eventually exercising two or more times nearly every day — with no rest in between.
Part of it was not wanting to quit any of my passions, but if I'm being honest, it was also driven by fear that if I stopped, my body would instantly revert back to how it was when I had felt the most insecure about it. It didn't help that I wasn't well-educated on how to truly maintain a healthy exercise and diet plan, so I simply went with the "more must be better" mindset. It all seemed logical at the time: The more I exercised, the more strong and fit I would become. And I wasn't the only one. I soon discovered this "more is more" attitude is a really common misconception that many women have about fitness. (FYI, here's Why You Should Stop Doing Things You Hate Once and for All.)
Unfortunately, the workouts — combined with my strict diet — meant I was running on little fuel and my body started to wear down. I was tired a lot, had a hard time recovering, and wasn't seeing the physical results I thought I should. The saddest part? I genuinely thought I was doing the healthiest possible thing for a very long time.
Then I got pregnant. And as my body went through huge changes, so did my mindset about what was "healthy." With the full approval of my doctor I continued to enjoy my favorite exercises, but because of the added demands of the pregnancy, I scaled way back on how much I did. I also loosened up my diet, allowing myself to enjoy the foods I was craving.
It was great! I was pleasantly surprised to discover that even though I was doing a lot less, I still maintained a good level of fitness, which made me rethink my non-pregnancy fitness regime and my "healthy" lifestyle overall. I realized I didn't need to do everything to be fit and healthy — which was the most amazing and liberating feeling.
After my baby was born, I cut my workouts down even more so I could spend more time with her and my husband. This time I was surprised to discover that not only did my fitness not suffer but it actually improved! Despite working out so much less, now I'm faster, stronger, and leaner than I've ever been. My husband jokes that pregnancy got me in the best shape of my life — and it's true.
These days I do a one-hour mix of cardio and resistance circuit workouts three days a week. That's it! The other four days I'm not just laying around my house eating ice cream — just like my family growing up, my husband and I try to be active as a family. We go on walks, play outside, go swimming, and even do yoga. Working out less frequently gives my body the time it really needs to regenerate, rest, and get stronger. I've finally learned my body isn't a machine and it needs to refuel and have adequate rest.
My husband and I are now trying for a second baby and my pre-pregnancy diet and exercise is completely different than it was before I got pregnant the first time. Rather than killing it in cardio classes, I'm doing a lot of core training and strength work, focusing on getting the best results I can with the least amount of stress on my body. This preventative approach will hopefully help me have an easier pregnancy, childbirth, and recovery.
But perhaps the biggest benefit has been mental. Instead of my life revolving around my workouts, now my workouts fit into and support my life. I still love exercise and always will but my real passion is being with the people I love. And for me, that means doing workouts that will help me live a long healthy life with them, not that take me away from them.
For more information on Nicole's workouts, including the pre-pregnancy fitness routine she developed, check out her site NicoleBrodie.com
More from our friends at Shape: