On March 8, the women of US soccer marked International Women's Day with a bold public move: filing a gender-discrimination lawsuit against the US Soccer Federation. I sat down with players Megan Rapinoe (pictured above), Christen Press, and Alex Morgan a few weeks after they filed the suit and just ahead of Equal Pay Day on April 2. They were celebrating the news that LUNA Bar cut all 23 members of the US National Women's Team a check to the tune of $31,250. The amount makes up the gap between the World Cup Roster Bonus female players in the soccer federation were set to receive compared to male players. While the effort was meaningful, I asked if it was just as frustrating that it was necessary.
"Well, I think LUNA Bar seeking out the National Team Players Association and wanting to do right by closing the gender pay gap was just incredible in itself," Morgan told POPSUGAR. "They actually surprised us while we were in training with the national team together."
Rapinoe added: "I think to be a woman in the world, in general, is frustrating . . . and I feel we spend so much time fighting against things. So, actually, just the shock of someone's doing this really incredible, nice thing for us, and it's also just the right thing to do? We're never really in that position."
The women couldn't talk in detail about the current lawsuit, which details not only pay inequality but disparities in coaching, training, and play opportunities between their team and the men's team. But the legal action represents just one match in a long game. The teammates, who have consistently been paid less than their male counterparts, have spent years publicly battling for equality in their sport. That's even after their World Cup win in 2015 became the most-watched soccer game in American history and led them to generate almost three times the revenue of the men's team that year. And our conversation made it clear: they're done with the status quo.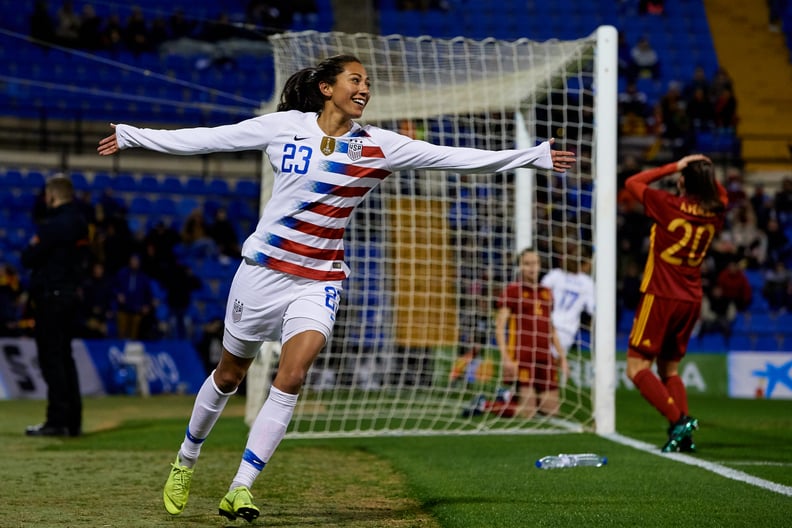 POPSUGAR: I know you can't go into details on the current lawsuit, but it was cool that it was filed on International Women's Day. Did that have a special resonance for you?
Christen Press (pictured above): Definitely. I think that we are all very proud on this team of our fight for women — largely women in sport but women all over. And so there was a little bit of synchro-destiny there with the lawsuit timing. This is part of our legacy in our life. But at the same time, we don't want to be in this situation. We want to actually just be resourced and have the opportunity to be excellent athletes. In that way, it's not fun. In a moment like this, you're kind of like, "Wow, we've been working for so hard, for so long." And it's just this realization with LUNA Bar [that] other people are working and fighting. We're all coming together, and it actually takes something that's really not cool, which is gender inequality, and makes it a really cool and special moment where people are coming together, female and male. It's so much bigger than sport, and it's so much bigger than just our team.
PS: Equal pay is something that women across all industries and all fields have to deal with. What is something you've learned that they can take to the table when it comes to advocating for themselves and each other?
Alex Morgan: We're trying to rally for women to stand up for themselves in this fight. And I think the most important thing is continuing to raise awareness for the gender inequalities among all industries and helping women know that they have support in us. I'm so happy to have a group of 25 women to fight alongside and to feel completely 100 percent united.
Megan Rapinoe: Obviously, not all women in their profession have a full team of 20. Usually, it's just one or two. Especially the higher you move up, likely, it's just going to be one. My advice would be to seek that [information] out, because I think what they, whoever "they" is you're negotiating with, they want you to be siloed. They want you to not have all the information or to only be operating by yourself. That puts you in a much weaker position. Whether it's information online or seeking out other women or companies like The Wing, I just think it's really important to find that community and gain strength in that community.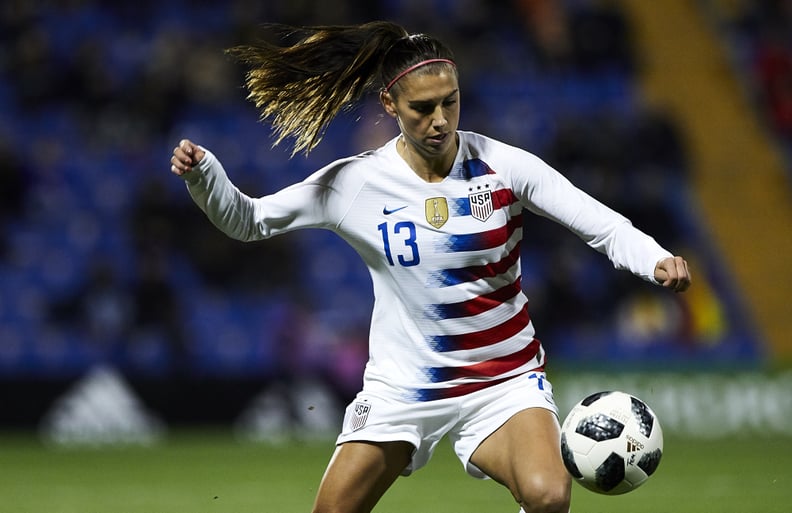 PS: Growing up as a girl, you kind of have this vague sense of inequality, but there are usually those moments where it comes into stark relief. I'm sure you had an awareness that there was this gender inequality in between the men's and women's teams, but was there a moment where it really hit you, or you thought "This is actually something that we need to work to rectify?"
CP: For me, it was a lot of really small moments over time. The more I learned about our movement in women in sports, specifically with the US Women's National Team, the more I was frustrated. It felt like something just gently pulling the back of my jersey . . . just holding us back every step that we took. The more you know, the more you feel that pull. And then the more you see the potential that you have, [the more] you want to run and get it.
MR: Coming on the team is such an interesting process as a young player, because you're just here, and you're excited, and you just want to play! And then you start to realize, "What's this CBA, and what's collective bargaining?" and then you have to negotiate. It's sort of this long, slow education all along, and the more you know, the more frustrated you are, and the more you see, you can't unsee. It's not all the time we're being punched in the face, but it's these little subtleties that add up. It was death by a thousand paper cuts. I think the World Cup for us was a really confronting time, because obviously, we had so much fanfare, and our game was the most-watched soccer game in the US, and we just didn't see that equally supported in our paychecks or in compensation. Being there, and feeling the support, and seeing how many people came to the games, you kind of just feel that groundswell. And then to have that really not represented in so many other aspects, I think that's when we're like, "Enough. We're done."
AM (pictured above): I think two examples that come up continually that increase my frustrations are one, when I'm speaking with someone that's not familiar on women's soccer, and they ask what I do, and I tell them, "I'm an athlete," and they ask, "OK. But what's your day job?" [or] "Well, OK, you're a professional athlete, but what are you doing after that? What's your next career?" Like that's supposed to be on the top of my mind, not what I'm actually doing right now. I'm like, "Why can't I be a professional athlete and badass and love my job and be respected completely and fully?"
MR: I think once we really started to see the difference between the personal sponsorships that we were getting and then how that relates to our contracts, we're like, "Wait a second." The appetite is definitely here, and the market is there.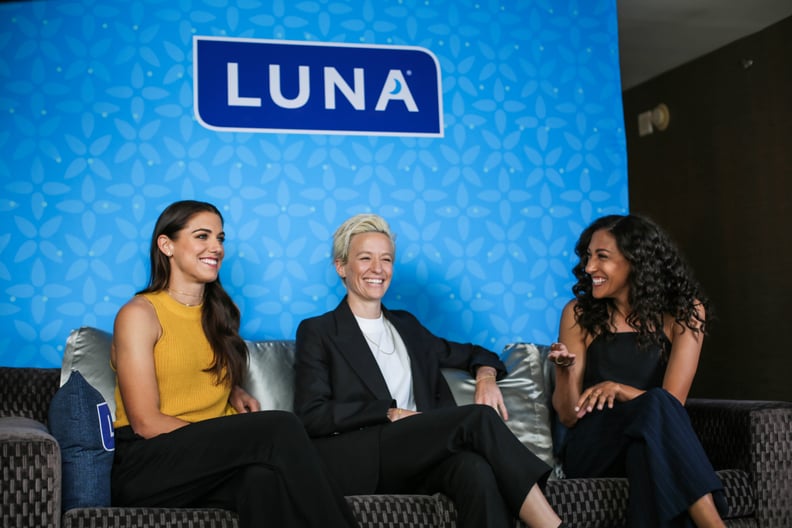 PS: You mentioned the World Cup. Can you just talk a little bit about competing on the world stage and how you cope with the pressure of that?
CP: I put a lot of self-care, every single day, in my life so that different experiences or different moments that are more stressful are balanced out. I don't actually change anything I'm doing for a high-pressure moment or a high-stress situation. I'm trying to live a life that allows me to come out of that perception that something is scary or stressful. So I have a lot of self-care strategies, like meditation, grounding, yoga, all of those things.
MR: I don't love attention in the sense that I need it all the time, but the thought of playing in front of 100,000 people is so energizing versus 500 people, like, "What a nightmare. No one will see!" [laughter]. I just think those moments are what you dream about as a kid. They're so much fun, and the crowd's crazy, you're on the absolute biggest stage that you can be on, and that to me is energizing. That's what motivates me when I don't want to work out or I don't want to train. And also, just seeing how much the game has grown over all of this time. We were playing in front of 5,000 fans, and we're not anymore, and we never will again. And that's because of all the hard work that we put in. CP: That energy that you get from these games with 50,000 or 80,000 people watching, and millions around the world, is something you can't mimic within your head. But for me, I always want to make my family proud . . . I always want to do right by them and make sure that what I'm putting forward is a reflection of not only my team but of my family.
PS: Of course, we are looking ahead to 2020. How much is that in your periphery right now, or is it the focus?
AM: Oh, 2019 is like, it's now, and it's all we have our minds set on. Getting to the top of the podium.
PS: And how are you preparing? How are things changing as far as training or just like you said, that mental focus?
MR: It's much of the same. I try to prepare myself all the time in the same way. I think all of us want to be at the top of our level all the time. So to try and do something different, just for this moment, seems distracting to me. Take every day as it comes, and then by the end of it, you're sitting on a pile of days, and you're at the World Cup.