To anyone watching the 2019 FINA World Championships, it was clear that Katie Ledecky wasn't her normal, dominant, five-time Olympic gold medalist self. The first clue came on July 21, when the 22-year-old swimmer lost the 400-meter freestyle, a race she's won in every international competition since 2013. Concerning, but everyone has bad races. Then she withdrew from the 200m and the 1500m finals, despite having the fastest qualifying time in the latter. Finally, US Swimming revealed that Katie was battling an unspecified illness with symptoms that included headaches, insomnia, nausea, and a lack of appetite. She would go on to spend seven hours at a hospital getting tested, followed by two days of bed rest. Katie herself later admitted that she felt so poorly during her 1,500 prelim that she almost got out of the pool with 400 meters left to go.
The 800-meter freestyle was Katie's final race at this ill-fated (literally) World Championships in Gwangju, South Korea. Going in, the gold was up for grabs; Katie's American teammate Leah Smith had bested her for the fastest qualifying time and Katie was sandwiched in the lane between her and Simona Quadarella, the Italian swimmer who had prevailed in the 1,500-meter in Katie's absence.
Katie started the race well, building a lead that stretched to nearly a body-length by the 300-meter mark. Yet as the laps wore on, that buffer shrunk and eventually disappeared as Simona surged ahead. When the swimmers turned for the last 50 meters, Katie touched just behind. But she shot off the wall in the final turn, made one final sprint home, and out-touched Simona by more than two seconds to take home her only individual gold of the meet. It was a demonstration of remarkable strength, grit, and stamina, and proof through sheer willpower, Katie could overcome severe circumstances.
"I had to dig really deep," said the swimmer, who joined the Built With Chocolate Milk campaign following her performance at Worlds. "I did not feel very good when I dove in the water." She accepted that her time wasn't going to break records, but that didn't mean she couldn't at least compete for the gold. "I knew that I could really just blast out a fast last 50," she remembered. "I just stayed calm in the race and just trusted that I could rely on my training and my speed to bring it home."
The hard-fought gold capped off perhaps the toughest meet of her pro career. "It wasn't the week that I prepared for and the week that I was expecting to have," Katie told POPSUGAR. "I had a really great year of training and so I was expecting to have a really great meet, but some things you just can't control and so I just dealt with the circumstances that I had to deal with." And despite everything, she still came out of it with two silvers and a gold.
Plus, as Katie told NBC Sports, the strides she made in that year of training don't just disappear because her meet didn't hit expectations. And if she can do that in an 800, after a week in and out of South Korean hospitals, well. . . suffice to say, Tokyo 2020 might be a sight to see. Keep reading for highlights and photos of the meet and Katie's incredible race.
Katie Ledecky Wins the 800m Free at the 2019 FINA World Championships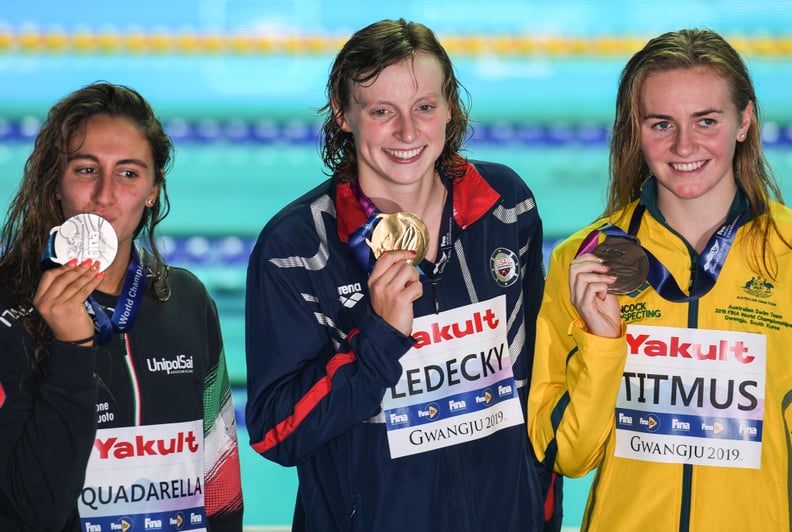 Katie Ledecky Takes Gold in the 800m Free
Simona Quadarella (left) of Italy won silver and Ariarne Titmus of Australia took bronze.
Katie Ledecky Takes Silver in the 400m Free at the 2019 FINA World Championships
The US Women Take Silver in the 4x200m Free Relay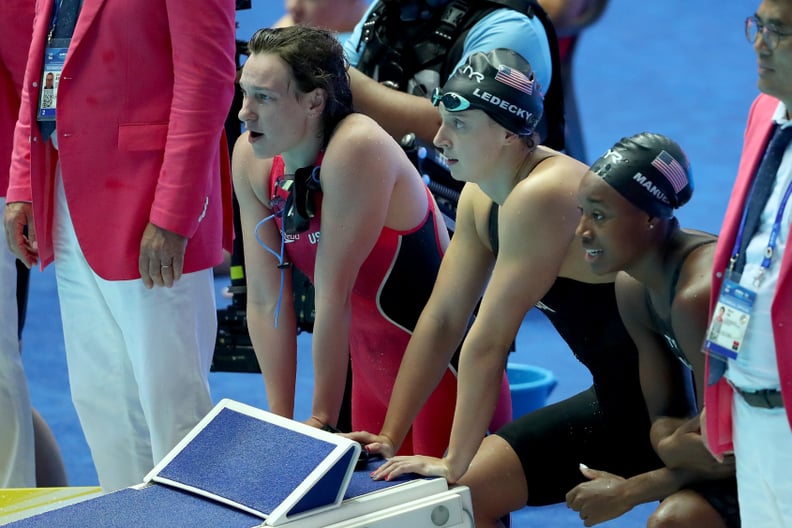 Katie Ledecky in the 4x200m Free Relay
Katie swam the 4x200m free relay with teammates Melanie Margalis (left) and Simone Manuel.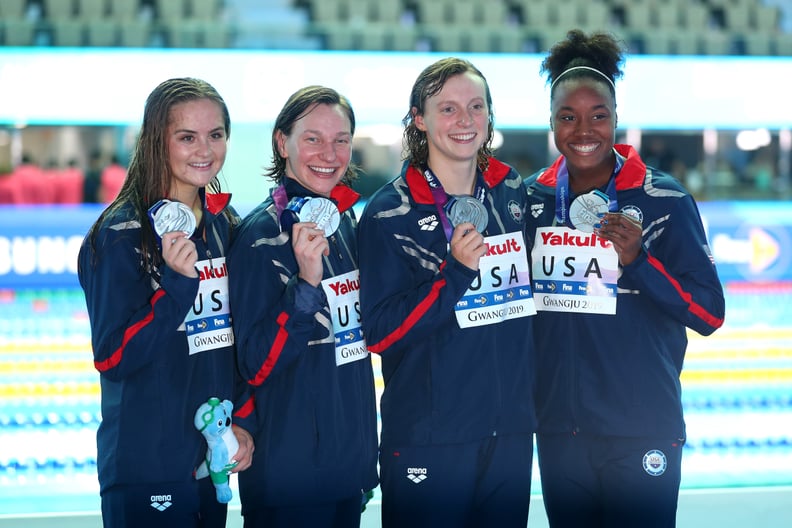 US Women Win Silver in the 4x200m Relay
From left to right: Katie McLaughlin, Melanie Margalis, Katie Ledecky, and Simone Manuel.