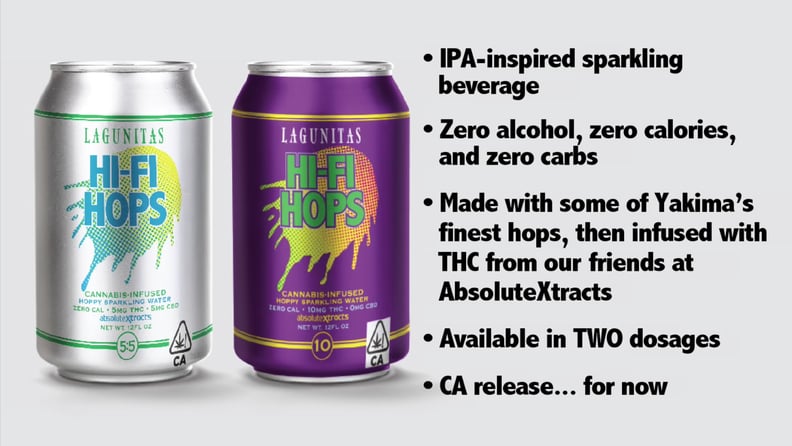 What a time to be alive! Lagunitas Brewing Company announced a new product that will excite both cannabis enthusiasts and sparkling water-lovers: an IPA-inspired sparkling water infused with THC. Available July 30, Hi-Fi Hops will first roll out to dispensaries throughout California for adults 21 and over to enjoy.
The childproof can will come in two dosages — one with 10mg of THC and one with 5mg of THC and 5mg of CBD — infused with sun-grown cannabis from AbsoluteXtracts. The best part? You get a buzz, minus the guilt. Hi-Fi Hops contains zero alcohol, zero calories, and zero carbs. It really makes for the perfect beer alternative as it's also gluten-free. Yep, we're already planning to buy in bulk.
And if you're wondering what it'll taste like, the Northern California-based brewery promises a "bubbly, aromatic, bitter, fruity, and herbaceous" sparkling water in its press release. We're hoping "herbaceous" doesn't translate to "subtle weed notes," but I guess we'll just have to find out ourselves.
Either way, we can't wait to get our hands on these!
Any cannabis products referenced above are not intended to diagnose, treat, cure, or prevent any disease. The writer is not a medical doctor, and their experience is based on personal use, the results of which may not be typical or intended. The legality of cannabis products varies by state, and readers are encouraged to check their local laws before purchasing and using cannabis products. Nothing in this article should be construed as advice regarding the legal status of cannabis products. Any views expressed in this article by a third-party sponsor are those of such sponsor, and do not necessarily represent the views of POPSUGAR.