Here's How 1 Dietitian Plans and Prepares Healthy Meals Each Week
If you've given up on meal prep because you know your refrigerator will never look like those perfectly stocked ones you see on social media (seriously, who has time for that?), you'll be happy to hear that there is way more to this process than Instagram-worthy meals in tiny glass containers. With a surprisingly manageable amount of planning, you can put together a meal prep strategy that'll help you eat healthier all week long.
And who better to get you on the meal prep train than someone who talks about food for a living? POPSUGAR spoke to Melissa Groves, RDN, LD, CLT, an integrative and functional medicine dietitian in Portsmouth, NH, to get the tips she uses with her clients and that she swears by in her own kitchen. With these simple hacks, you'll never stare into your fridge wondering what's for dinner again.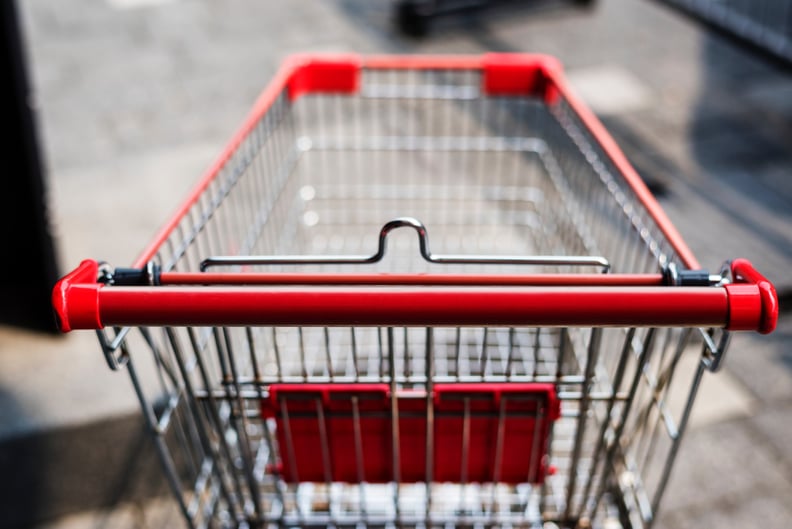 Make Your Cart Reflect Your Plate
It sounds simple enough, but have you ever thought about whether the food in your cart is as well-proportioned as your plate? "If you are aiming to make half your plate fruits and veggies, then half of your cart should be fruits and veggies, too," Melissa told POPSUGAR. The rest of your cart should be split evenly between whole grains or starchy vegetables (like potatoes and sweet potatoes) and protein.
If you're on the keto diet, you may swap out the whole grains and potatoes for avocados and nonstarchy vegetables. If you're vegetarian, you might throw some plant-based proteins like beans and tofu in your cart. Even though your cart may look a little different depending on your diet, the basic principles of this shopping method are pretty much universal.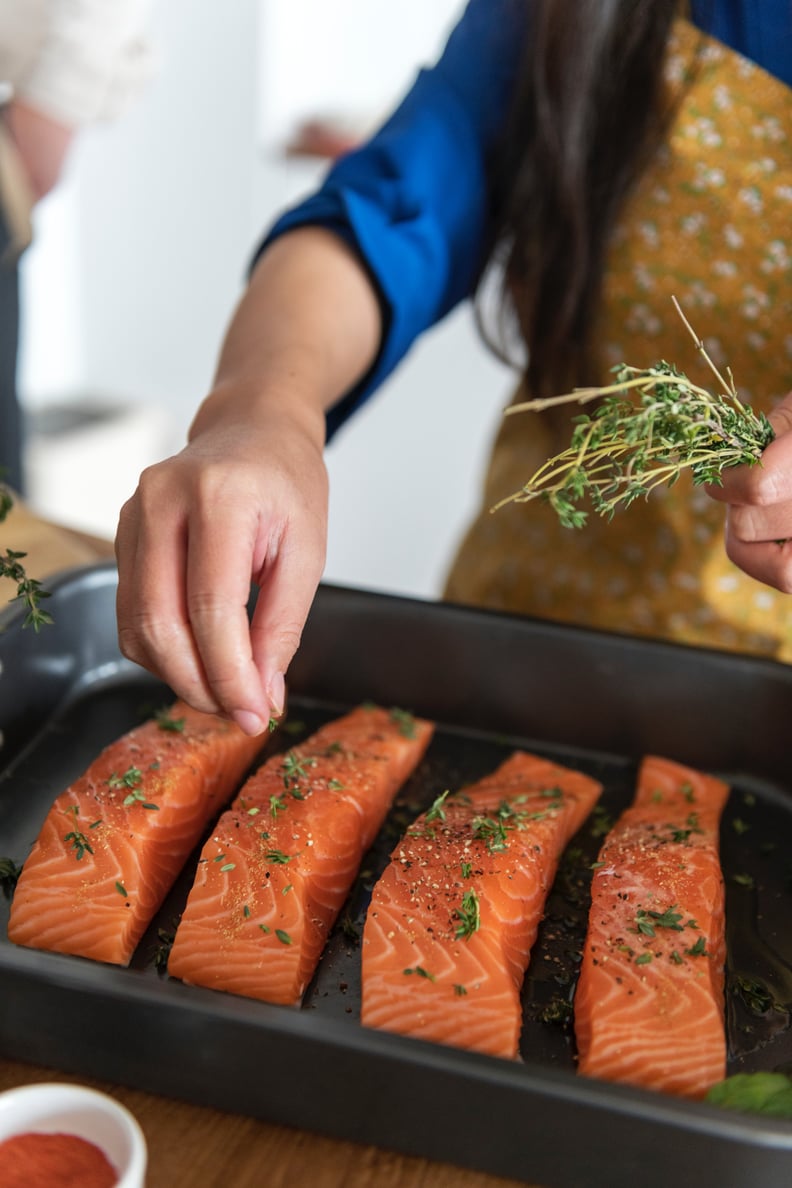 Keep Your Meal Plan Flexible
We're all about meal planning (anything to stop us from throwing random candy bars into the cart at checkout), but Melissa suggests not setting your plan in stone before you shop. "I always recommend making a flexible plan when you're writing out your grocery list," she said.
For example, you might write down fish, green veggie, and starch on your list so you've got some room to play around once you see what looks best, what's on sale, and what's in season. "If you had your heart set on kale, but the kale looks kind of sad that week, you can easily pick up bok choy or chard instead without feeling like you threw off your whole plan," Melissa said.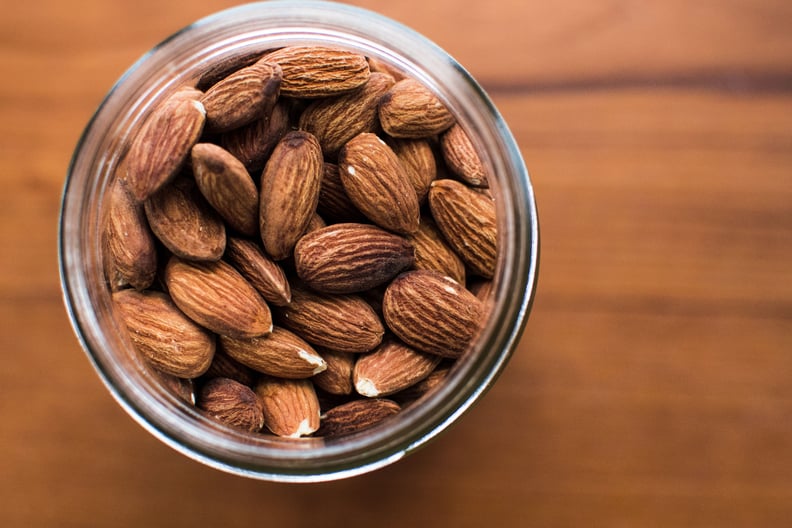 Don't Forget Your Snacks
"One thing most people forget to plan for when they're meal prepping is snacks," Melissa said. You know you're going to get hungry, so you might as well have some healthy snacks prepped and ready to go, right? Melissa's favorites include individual hummus and guacamole cups, nuts (she likes to switch up the variety from week to week), and protein bars.
She also believes that you should leave room for a few treats. "An overall healthy diet has plenty of room to include the occasional treat like dark chocolate or, my personal favorite, coconut-based cookies." You don't have to tell us twice!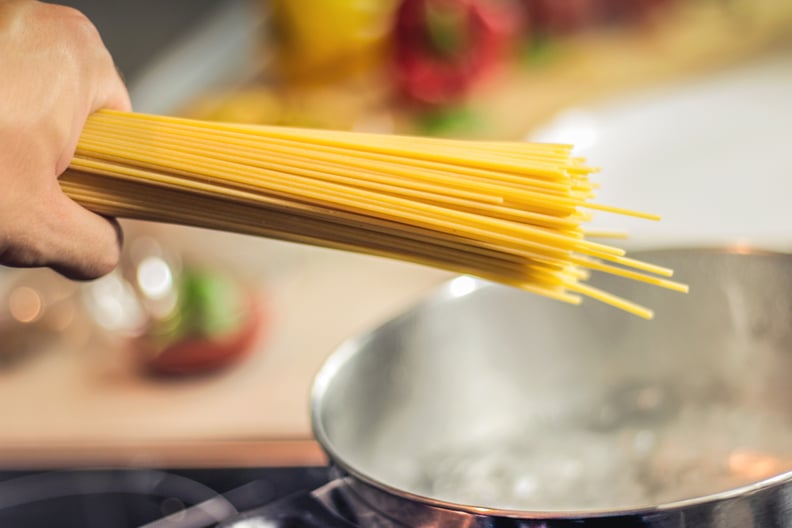 Make Sure Your Pantry Is Well-Stocked
Eating healthy isn't just about the fresh foods you buy at the grocery store each week. Melissa encourages her clients to stock up on healthy pantry items when they're on sale. "Having canned chickpeas, tuna, diced tomatoes, whole grain or bean-based pastas, and good cooking oils in your cabinet means you'll always be able to whip up a healthy meal even when 'there's nothing to eat,'" she said.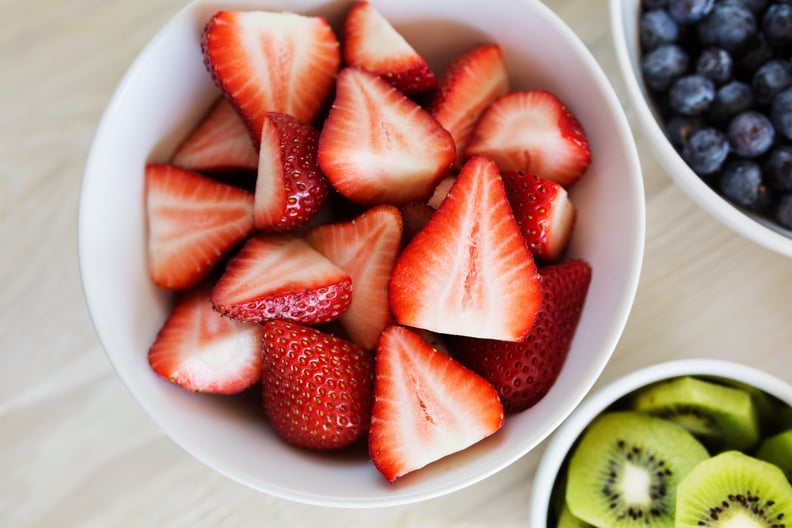 Eat the Freshest Foods First
If you're guilty of letting produce brown and wilt in the back of your fridge, listen up! "Plan to eat the foods that will go bad fastest earlier in the week," Melissa said. "You want to eat fish, berries, and any pre-cut veggies (like zoodles or cubed squash) in the first couple of days after going to the market."
Sturdier foods like broccoli, sweet potatoes, and spaghetti squash last longer, so save those for later in the week. "There's also no shame in buying frozen foods! Frozen broccoli and peas are lifesavers when you run out of fresh vegetables, and frozen salmon burgers or shrimp are smart protein choices for later in the week," Melissa explained.