Even If You're Working From Home Now, a Dietitian Says It's Still Important to Meal Prep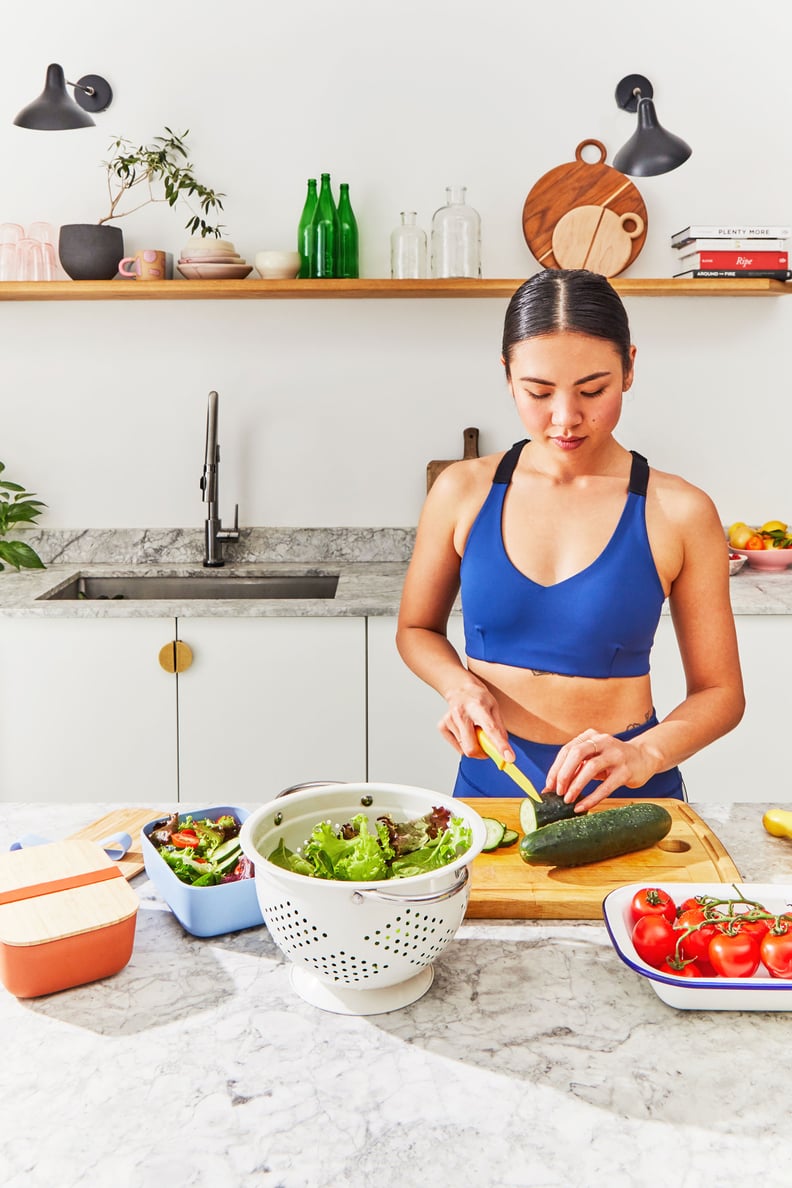 POPSUGAR Photography | Matthew Kelly
POPSUGAR Photography | Matthew Kelly
Even though your regular routine might be completely changed since the novel coronavirus pandemic, and you're working on your couch in your "daytime PJs," it's important to try to stick to your old schedule as much as possible, and that includes when and what you eat. Registered dietitian Jessica Levings, MS, of Balanced Pantry, said that even though you have access to your kitchen all the time now, it's still important to meal prep.
Reasons to Meal Prep Even If You're Working From Home
With the stress and anxiety this pandemic is causing in many people, sticking to a routine as much as possible can help us have a sense of control and order. Using food to cope is normal, but if snacking a lot, overeating, or eating unhealthy foods you normally don't is affecting your energy or how you feel, then getting back to meal prepping can help inspire the healthy eating habits you had before this outbreak.
Sticking to a regular meal plan can keep your energy levels stable, since a consistent flow of nutrients helps prevent huge spikes and dips in blood sugar, which helps you feel energized longer, Levings said. If healthy food is already prepped, you're more likely to eat it during your regular meal and snack times.
Meal planning also means you're grocery shopping less and not having to run out for a few extra ingredients before meal time, Levings added. Plus it can help reduce food waste by buying only what you know you're going to use. And if you meal prep in bulk, you can freeze the extra to eat next week or two, which also helps cut down on the number of trips to the store.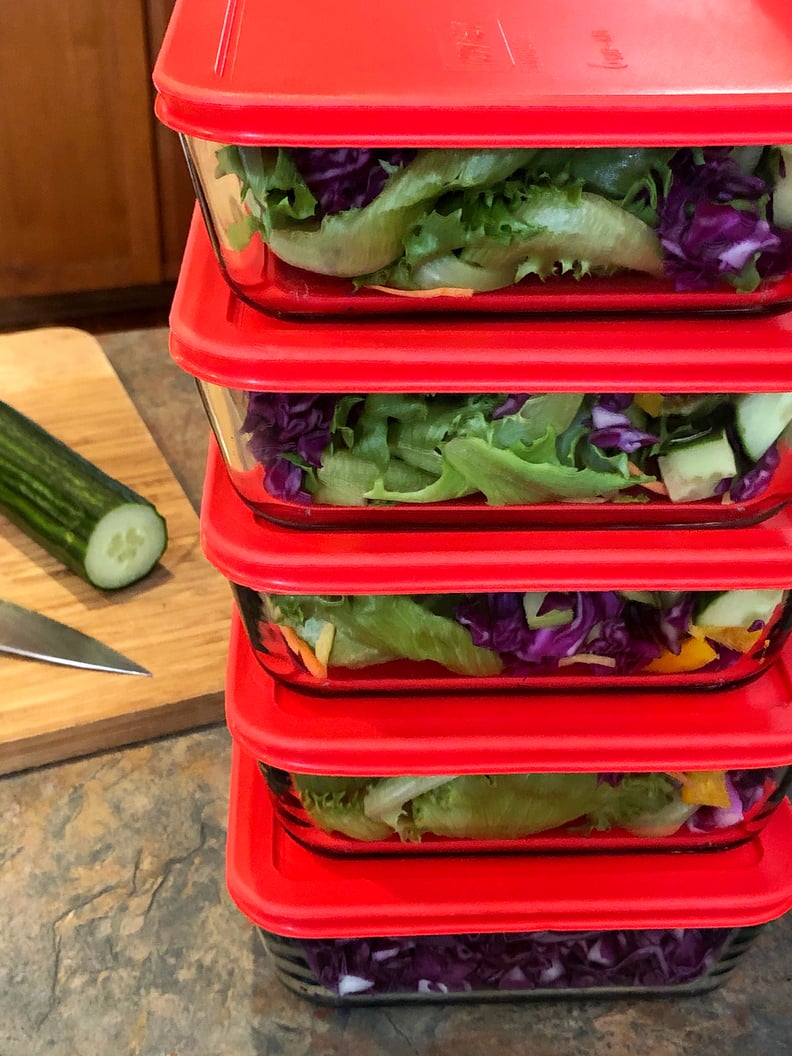 What Should You Meal Prep?
You can meal prep what you usually do, such as a week of salads, cut up fruit for snacks, or cut up veggies to use for dinner recipes. But if you're having a hard time getting fresh ingredients, or you've run out because you're going to the store less often, Levings recommended prepping pasta and rice-based dishes that can be enjoyed for a few days.
"Whole grain pasta with jarred sauce and canned or frozen vegetables is so versatile and can be made many different ways," she added, and these are hopefully items you can find easily at the store. Stir-fry chicken or tofu with brown rice and canned or frozen vegetables is also a great option.
Try cooking a big batch of whole grains such as quinoa, rice or steel-cut oats. Then just freeze individual portions to be used in recipes later. Root veggie or legume-based soups, stews, and chilis can be healthy and affordable options as well — use your slow cooker to make a big batch.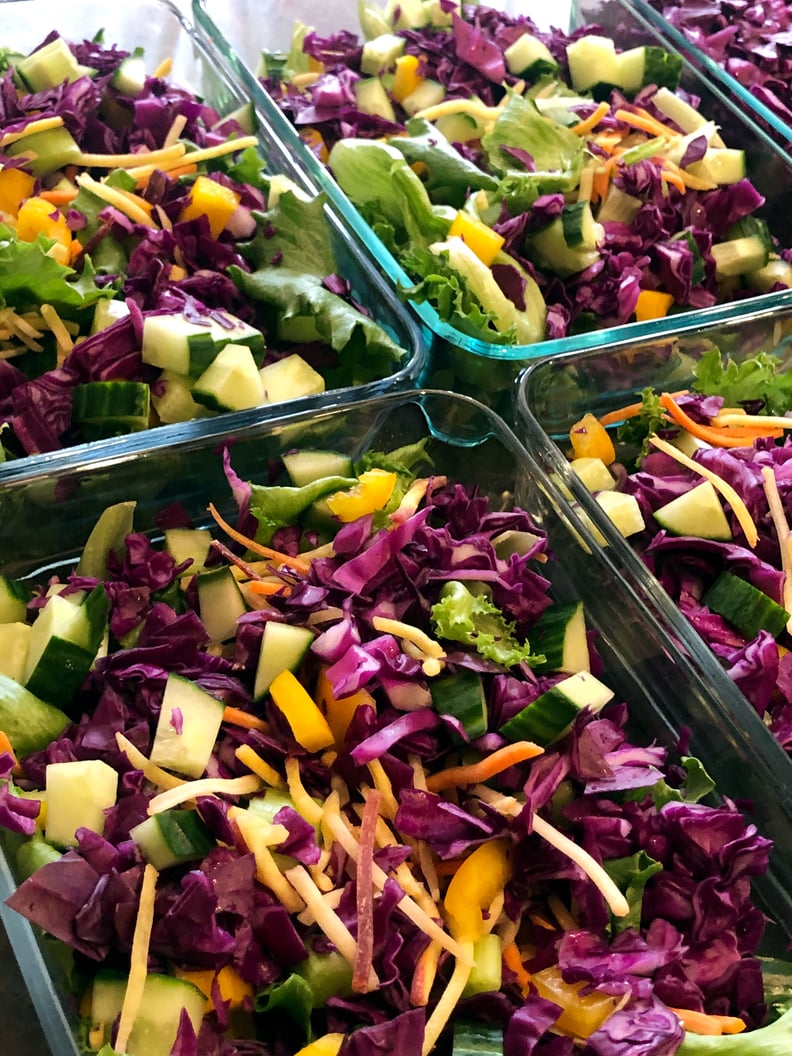 How to Maximize Grocery Shopping During the Pandemic
Since we're trying to stay home as much as possible, that means going to the grocery store less often (I used to go twice a week, and now I'm going every two weeks). Levings recommended shopping at bulk stores like Costco or BJs. Most stores have limits in place so big box stores, even with limits, allow you to purchase more during one visit.
Alternatively, if you're shopping at a local grocery store, some stores are still running out of items so bring a list, but have some alternatives in mind in case they're out of what you need. Look for the larger box or family-size package of non-perishable items, even if you usually only buy the smaller size, Levings suggested. This will help prolong the time until you run out. Your local grocery store may also offer delivery.
"For fruits and vegetables, canned and frozen are great options and just as healthy as fresh, but look for no salt or sugar added," Levings said. Buy canned beans, pumpkin, or diced tomatoes, and stock up on packages of frozen broccoli, stir-fry veggies, corn, edamame, blueberries, and strawberries. Most fresh fruits and vegetables can be frozen, so if you're buying fresh you can slice, dice, and freeze for later use, such as berries, bananas, peppers, broccoli, cauliflower, and onions.
Try not to stress about the food you usually buy that may not be available at this time. Use this as an opportunity to try new healthy foods and to get recipe inspiration from family and friends. If you have more time on your hands being at home, you can also meal prep some basic foods from scratch you've always wanted to make like home-baked bread, whole wheat pizza dough, homemade granola, or protein bars. Cooking and baking can be a stress-reliever, so enjoy getting creative in the kitchen!