Wake Up and Kick Your Anxiety's Ass With This Under-10-Minute Morning Routine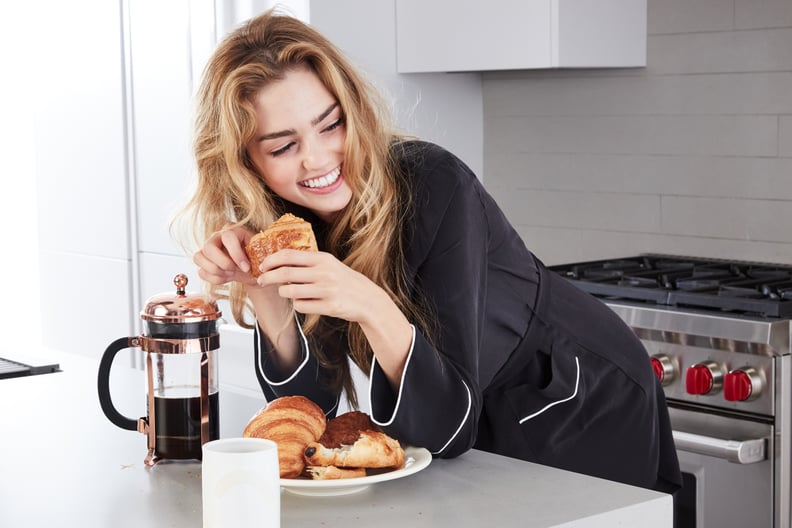 POPSUGAR Photography | Diggy Lloyd
POPSUGAR Photography | Diggy Lloyd
If a blaring morning alarm ripping you from a deep slumber and thrusting you into the reality of 8,000 unread emails, a morning meeting you're unprepared for, and negative five minutes to make breakfast because you're already running late for your nightmarish hour-long commute sounds like your average Monday, then let me just say — saaaaame.
When your mornings feel like this on a consistent basis, managing anxiety can feel like an uphill battle. My solution? Create a routine — and not just any routine, but one that's specifically tailored to quell stress.
My morning routine has changed a little bit here and there over the years, but a few core things have stayed the same. Here are the pieces that I've put together that help the most with my anxiety management.
Step 0: Have a grab-n-go breakfast in the fridge. Surprise! This part of my morning takes place the night before. The aforementioned negative five minutes to cook breakfast is often all too true, despite my best efforts. Chia pudding, protein muffins, and overnight oats are some of my favorite make-ahead breakfasts to throw in my bag on the way to the train. One fewer thing to worry about!
Step 1: Use a better alarm. Like many of you, I used to have that science-lab mayday alarm (I think it's literally called "Alarm" on iPhones) because I thought that would be the best way to kick me out of bed and ensure I'm on time to things. I realized the error of my ways — a gentle alarm that builds in volume and intuitively knows the right time (within a 10- to 30-minute window) to wake me up has actually made mornings so much less stressful and startling. I use Sleep Cycle, but there are similar apps you can try in the app store to find one that suits your style.
Step 2: *Don't* check your emails! This one is still hard for me, but resist the urge to check your emails and messages right away. Give your brain a chance to wake up and focus on the present moment. Be still. Be calm. Absorb the silence around you and try to give yourself a chance to appreciate even a few moments of peace before you inundate yourself with obligations.
Step 3: Queue up the aromatherapy. I keep some essential oils by my bedside for my evening and morning routine. In the a.m., I opt for energizing, uplifting, happy scents like grapefruit, lemon, wild sweet orange, and sometimes geranium or peppermint.
Step 4: Meditate — even for two minutes. I tried creating a morning meditation routine of just 10 minutes a day. It sounds simple, right? Well . . . even that got away from me. Then I became stressed and anxious that I was failing on my antianxiety routine, and it all kind of spiraled. Sound familiar? I cut it down to two minutes. If you have more time, you can always tack on more, but two minutes was much more doable, and it has helped me feel like I'm more capable and empowered.
Step 5: Do your skincare routine. Like in my nighttime routine, I use washing (and exfoliating . . . and toning, serum-ing, moisturizing, etc.) my face as a form of meditation, self-care, and focus before I take on the rest of my day's obligations. I think about nothing but the task at hand — and have the added bonus of making my skin look and feel great.
Step 6: Take CBD. My all-natural antianxiety medication, CBD, has been helping me feel calm and focused without impairing my faculties or judgment. I feel like me — and still completely in control of my brain and my thoughts — just calmer and more ready to take on the day.
Step 7: Make the bed. Tidying up has become a part of my antianxiety routine, regardless of the time of day. One of my favorite trainers at Barry's Bootcamp read an excerpt from Admiral William H. McRaven's book, aptly titled Make Your Bed: Little Things That Can Change Your Life . . . And Maybe the World, and referenced that even if everything goes wrong in your day, at least you can say you made the bed. It might sound silly, but that really resonated with my anxious brain. So not only does this set you up for a clean, tidy, organized house (anxiety reducing!), but it also gives you a mini victory to focus on (anxiety reducing!). Hooray!
While this might look like a long list, it takes very little time. The two minutes of meditation, five minutes of skin care, and maybe one or two minutes of making the bed (because remember, steps 0, 1, 2, 3, and 6 take either zero time or 30 seconds) total up to less than 10 minutes total. That's it! Carving out this small amount of time and space to take care of yourself first thing in the morning can lead to a happier day, better well-being, and a calmer, more peaceful life.