No, You're Not Dreaming — These High-Protein Nut Butters Are Actually Healthy!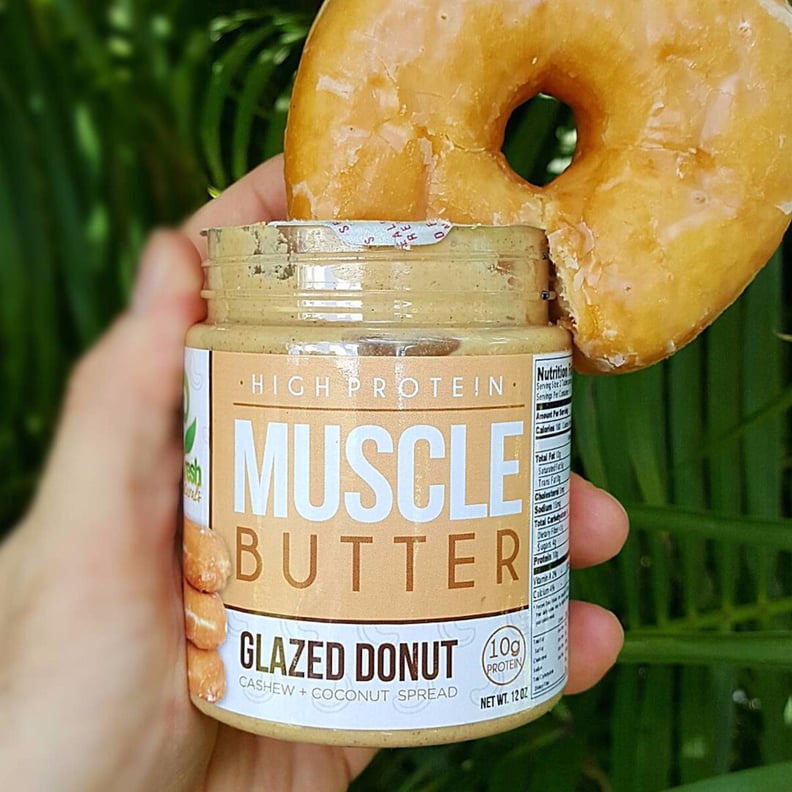 Sorry, basic nut butters, but we've officially found your replacement: the protein-packed and oh-so-mouthwatering "Muscle Butters" from You Fresh Naturals. In addition to a limited-edition Pumpkin Spice Cake Batter flavor, the brand also makes these tasty gluten-free spreads in four other crave-inducing flavors — Glazed Doughnut, Sugar Cookie, White Chocolate Churro, and Jelly Doughnut — all of which have eight to 10 grams of protein per serving. Yum!
Now, before you get thrown off by these sugary-sounding flavor names and assume they're unhealthy, allow us to break things down a bit. When compared to the nutritional information of other nut butters, such as cashew and almond, these Muscle Butters actually stack up pretty evenly in terms of protein, calories, and total fat. So if you're looking for a more flavorful, indulgent alternative to peanut butter, these babies are right up your alley.
While we're certainly in favor of enjoying this treat by the spoonful, You Fresh Naturals has also whipped up a handful of recipe ideas starring these Muscle Butters, such as chocolate chip doughnut holes and birthday cake muscle butter cups. Or you could also try slathering some on top of gluten-free pancakes or toast for a yummy, nutritious breakfast.
If you're ready to hop on the Muscle Butter bandwagon, read on to learn more about the ingredients in each flavor and place an order online to buy your favorite option.
Sugar Cookie
Ingredients: cashews, whey protein isolate, white chocolate chips, sustainably sourced palm shortening, powdered sugar, ghee, all-natural red sugar, vanilla extract, and vanilla bean powder
Nutritional information (per two-tablespoon serving size): 170 calories, 13 grams of total fat, four grams of sugar, and eight grams of protein
Where to purchase: Sugar Cookie Muscle Butter ($12)
Glazed Doughnut
Ingredients: cashews, whey protein isolate, organic coconut, organic raw honey, ghee, organic coconut oil, organic coconut sugar, and vanilla bean powder
Nutritional information (per two-tablespoon serving size): 190 calories, 14 grams of total fat, three grams of sugar, and 10 grams of protein
Where to purchase: Glazed Doughnut Muscle Butter ($12)
Jelly Doughnut
Ingredients: cashews, whey protein isolate, white chocolate chips, ghee, organic coconut oil, sustainably sourced palm shortening, all-natural strawberry jelly, vanilla extract, and powdered sugar
Nutritional information (per two-tablespoon serving size): 190 calories, 13 grams of total fat, five grams of sugar, and 10 grams of protein
Where to purchase: Jelly Doughnut Muscle Butter ($12)
White Chocolate Churro
Ingredients: roasted almond butter, whey protein isolate, white chocolate chips, ghee, powdered sugar, vanilla extract, cinnamon, and coconut oil
Nutritional information (per two-tablespoon serving size): 190 calories, 14 grams of total fat, four grams of sugar, and 10 grams of protein
Where to purchase: White Chocolate Churro Muscle Butter ($12)