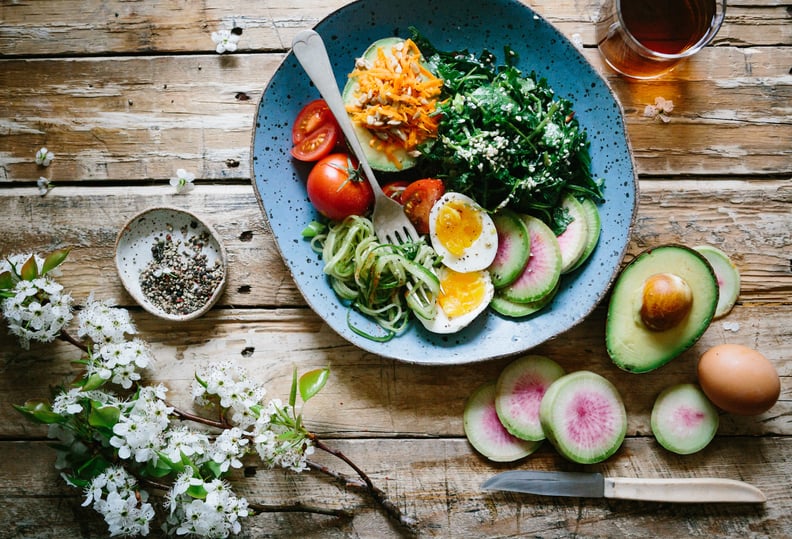 Unsplash | Brooke Lark
You may have noticed — much to the delight of any vegan or vegan-curious — plant-based eating seems to be on everyone's mind. Earlier this year, the Golden Globes served its first-ever vegan menu, while the Netflix documentary Game Changers touted the benefits of plant-based diets for elite athletes. Add the fact that you can find or make a cauliflower version of pretty much every dish, and even eat a meatless Impossible Whopper at Burger King, and it's clear that it's never been easier to up your veggie intake.
But what exactly is plant-based eating? According to Maggie Moon, MS, RD, and best-selling author of The MIND Diet, "There's no official definition of a plant-based diet, but every nutrition expert I've spoken to about it agrees that it is based on plants. It includes vegans and vegetarians, but it also includes flexitarians, those following the MIND diet, and anyone trying to eat mostly plants with smaller amounts of animal foods. Though I don't speak for all dietitians, I know many of us encourage a discussion around plant-based eating to shift the ratios of plants on the plate. So, there are no foods that are off-limits in that sense. You have to meet people where there are. If I'm getting someone to give leafy greens a few more inches of real estate on the plate in the name of plant-based eating, that's a win."
Despite benefits like being more environmentally sustainable and decreasing your risk of heart disease, there are still many myths and misconceptions surrounding eating plant-based (Will I get enough protein? But . . . can I still eat cheese?) We talked to several nutritionists to get the real dish on plant-based diets.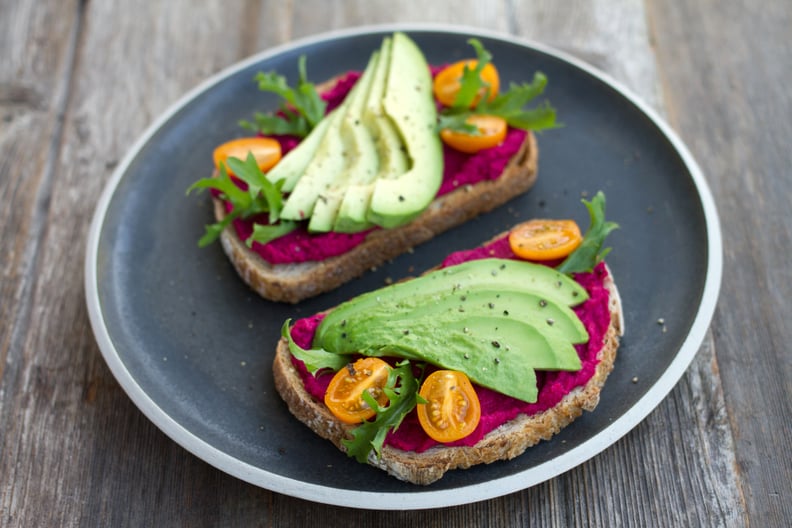 Myth 1: It's hard to get enough protein on a plant-based diet.
"The biggest myth around plant-based diets is definitely a fear that you won't get enough protein," says Moon. "Yes, I'd recommend someone new to plant-based eating get to know some go-to plant protein sources, but that's simple: soy, quinoa, pistachios, and other beans, nuts, and whole grains. But overall, this is a huge non-concern."
Daily Harvest nutritionist, DJ Blatner, RDN, and author of The Flexitarian Diet echoes this sentiment. "You absolutely can get enough protein on a plant-based diet, but it takes a little planning. The goal is to have plant-based protein at most meals and snacks."
The Recommended Dietary Allowance (RDA) for protein (aka the amount needed for basic nutritional requirements and to prevent deficiencies) is 0.8 grams of protein per kilogram of body weight. To calculate your daily intake, multiply your weight in pounds by 0.36.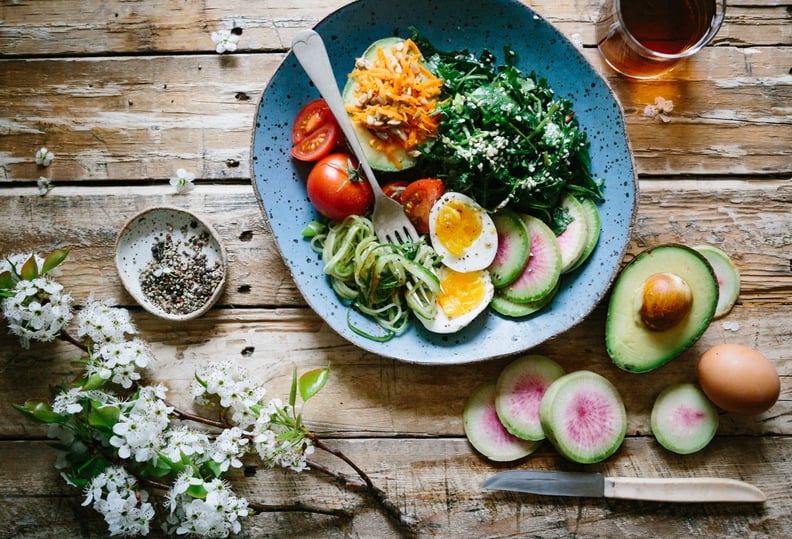 Myth 2: You have to go full vegetarian or vegan.
Good news for anyone who enjoys a burger every now and then: One of the biggest misconceptions of a plant-based diet is that you have to eat ONLY plants, says Blatner. While yes, a plant-based diet is mostly plants, the key word is "mostly." Blatner adds, "There can still be room for other things like meat, poultry, eggs, cheese, yogurt, and fish" and that allowing some flexibility in your diet can both benefit your health and help you stay consistent.
While a diet based in plant foods (even if not 100 percent based in them) is good for you, nutrition is not one size fits all. Megan Roosevelt, RDN and founder of HealthyGroceryGirl.com, recommends paying attention to how you feel as you start eating more plant-based. "Depending on your personal health needs and goal, you may feel best eating more of a Pegan (Paleo/Vegan) blend or a 100 percent vegan diet, in both of which the goal is that the majority of your diet is rich in plant foods," she says.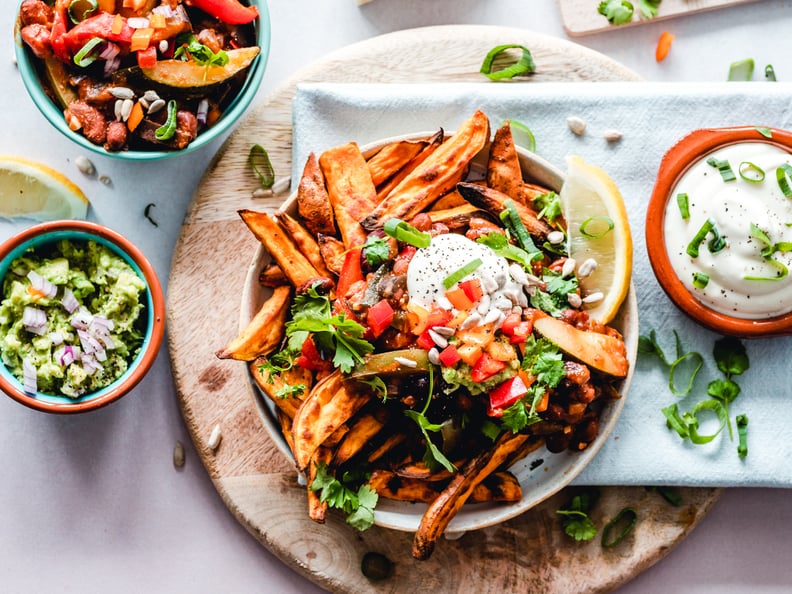 Myth 3: A plant-based diet is automatically healthy.
With any diet or eating plan, there are ways to do it correctly and incorrectly. "Just because you are eating a vegan or vegetarian diet, does not mean that it is guaranteed to be healthier than a regular diet that includes meat products," according to Daily Harvest nutritionist, Deborah Murphy MS, RDN. She says, "These days, there are so many vegan products on the market, it can be easy to become a 'junk food' vegan, and I often get asked by clients if the newer plant-based burgers popping up are healthier. The same advice for healthy eating applies to every diet, including a vegan or vegetarian one: Incorporate lots of fruits, vegetables, whole grains, and legumes to get the most health benefits."
In fact, a study done by the American College of Cardiology showed that only participants who followed a healthy plant-based diet had a decrease in cardiovascular risk compared to those who ate more animal products. Participants who had a more unhealthful plant-based diet (full of sweetened beverages, refined grains, potatoes, and sweets) didn't see the same heart benefits. Sure, desserts and chips are technically plant-based, but unfortunately, that doesn't give you an excuse to load up on them.
Myth 4: Plants don't have all the essential amino acids you need.
Moon says a myth she hears a lot is that plant proteins are missing amino acids. "That's factually incorrect. There are no missing amino acids," she says. "Plant protein has all the same amino acids as animal protein – all 20, both essential and non-essential. The levels of specific amino acids may vary across plant foods given the diversity of plant foods, but again, getting protein from a variety of plant foods throughout the day will meet all amino acid needs, as long as you're eating enough overall. And if there are smaller amounts of animal proteins eaten, this is even less of a concern." So mix it up, and eat a wide range of plant-based foods.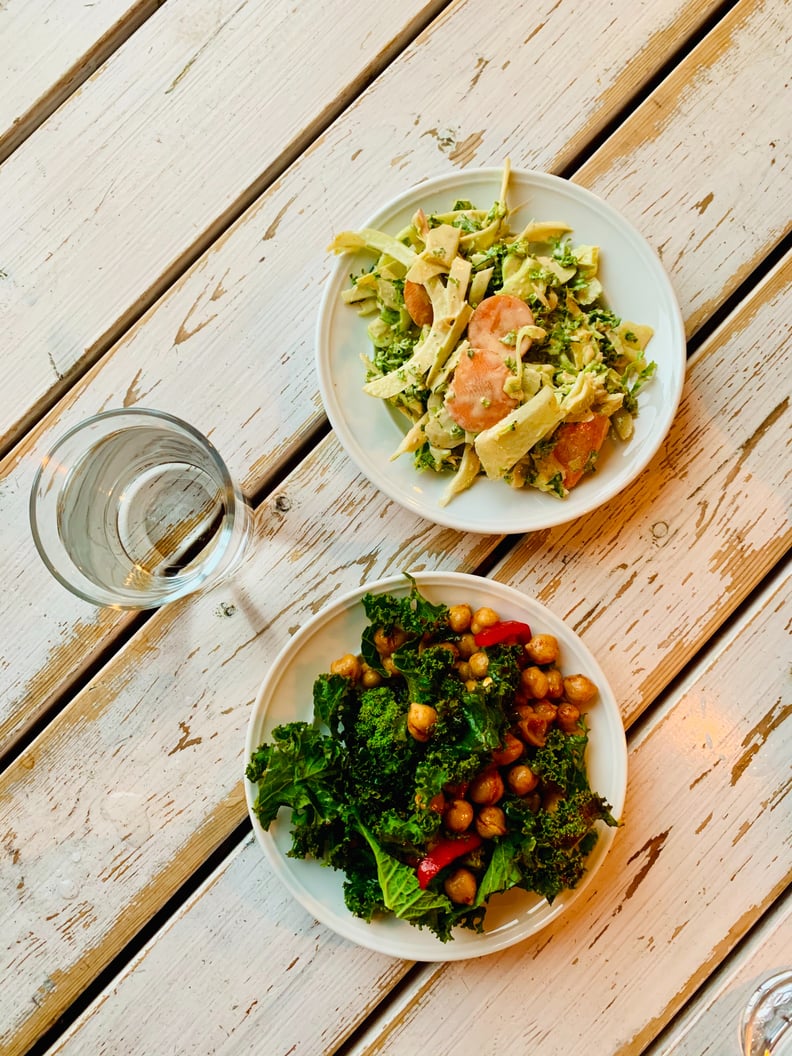 Myth 5: Eating plant-based is expensive.
One unexpected bonus of eating more plant-based foods is that it could be better for your wallet. "Eating plant-based is actually cheaper than eating animal foods," says Whitney English Tabaie, MS, RDN, CPT. "Meat and animal products cost more than fruits, vegetables, nuts, seeds, legumes, and grains. Yes, you could end up spending a lot if you rely on a lot of packaged, specialty items, but that's really not necessary for a proper, nutritious diet."
Roosevelt agrees. "A whole foods plant-based diet in general is very budget-friendly. Rice, quinoa, legumes, and most fruits and vegetables are not only nutrient dense, but they are also more affordable than animal-based food products."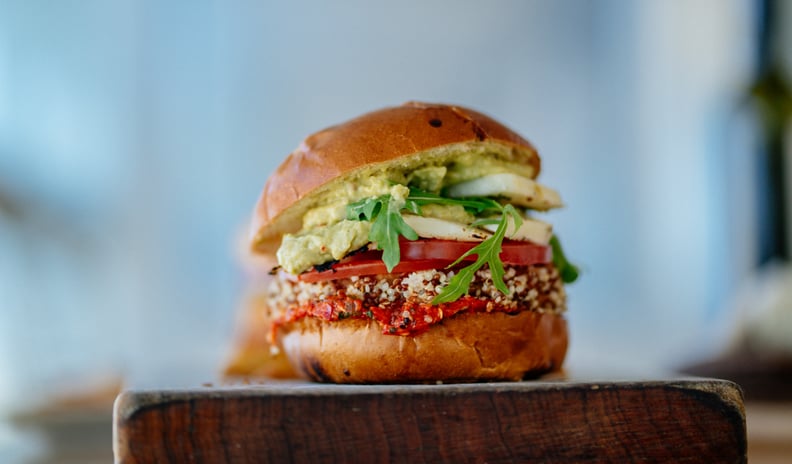 Myth 6: You have to give up all your favorite foods.
The great thing about having few hard and fast rules about plant-based diets is just that: they can easily be adjusted to fit your lifestyle. Plant-based eating doesn't require overhauling your current eating patterns. "You don't need to buy specialty foods," says Blatner. She suggests focusing on what you can have versus the foods you're cutting back on. "You can basically keep eating what you love, just swap in plant proteins!"
Along those lines, "small, attainable changes made over time are much more sustainable than a complete diet overhaul," adds Murphy. "Start replacing animal-based foods in your diet with plant-based products over time rather than going completely vegan overnight." She suggests starting with easy swaps like using soy or oat milk instead of dairy milk, and then adding more replacements later.
You may already have some go-to meals that don't require any adjustments at all. "Take a look at your diet and see if any of your favorite foods are already vegan or vegetarian and build from there," Murphy says. "For example, like peanut butter and jelly? Great! You already have one vegan option."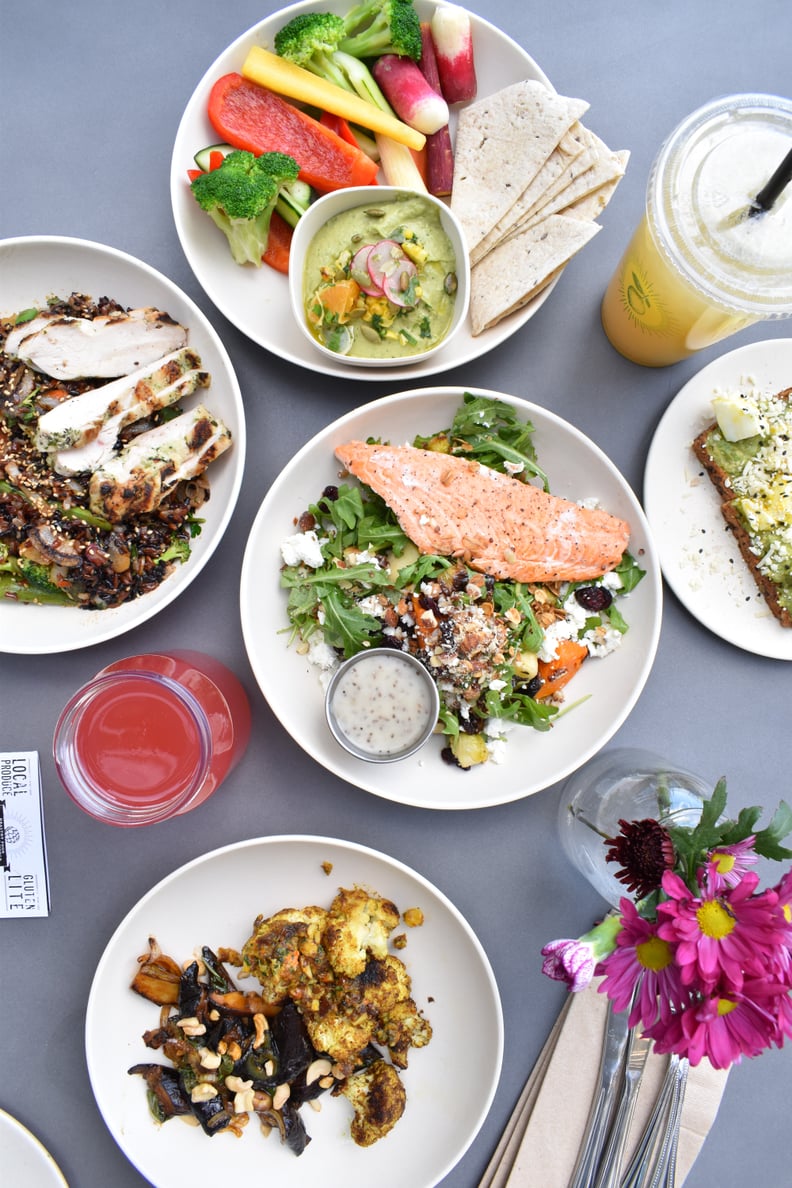 Myth 7: It's restrictive.
Roosevelt emphases that a plant-based diet is not all or nothing. Like with all things, moderation is key. "My tip is to remember that healthy eating is not a diet, it's a lifestyle! Go at your own pace so that plant-based eating is realistic and maintainable for you," she advises. "If you say 'I'm not eating cheese ever again,' you'll likely feel deprived. So don't ban foods from your diet, just aim to eat less dairy and animal proteins to start while swapping for plant-based options."
Looking around a grocery story or even your own kitchen, you may realize just how many plant-based foods you already eat or could eat. "Many people actually feel liberated on a plant-based diet," says English Tabaie. "With the rise of low-carb and grain-free diets, eating plant-based actually allows people to enjoy many extremely nutritious and unfairly demonized foods."
The prevalence of ready-to-eat foods on the market has also made it easier than ever to eat more plant-based meals. Blatner and Murphy always keep some Daily Harvest in their freezers, and English Tabaie suggests Daiya's new Vegetable Crust Pizza for pizza-lovers.