Tone and Strengthen Your Lower Body With This 5-Move Workout by Nicole Mejia
DistrictFit
DistrictFit
"Get fit and thick" started as a personal mantra for NASM-certified trainer Nicole Mejia after being told numerous times that she didn't have the body type of someone who was fit. "It was this moment for me where I was like, 'I'm fit and I'm thick, and I'm very proud of that,'" Nicole told POPSUGAR at the DistrictFit fitness festival in West Palm Beach.

Nicole is known for her "circuit-style resistance training paired with plyometrics," and the workout we did at DistrictFit had people's legs shaking immediately after the warmup. Get a taste of Nicole's style of training with the workout ahead.
The Lower-Body Circuit
Complete a dynamic warmup before starting the workout. If you'd like, add a resistance band around your legs while performing each exercise for more of a challenge. You can also do the workout with or without weights depending on your fitness level.

This workout should be done as a circuit. Complete a set and the designated reps of each exercise before progressing to the next move. Take little to no rest in between each exercise. Once you've completed all the moves, take 90 seconds of rest before beginning the next round. Complete a total of three to four rounds.
Side step with booty band: 12 reps each direction
Drop squat: 15 reps
Single-leg Romanian deadlift: 12 reps each leg
Plyo lunge: 10 reps each leg
Traditional bridge: 15 reps
Travel and expenses for the author were provided by DistrictFit at the Hilton West Palm Beach and CityPlace for the purpose of writing this story.
01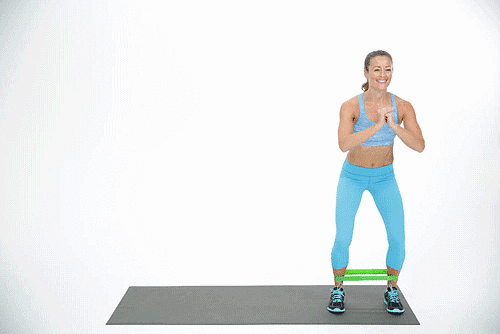 Side Step With a Booty Band
Place a resistance band around your ankles. Start with a lighter band and work your way up to a heavier band.
Begin standing with feet directly underneath your hips and your hands on your hips.
Squat halfway down and sidestep to the right, leading with your heel to make the glute muscles engage as far as you can manage without allowing your knees to rotate toward each other. Bring the left leg toward the right with enough space to keep some resistance in the band. Concentrate on keeping your pelvis level as you move sideways.
Complete 12 reps each direction.
02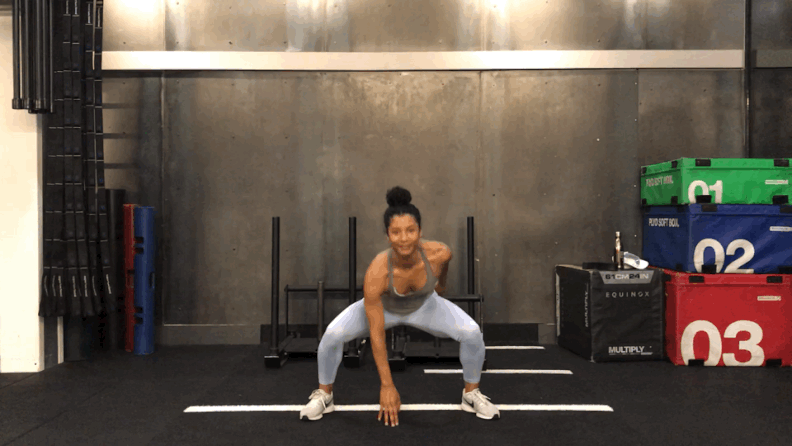 Drop Squat
Stand with your feet slightly wider than your shoulders, feet parallel or toes slightly turned out.
Jump your feet out as you lower into a squat. At the same time, bring your left hand in front of you, making contact with the ground. Your right arm should be relaxed, behind your back.
Jump your feet back in, returning to the starting position. This counts as one rep.
Repeat and be sure to alternate the hand that touches the ground.
Complete 15 reps.
03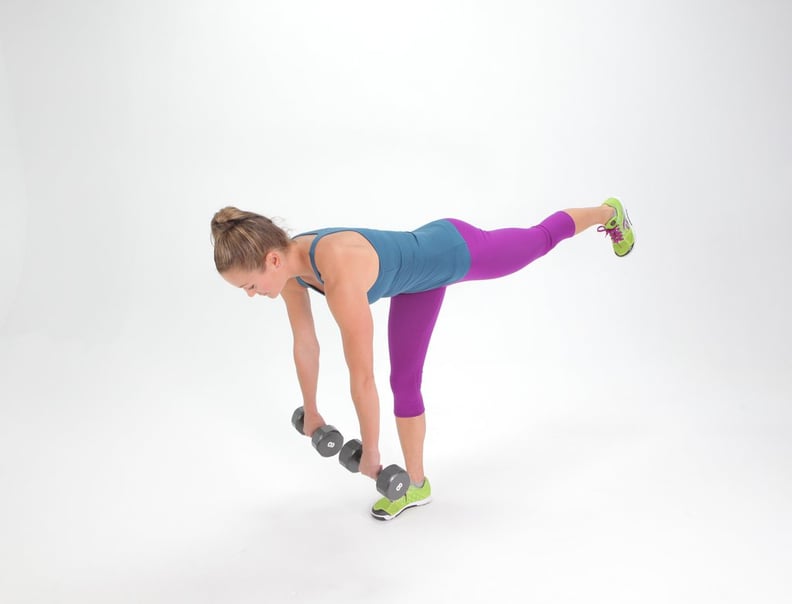 Single Leg Romanian Deadlift
Hold a dumbbell in each hand (or a kettlebell in both) and lift your right foot slightly off the ground.
Keep your back neutral and lean your entire torso forward while raising your right leg, which should stay in line with your body. The dumbbells will lower toward the ground. Keep your right shoulder blade pulled down your back.
With your back straight, return upright, coming to your starting position. This completes one rep. Maximize this move by keeping your right foot off the ground as you move through your reps.
Complete 12 reps each leg.
04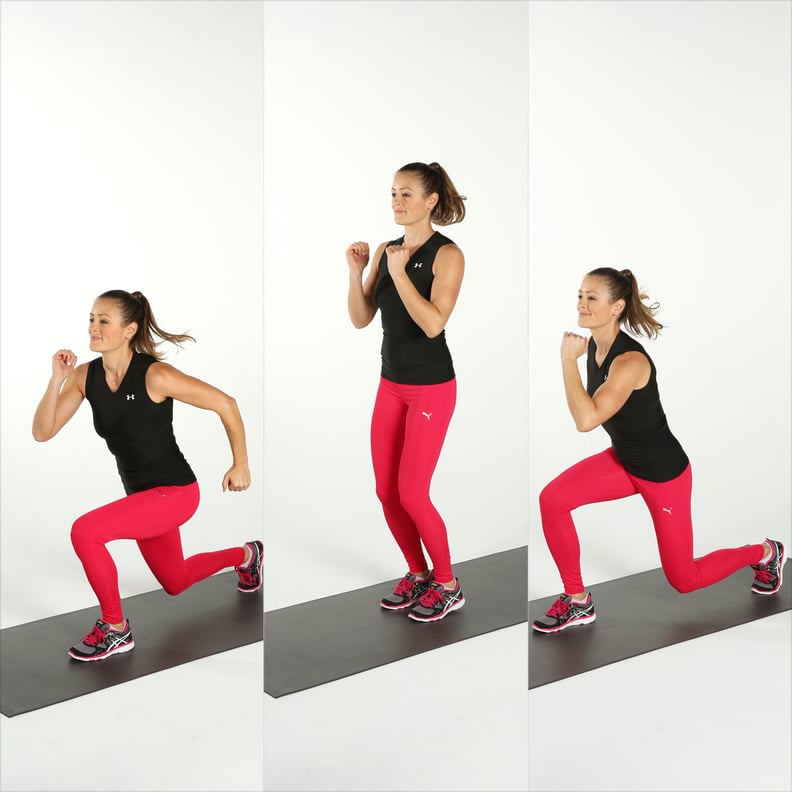 Plyo Lunge
Stand with your feet together and your knees soft. Jump and come into a lunge with your left leg forward.
Push off with both feet, jumping them together, then hopping into a lunge with your right leg in front.
Jump your feet back together to complete one rep.
Complete 10 reps each leg.
05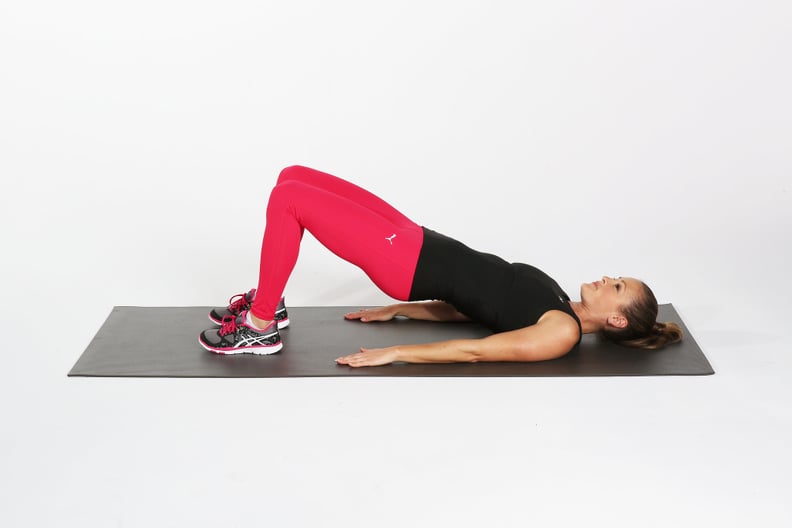 Traditional Bridge
On your mat, lie on your back with your knees bent and feet flat on the floor. Be sure to keep your feet underneath your knees, not in front. Plant your palms by each side, face down.
Raise your hips up to the ceiling, tensing your abs and squeezing your butt as you do. You should be making a long diagonal line with your body, from shoulders to knees.
Hold for a few seconds, making sure your spine doesn't round and your hips don't sag. Keep your abs and butt muscles engaged.
Lower down to the ground; this is considered one rep.
Complete 15 reps.