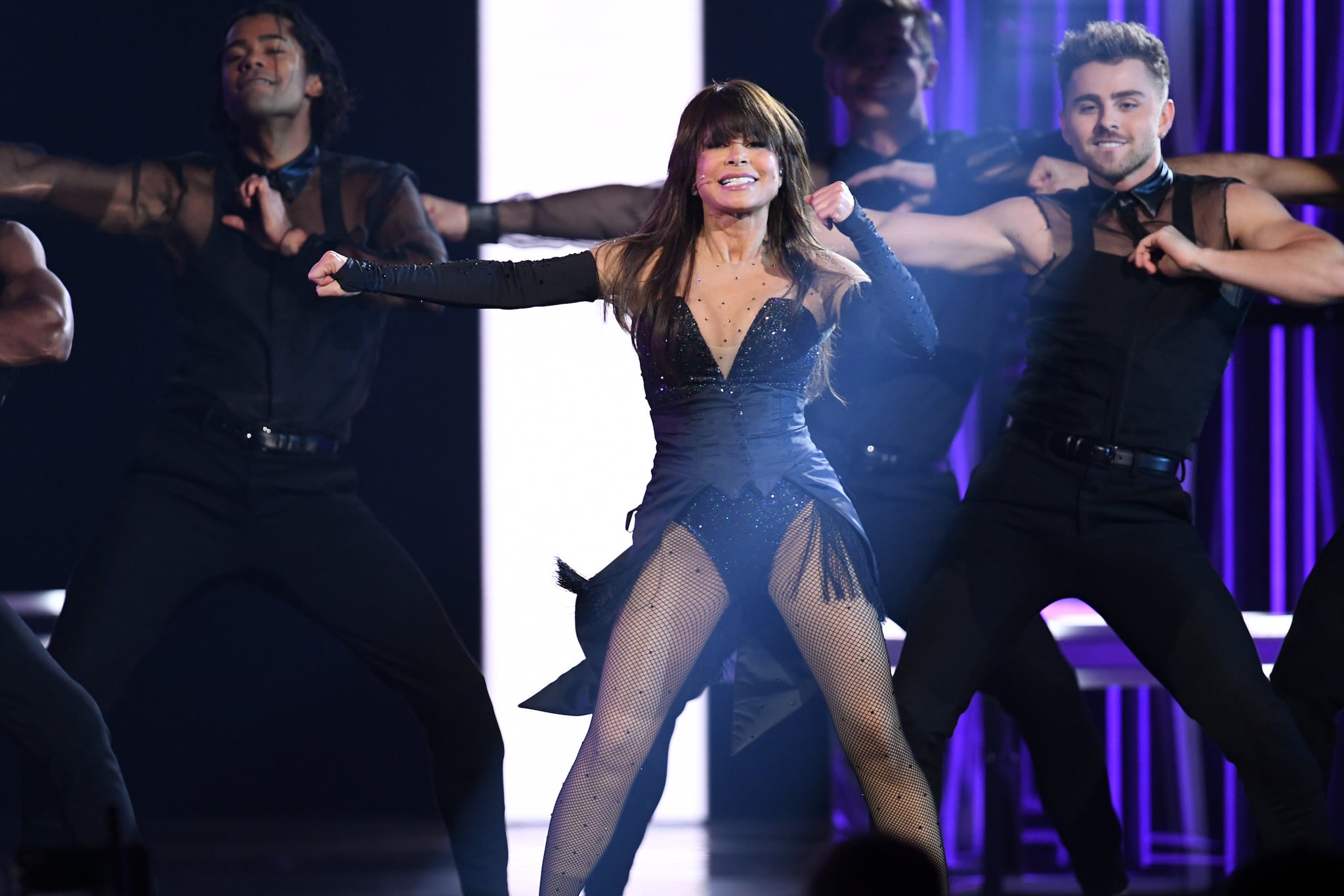 The minute my workout routine becomes boring is when exercising becomes a chore. That's when I notice myself cutting my sessions short, fully skipping the finisher, or forgoing my workout entirely. But Paula Abdul [1] (my new workout mentor) has mastered the art of keeping exercise ever-interesting — impressively so during lockdown measures.
Within our 15-minute phone conversation, Abdul told me that she's a self-proclaimed fitness "app junkie," and has been walking, running, stretching, doing yoga and barre, and rowing to keep the fun in fitness — she's even thinking about buying a bike with an attachment for her dogs to come along for the ride.
It's Abdul's arthritis diagnosis — after years spent as a professional dancer and award-winning choreographer — in part that motivates her to stay moving. "It was about five or six years ago. I was noticing that the pain was a little stronger than normal. I went to see my doctor, and he told me I had arthritis."
She was then prescribed Voltaren Arthritis Pain Gel [2], a nonsteroidal anti-inflammatory product that's now available over-the-counter — and full circle, Abdul is now a spokesperson for the brand. On top of using Voltaren, Abdul said her dedication to movement, which lubricates the joints, helps her care for her condition. But, like many others, the pandemic has changed the way she views and executes her own routine.
"Having danced for my entire life, with this pandemic going on, it's flipped everyone's world upside-down," Abdul said.
"For me, I'm not used to being home as much. I've been enjoying the fact that I take three or four breaks a day, where I will either do a Zoom dance class or dance fitness class. I'll stretch with my sister. I'm so used to a regimen, that I've been more pliable with adapting to whatever makes me feel good. For me, stretching is important. I go out for walks in my neighborhood, and I know every single neighbor now. My dog is like, 'Can we go somewhere else?' I take breaks and turn on my Pandora list, and I'll just start dancing around and doing things that are silly."
Abdul also swears by taking multiple breaks per day and limiting how much she is sitting down. "If I feel myself, where I'm getting stagnant and seated for a long period of time — I push my chair away, I take a break, and I get off the computer," she said.
And if she's watching TV, she'll watch it on her rowing machine [3] instead of the couch. "I get on my rower every day. I'll spread it out – even if it's like 10 minutes. I'll do at least three or four of them throughout the day, or I'll do it for a half hour."
As for some of her all-time favorite workouts to stream? "I love doing barre classes — and they have Xtend Barre [4], which is great for anyone and everyone because it goes through the fundamentals of doing ballet barre work. It's incredible for body alignment and stretching. I have my own little barre, and the only hard thing is trying to keep my three dogs away from my feet. They like to stretch with me."
She also gives Steezy [5] for dance instruction and Jackie Sleight's Edge Performing Arts Center class her stamp of approval. "I want to honor the inner Lil' Paula inside of me. As long as I'm making [exercise] fun, it brings out the child-like joy."
On that note, I think it's finally time for me to download TikTok and learn some dances — per yet another Abdul workout recommendation.