Beyoncé Has Been a Peloton Member For Years — and She's Giving HBCU Students Free Access
Peloton, in partnership with Beyoncé, announced that students at 10 Historically Black Colleges and Universities (HBCUs) will have access to free two-year memberships by the end of November. Every current student at Bennett College, Clark Atlanta University, Grambling State University, Hampton University, Howard University, Morehouse College, Morehouse School of Medicine, Spelman College, Texas Southern University, and Wilberforce University is eligible.
A spokesperson confirmed that the students' two-year memberships will start when they activate their account, which they can do at any time (note: it's unclear when access to the two-year membership offer will expire). Peloton also told POPSUGAR that it is the schools' responsibility to enroll their own students once the memberships are gifted, but there is no limit to how many students at each HBCU can receive a membership; students just have to be currently enrolled. If this applies to you, check directly with your school for information on how to sign up.
"Peloton and I both believe that the power of music can help uplift, motivate and inspire those on their fitness journeys," Beyoncé said in a statement. "I've been a Peloton member for several years, and I'm excited to partner with a company that helps people, young and old, be the best versions of themselves, in an innovative and adaptable way. I'm proud to celebrate the students at HBCUs with this donation, to encourage them to find and embrace their own wellness regimens."
What's more, Peloton is releasing a lineup of Queen Bey-themed classes on the app as part of the company's Artist Series, which includes other singers such as Jennifer Lopez, Alicia Keys, and Keith Urban. Beyoncé's Artist Series is inspired by Homecoming, her documentary and live concert album, but there may be additional themed classes in the future.
As of now, there are seven workouts with and without equipment put together in honor of traditional homecoming season celebrated annually at HBCUs. See the full Beyoncé workout list available this month ahead. Also ahead, check out the powerful campaign videos for this Peloton and Beyoncé partnership.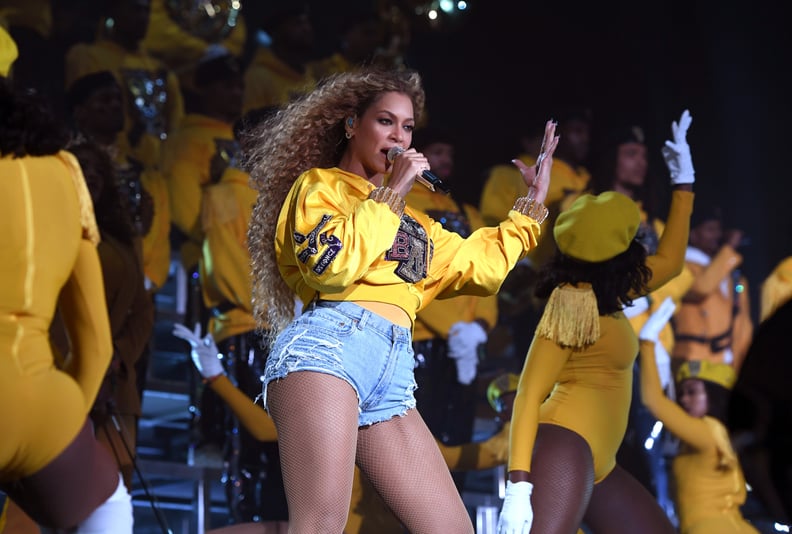 Peloton's Beyoncé Artist Series Class Schedule
30-minute Beyoncé Two for One Ride with Alex Toussaint and Tunde Oyeneyin: already on demand
30-minute Beyoncé Yoga Flow with Chelsea Jackson Roberts: Wednesday, Nov. 11, at 7:30 p.m. ET
10-minute Beyoncé Meditation with Chelsea Jackson Roberts: Peloton said this would appear on demand on Wednesday, Nov. 11
20-minute Beyoncé Full-Body Strength with Robin Arzón: Thursday, Nov. 12, at 7:30 p.m. ET
20-minute Beyoncé Outdoor Run with Robin Arzón (Audio Only): Peloton said this would appear on demand on Thursday, Nov. 12
30-minute Beyoncé Ride with Ally Love: Friday, Nov. 13, at 5 p.m. ET
60-minute Beyoncé Bootcamp with Jess Sims: Saturday, Nov. 14, at 10 a.m. ET
As a reminder, all live classes will eventually be on demand as well. Grab some water, find an open space, and let Beyoncé bring the beat in!
Peloton x Beyoncé Introduces: HBCU at Heart Trailer
Peloton x Beyoncé: HBCU at Heart Part I
Peloton x Beyoncé: HBCU at Heart Part II